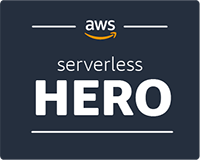 Srushith Repakula, Head of Engineering at KonfHub
Bengaluru, India
Hero since 2021
Srushith Repakula is the Head of Engineering at KonfHub, a one stop platform for technical conferences built on AWS stack, primarily using serverless and other associated services. His first taste of serverless was participating in the "AWS Chatbot Challenge'' – he fell instantly in love with the technology and the unparalleled passion for Lambdas henceforth began.
He is passionate about building serverless applications and sharing his experiences at various events across the globe, and believes serverless is the future of software development and the way applications will be built moving forward. He also thinks it will empower every developer to easily migrate to the cloud and start building with the least friction. He anticipates serverless becoming the cheapest supercomputer at the hands of every developer!
Srushith recently founded the Tirupati AWS User Group and also started the first serverless-focused meetup group in Bangalore where he presents and encourages young passionate members to get involved: there are over 6,000+ members across both groups! He also started Serverless Saturdays, a monthly webinar focusing on everything serverless and helping developers not only kick start their serverless journey, but also provide an opportunity to get access to learnings and experiences from experts across the globe.

Learn More About Srushith

LinkedIn

Twitter

GitHub

SlideShare
What is the AWS Heroes Program?
The AWS Heroes program recognizes a vibrant, worldwide group of AWS experts whose enthusiasm for knowledge-sharing has had a real impact within the community. Heroes go above and beyond to share AWS knowledge via social media, blog posts, videos, open source projects, events, user groups, and more.