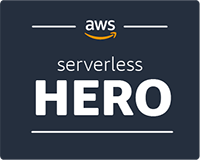 Yan Cui, Developer Advocate at Lumigo.io
London, United Kingdom
Hero since 2018
Yan is an experienced engineer who has worked with AWS since 2009. He has been an architect and lead developer with a variety of industries ranging from banks and e-commerce to sports streaming and mobile games.
Yan is known for his serverless articles on Medium as well as his blog theburningmonk.com. Some of his work even made its way into the Serverless Well Architected whitepaper by AWS.
Yan is a polyglot in both spoken and programming languages. He is fluent in English and Mandarin, and counts C#, F#, Scala, Node.js, and Erlang amongst programming languages that he has worked with professionally.
Yan is a regular speaker at user groups and conferences internationally. He is also the author of Production-Ready Serverless where he tries to help others tackle operational challenges with serverless and adopt current leading practices.

LinkedIn

Twitter

Blog
What is the AWS Heroes Program?
The AWS Heroes program recognizes a vibrant, worldwide group of AWS experts whose enthusiasm for knowledge-sharing has had a real impact within the community. Heroes go above and beyond to share AWS knowledge via social media, blog posts, videos, open source projects, events, user groups, and more.