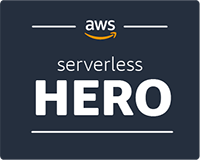 Ben Ellerby, Founder of aleios
London, United Kingdom
Hero since 2020
Ellerby is the Founder of aleios and a dedicated member of the Serverless community. He is the editor of Serverless Transformation: a blog, newsletter, and podcast which share tools, techniques, and use cases for all things Serverless.
He co-organizes the Serverless User Group in London, is part of the ServerlessDays London organizing team, and regularly speaks about Serverless around the world.
At aleios, Ben helps startups disrupt and large organisations to remain competitive by building with Serverless.


Twitter

LinkedIn

Blog
What is the AWS Heroes Program?
The AWS Heroes program recognizes a vibrant, worldwide group of AWS experts whose enthusiasm for knowledge-sharing has had a real impact within the community. Heroes go above and beyond to share AWS knowledge via social media, blog posts, videos, open source projects, events, user groups, and more.