High Performance Computing
Virtually unlimited infrastructure and fast networking for scalable HPC
AWS provides the most elastic and scalable cloud infrastructure to run your HPC applications. With virtually unlimited capacity, engineers, researchers, and HPC system owners can innovate beyond the limitations of on-premises HPC infrastructure. AWS delivers an integrated suite of services that provides everything needed to quickly and easily build and manage HPC clusters in the cloud to run the most compute intensive workloads across various industry verticals. These workloads span the traditional HPC applications, like genomics, computational chemistry, financial risk modeling, computer aided engineering, weather prediction, and seismic imaging, as well as emerging applications, like machine learning, deep learning, and autonomous driving.
HPC on AWS removes the long wait times and lost productivity often associated with on-premises HPC clusters. Flexible configuration and virtually unlimited scalability allow you to grow and shrink your infrastructure as your workloads dictate, not the other way around. Additionally, with access to a broad portfolio of cloud-based services like Data Analytics, Artificial Intelligence (AI), and Machine Learning (ML), you can redefine traditional HPC workflows to innovate faster.
Today, more cloud-based HPC applications run on AWS than on any other cloud. Customers like Bristol-Myers Squibb, FINRA, BP and Autodesk trust AWS to run their most critical HPC workloads.
Benefits
Faster results
By moving your HPC workloads to AWS you can get instant access to the infrastructure capacity you need to run your HPC applications. HPC on AWS eliminates the wait times and long job queues often associated with limited on-premises HPC resources, helping you to get results faster. Additionally, with access to a broad range of cloud-based services, you can innovate faster by combining HPC workflows with new technologies like Artificial Intelligence and Machine Learning.

Flexible configurations
Moving HPC workloads to the cloud can help increase productivity by matching the infrastructure configuration to the application. With HPC on AWS, engineers are no longer constrained to running their job on the available configuration. Every workload can run on its own on-demand cluster using an optimal set of services for their unique application. Individuals and teams can rapidly scale up or scale down these resources as needed, commissioning or decommissioning HPC clusters in minutes, instead of days or weeks

Cost-effective operations
With HPC on AWS, there are no upfront capital expenditures or lengthy procurement cycles. You pay only for the capacity you use, and our flexible pricing models offer significant cost savings when you process time-flexible, stateless workloads. You can quickly migrate to newer technologies as soon as they are made available on AWS. This removes the risk of on-premises HPC clusters becoming obsolete or poorly utilized as your needs change over time. The result is more efficient HPC spending, and fewer wasted resources

How it works
HPC on AWS - Component Services
The services listed below as HPC solution components are a great starting point to set up and manage your HPC cluster. AWS constantly releases new services and features, and we strongly encourage you to explore how adjacent cloud services can help you redefine your HPC workflows.

Use cases
Computational Fluid Dynamics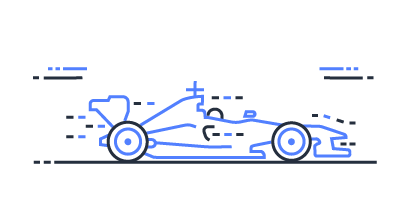 HPC on AWS helps reduce turn-around times for Computational Fluid Dynamics (CFD) simulations. Engineers can scale out their simulation jobs to experiment with more tunable parameters, leading to faster, more accurate results.

Genomics
AWS provides the inherent scalability and an ecosystem of partners and tools for running genomics workloads. With HPC on AWS, you can efficiently and dynamically store and compute your data, collaborate with peers, and incorporate analytics and machine learning.

Reservoir Simulation
AWS provides the flexibility to support unique CPU and GPU configurations and the scale and elasticity to support spiky optimization workflows, like automated history-matching. This helps engineers iterate and fine-tune models faster and thus accelerate reservoir simulations.

Risk Management & Portfolio Optimization
Flexible grid-computing capabilities on AWS allow portfolio managers to quickly conduct simulations that identify risks within their portfolio of products, hedging opportunities, and areas for optimization. They can also quickly model the impact of hypothetical portfolio changes.
Autonomous Vehicles - Driving Simulation
AWS provides a full suite of services to support Autonomous Vehicle development and deployment. These include the ability to collect, store and manage massive amounts of data, high performance computing capacity and advanced deep learning frameworks.

Research Computing and Higher Education
AWS helps researchers process complex workloads by providing the cost-effective, scalable and secure compute, storage and database capabilities needed to accelerate time-to-science. With AWS, scientists can quickly analyze massive data pipelines and share their results with collaborators around the world.

Featured Customers
Through the use of AWS, Bankinter decreased the average time-to-solution from 23 hours to 20 minutes and dramatically reduced processing, with the ability to reduce even further when required.
BP runs Spiral Suite on AWS to complete calculations that would have taken about seven hours in less than four minutes, helping them adapt to market changes in almost real time.
Fabric Genomics software, running on AWS and powered by Intel Xeon processors, delivers clinical insights for whole genome sequences within1 hour.
Featured Partners
TotalCAE proactively manages your HPC on AWS around the clock with TotalCAE tools monitoring hundreds of potential issues, automatically fixing many, and opening help desk tickets for others that TotalCAE can resolve before they impact your users.

Blog posts & articles
Elastic Fabric Adapter – Fast Interconnect to scale tightly-coupled HPC workloads

Jeff Barr 04/29/2019
Western Digital HDD Simulation at Cloud Scale – 2.5 Million HPC tasks, 40K EC2 Spot Instances

Jeff Barr 01/08/2019
Amazon FSx for Lustre – A High-performance file storage service designed for HPC applications

Jeff Barr 11/28/2018
Learn more about AWS services for HPC
Learn about all the AWS services you can use to build an HPC solution on AWS
Learn more

Sign up for a free account
Instantly get access to the AWS Free Tier.
Sign up
Get started with HPC on AWS
Build your first HPC cluster on AWS

Sign in