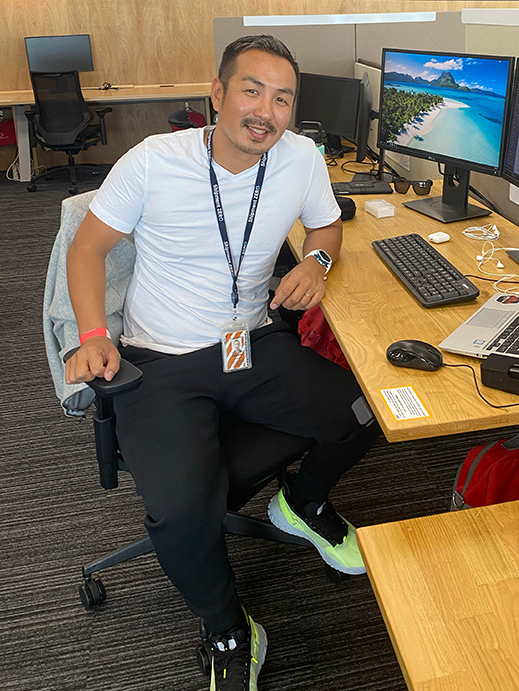 Position: Cluster Security Manager
Tenure: 4 years 8 months

After graduating from the University in California, I spent some time working on private yachts as a deckhand in the US. That job required a maritime safety certification that includes basic firefighting and safety knowledge while at sea. After coming back to Japan, my first job was a security guard for a global financial firm. The fire and safety knowledge was very relevant as a security guard. During this time, I was recruited to work as a full time as Security Manager at an American Bank. Working as a Security Professional at a Bank, I was exposed to strict regulatory compliance for Physical Security measures at the Data Centers.

I manage the Physical Security team that oversees the Security operation in all AWS Data Centers in Japan. My main focus is to maintain consistency in the Security Operation, and keeping our Data Centers Secure. As a business, the Security Team strives for optimizing the Security cost while maintaining the same level of Security. I push my team not only to be effective in their Security management, but also to be effective in the financial management in their space.

I was always interested in the realm of Data Center security because of the high security expectations that makes it challenging. At the time, I was looking for new challenges to further prosper as a Security Professional. I knew that joining AWS would be a challenge in many aspects.

I foresee the Data Center operation at AWS growing rapidly. This is a new challenge for me and it requires me to find new ways to scale our Security Operation. My team has already been building new tools that can streamline the Security Operation and they are scalable. I can see my team changing the dynamics of the Physical Security program. I aim to develop my team as the industry's best Physical Security team.

Data Centers are increasingly being recognized as essential social infrastructure. At AWS, we are proud to be the key component of modern society and a growing industry. There are many talented people here and the opportunity for learning and development seems to have no limit. I truly enjoy collaborating with various teams and talents making things happen. We work hard, have fun, and make history. Join us in this endeavor.