Amazon Pinpoint
Understand and engage your customers by sending them personalized, timely, and relevant communications through multiple channels.
In today's digitally transformed world, it's more important than ever to have a deep understanding of your customers and to engage them with personalized messages through the channels that they prefer. Amazon Pinpoint enables marketers and developers to deliver customer-centric engagement experiences. Better experiences lead to stronger relationships with your customers and reduces customer churn.
Ready to learn more about how Amazon Pinpoint can help you meet your customer engagement goals? Contact our sales team to schedule a demo.
How Amazon Pinpoint works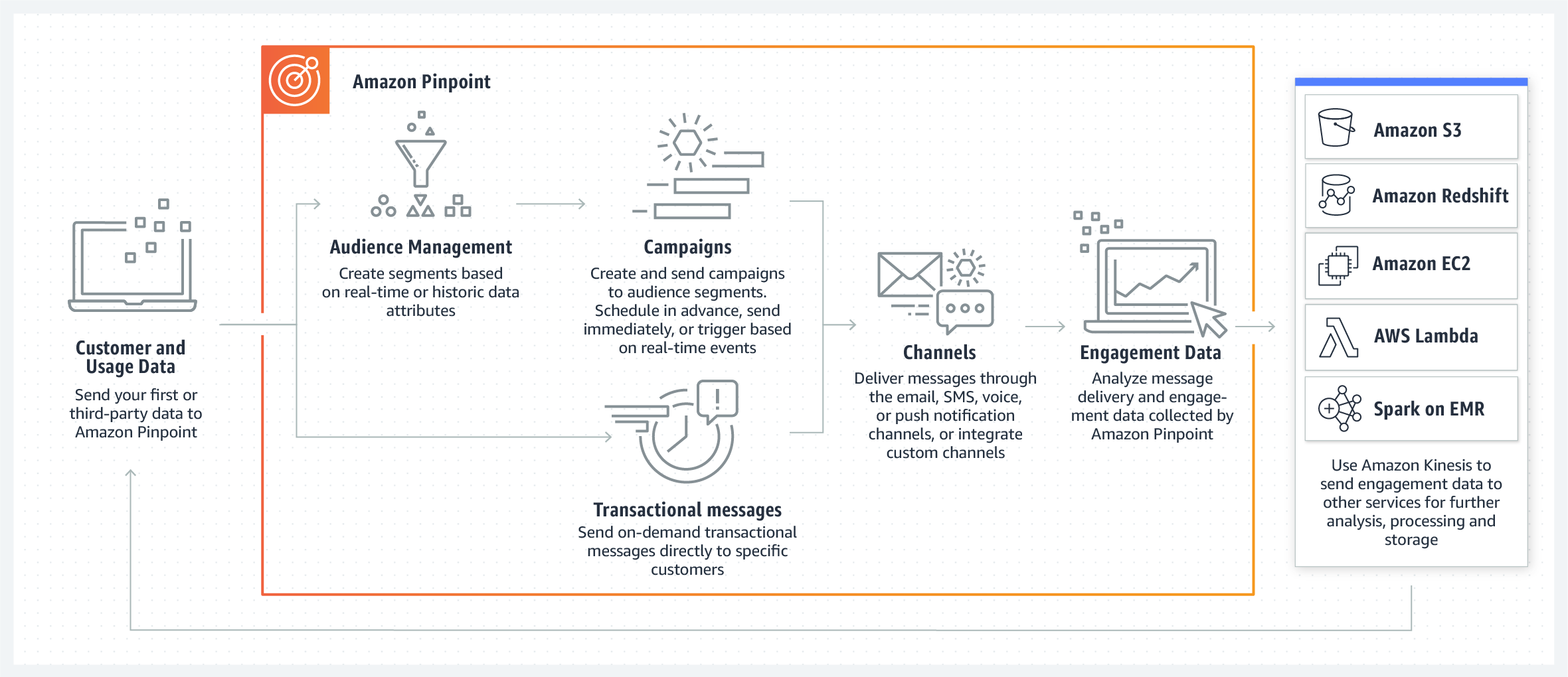 Use cases
Deliver on-demand messages
You can use Amazon Pinpoint to send on-demand messages to specific recipients. For example, you can automatically send a receipt when a customer makes a purchase or deliver a one-time password immediately after a customer requests it. You can use the Amazon Pinpoint API and the AWS SDKs to send transactional messages directly from your mobile and web applications through the email, SMS, push notification, and voice channels.

Create and send marketing campaigns
Campaigns allow you to reach tailored audience segments, and are great for marketing use cases such as promotional messages and customer onboarding campaigns. You can specify the schedules for your campaigns, or set them up to be sent when your customers perform certain actions in real-time. You can also send test emails to internal teams for quality assurance prior to sending your campaign. And finally, you can perform A/B/n test messages to determine the best possible experience to your customer base.

Understand your customers
Amazon Pinpoint's analytics tools helps you deepen your understanding of your customers. The data that Amazon Pinpoint collects allows you to view trends about your users' level of engagement, purchase and behavioral activity, engagement preferences, and more. Deepening your understanding of your customers enables you to engage them with more contextually relevant messages at the right time and through the right channel.

Predictive Customer Engagement
You can use Amazon Pinpoint and Amazon Personalize together to generate predictions about the content, channels, and engagement timing that will resonate best with a particular customer. This enables you to deliver smarter engagements that anticipate your customers' needs and behaviors.

Check out Amazon Pinpoint resources
Access Amazon Pinpoint documentation, tutorials, on-demand webinars, and more.
Learn more

Request an Amazon Pinpoint demo
Contact us to schedule a demo of Amazon Pinpoint, tailored to your specific use case.

Request a demo
Start engaging with your customers
Get started with Amazon Pinpoint now in the AWS Console.

Sign in
---