Customer Success Stories
Learn how organizations of all sizes use AWS to increase agility, lower costs, and accelerate innovation in the cloud.
Featured Customers
Pinterest
Pinterest is a feature-rich online platform that allows users to share, find, and "pin" content to personalized inspiration boards. It uses AWS for its computing and storage needs, and user interactions are facilitated by its ML and predictive analytics to personalize content.

Capital One
Capital One's all-in cloud migration to AWS has strengthened and expanded its reputation and reach as an industry disrupter—making it a magnet for top-tier engineers and non-technical talent.

Moderna
As a biotechnology company, one of Moderna's biggest breakthroughs was the development of its mRNA COVID-19 vaccine with a level of speed, effectiveness, and scale made possible by AWS.

Featured Collections of Customer Stories
Customers are building on AWS to drive sustainability and create social impact.
Sustainability Customer Stories
Discover how customers are innovating, expediting, and scaling real-world sustainability solutions.

Diversity and Inclusion Customer Stories
See how customers are advancing diversity, equity, and inclusion.
Find an AWS Customer Story
After selecting filters, share your search by copying the URL.
Fix This
Dive deep into customer stories on the Fix This podcast to discover everything from the importance of tracking sharks to exploring AI-driven art.

Leading Cloud Innovators
Learn how leading organizations across all industries build on AWS to drive innovation at every level of their businesses.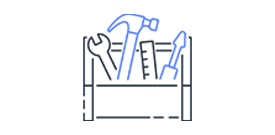 Customer Success with AWS Partners
Explore how customers accelerate their cloud adoption and fuel innovation with the AWS Partner Network (APN).
Get Started
Organizations of all sizes across all industries are transforming their businesses and delivering on their missions every day using AWS. Contact our experts and start your own AWS journey today.