"The online voting system provided a valuable opportunity for citizens to play an active role in technological innovation.
I hope that we can continue to promote many different kinds of innovation together with fellow citizens."
Tsukuba City, situated in the southern part of Ibaraki Prefecture, has an abundance of lush greenery and natural scenery, which includes Mt. Tsukuba. Packed with around 150 publicly and privately owned research institutions, Tsukuba is widely known as "Tsukuba Science City." In recent years, Tsukuba City has focused on initiatives based around the Sustainable Development Goals (SDGs) set forth by the United Nations (UN). These efforts tie into Society 5.0, which is the cabinet office's vision for the future to use technology to solve social issues. In February 2018, the city announced its Sustainable City Vision. The following month, citizens, parliament, and the government came together to develop comprehensive policies to work towards their goal. The city council also approved a resolution for the Tsukuba City municipal government to commit to initiatives that reflect the values of the SDGs.
"Tsukuba City actively supports the research and development of cutting-edge technology that underlies the concepts behind the SDGs and Society 5.0, with the city acting as a real-world testing ground for these technologies. It is our mission to contribute to solving local, national and international social issues," says Wataru Okano, Chief of Tsukuba City's Science and Technology Promotion Department, Policy Innovation Division.

Beginning in 2017, Tsukuba City runs a yearly contest named "Tsukuba City Society 5.0 Social Implementation Trial Support Project," to judge new technologies made by companies, research facilities, and educational institutions from all over Japan that support Society 5.0. The winning technology rolls out across Tsukuba City, which acts as a testing ground for social implementation.

During the second-annual event in 2018, VOTE FOR Inc. (VOTE FOR), known for building online voting platforms, proposed that the City of Tsukuba test online blockchain-based voting for the contest in addition to using expert judges. Blockchain is the technology behind encrypted assets (known as cryptocurrencies). The plan was to verify each voter's identity to protect against falsification and loss of voting data, maintain data integrity, and securely manage the system by reading a person's ID card when they voted.

"As a city, we thought we should incorporate an innovative screening process for a contest that's all about innovative technology. From a survey, we heard that despite our reputation as a place of science, citizens felt as though there were not enough situations where they could directly interact with the science and technology to experience its benefits. So we jumped at the chance to use this online voting system as an opportunity to actively involve citizens in technological innovation," Okano recalls.

When VOTE FOR considered the system infrastructure that they would need to support net voting in Tsukuba City, they decided to use Amazon Web Services (AWS).

"We knew that we would need a cloud-based system in order to make online voting a system where anyone can vote at any time. Our infrastructure required a high-spec system that would be able to handle blockchain. We found it difficult to predict how much network and storage space we would need, since we did not know how many votes to expect. It was important that we could quickly and flexibly increase system resources from the minimum requirements to a much larger scale," explains Makoto Ichinozawa, Chief Executive Officer, VOTE FOR.

Tsukuba City officially decided to adopt the online voting system in May 2018. Voting would take place at the end of August that same year, so VOTE FOR had around three months to finish building the system. AWS was the ideal choice, since it allowed them to build the system in a short amount of time. Piped Bits Co., Ltd., VOTE FOR's group company, already had experience in building an AWS-based online voting system. They also had extensive knowledge and documentation, which helped with making the decision to use AWS.

VOTE FOR completed building their system in July 2018 and began testing in the beginning of August 2018. Tsukuba City launched online voting at the end of the same month. Behind the implementation, everyone – from the mayor and upper echelons of the city to the personnel on the ground – held the same clear goal of taking the lead and actively implementing this innovative initiative in a quick style of decision-making known as "agile governance."

To vote online, citizens came to the city hall to access the contest website using special devices with a login screen. The card reader read the citizen's personal ID card to verify their identity and then allowed them to choose which candidate's proposal to vote for from the proposals submitted by companies, research facilities, and educational institutions.

This advanced initiative attracted attention from around the world and has brought with it high hopes for the potential of using online voting as a means for public institutions to hold elections or survey citizens' opinions. The story was picked up by the media in TV, newspapers, IT magazines, and online. There was also interest from local governments in other countries.

If online voting systems become more widespread, governments could reduce the amount of paper required for voting slips and posters and the amount of wood used for billboards and signs. The system would also allow people to vote regardless of their current location, so people like students who have yet to transfer their official address to their new residence, or Japanese citizens living abroad, would be able to make their voices heard. With the goal of someday being able to "vote from anywhere in the universe," the unique enthusiasm of this city, host to the Japan Aerospace Exploration Agency (JAXA), shines through.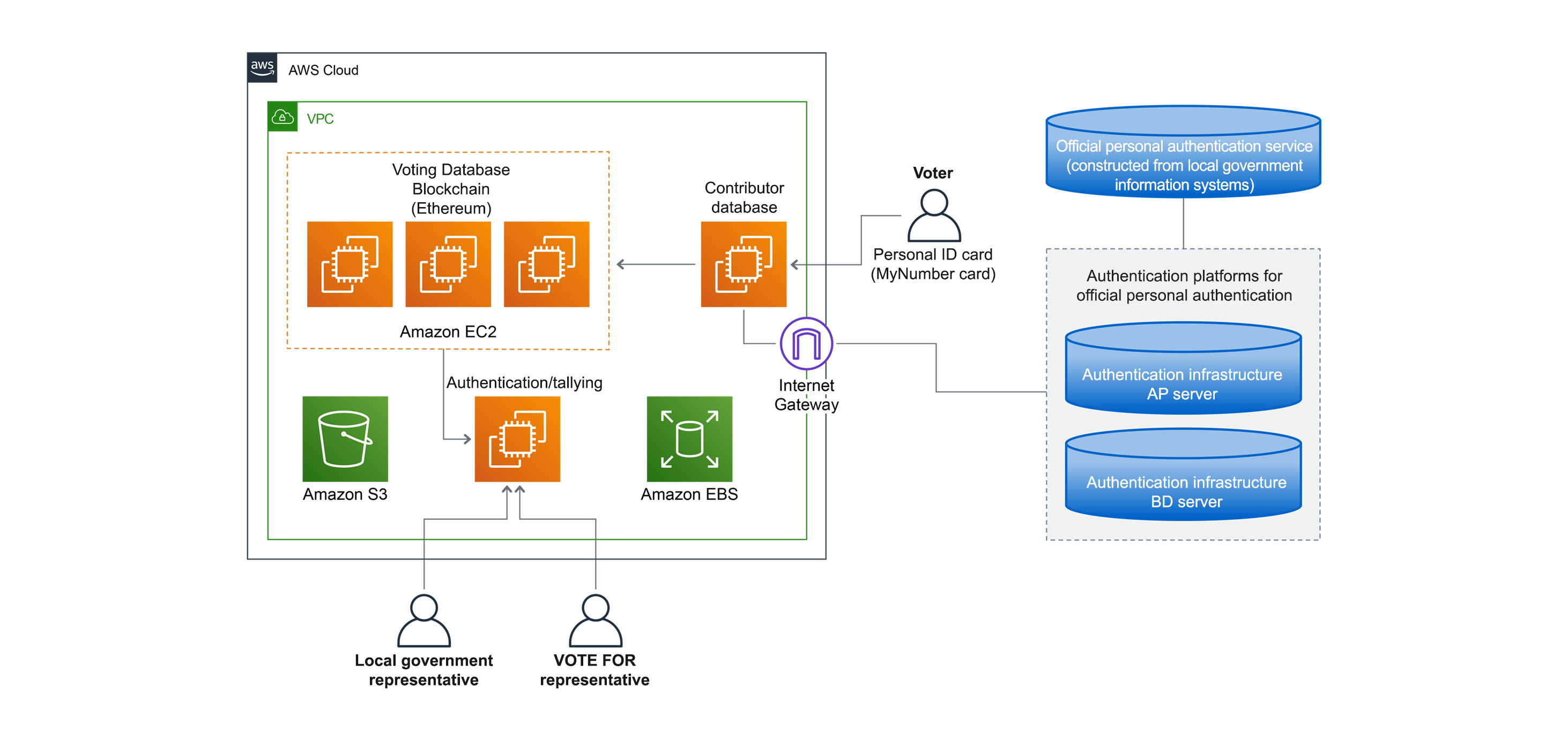 Tsukuba City's initiatives towards using advanced technologies to meet the requirements of the SDGs and Society 5.0 are continuously being implemented more and more extensively. To achieve this, the city is considering pushing forward with a consortium-style, open-innovation initiative, with not only the participation of VOTE FOR, but also various other vendors and research facilities. As a base that enables easy integration of various technologies to infrastructure, AWS will continue to greatly contribute to this cause.

"I share the Tsukuba City Mayor's belief that 'In Tsukuba, we aim to discover the clues to solving common problems experienced throughout the world and then share them back throughout the globe,' and I am always promoting initiatives with the goal of seeing the city become a local and national model case," says Okano.

---
For more details about the application of AWS within governmental organizations, educational institutions and non-profit organizations, please visit the AWS for the Public Sector page.

---