Topics: Healthcare
Deploying a Telehealth Application with the US Army and Deloitte
November 2022
The COVID-19 pandemic caused many healthcare providers to rethink how they engage with and treat patients. In response to these changes, the US Army Telemedicine & Advanced Technology Research Center (TATRC) began building a telehealth application on Amazon Web Services (AWS) with Deloitte, a professional services company. The National Emergency Tele Critical Care Network (NETCCN) application uses AWS Wickr to create a secure environment that allows patients and clinicians to communicate from virtually anywhere. To learn how NETCCN is making a difference in the healthcare world, the Fix This team sat down with Matt Quinn, science director at US Army TATRC, and Daniel Adams, health technologist from Deloitte.

Matt Quinn
Matt Quinn is the Science Director for the Army's Telemedicine & Advanced Technology Research Center (TATRC) and leads efforts by TATRC's research & development teams to forge the future by fusing data, humans, and machines into solutions that optimize Warfighter performance and casualty care. For over 20 years Matt has been deeply involved in advancing health technology in the public and private sectors in key roles such as Senior Advisor for Health Technology at the Health Resources and Services Administration (HRSA), Managing Director for Healthcare & Life Sciences at Intel Corporation, Director of Healthcare Initiatives at the Federal Communications Commission (FCC) and Healthcare Industry Manager for Teradata. At the Agency for Healthcare Research and Quality (AHRQ) and National Institute of Standards and Technology (NIST), Matt led a research agenda that resulted in "safety-enhanced design" certification requirements for electronic health records. Mr. Quinn has been called to testify before both the U.S. Senate and the House of Representatives, been recognized multiple times with the FedHealthIT100 award, received the HHS Distinguished Service Award, the highest honor granted by the department, the Army Meritorious Civilian Service Medal for his work in launching the National Emergency Tele-Critical Care Network (NETCCN) and the first ever National Health IT Collaborative for the Underserved "Champion of Diversity" award. Matt began his career as an Army Engineer Officer and earned an engineering degree from the United States Military Academy at West Point and an MBA from Colorado State University.

Dan Adams
Dan Adams is a health technologist at Deloitte Consulting, focusing on improving healthcare through software development, systems engineering, and cybersecurity.

01:47 – Brainstorming a telehealth solution
03:15 – Overcoming challenges to create NETCCN
08:57 – Understanding the patient/provider experience with NETCCN

11:51 – How the AWS Cloud scales and powers NETCCN
14:01 – Who has benefited from NETCCN
16:40 – How can NETCCN can continue to improve lives in the future

About the Fix This Podcast
Hear conversations spanning from researching climate change to improving patient outcomes to creating AI-driven art—and more. Dive deep with customers on the Fix This podcast.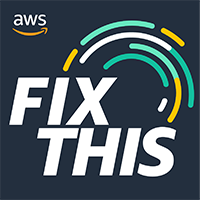 Netflix on AWS
Learn how Netflix builds on AWS to drive innovation across its business.