Topics: Nonprofit
Reimagining Athlete Engagement at the 2022 Special Olympics USA Games
June 2022
Historically, sports have acted as a glue bringing communities together from around the world. In June, the 2022 Special Olympics USA Games hopes to do just that in Orlando, Florida. By building a new serverless application on Amazon Web Services (AWS), the organization is connecting athletes and attendees like never before. The Fix This team chatted with Lonnie Snyder, chief information officer (CIO) of the 2022 Special Olympics USA Games, to hear how the app is changing the games. From providing virtual cheers to hosting up-to-date schedules and more, the application will act as the single source of truth to help remote or in-person attendees navigate and celebrate the athletes during the 2022 USA Games.

Lonnie Snyder
Lonnie Snyder is a global information technology (IT) expert currently holding the role as the CIO for the Special Olympics 2022 USA Games. He has a 25 year history of working with nonprofit organizations leading their IT innovation including Special Olympics International, a global organization with 244 national and state programs in 195 countries and territories. He led the organization's Enterprise Systems and Health Technologies teams overseeing a complex network of 20 technology business systems used throughout the world by thousands of people. His leadership has empowered grassroots organizations to better use technology to create impact through their missions. He has empowered volunteers throughout the world to embrace technology as a tool for making positive change in the world.
02:01 - Learn how USA Games is paying it forward
02:49 - A glimpse into the 2022 USA Games with 4,300 athletes
03:44 - New app improvements include near real-time feedback and updates
05:36 - New app functionalities will solve previous pain points for athletes and viewers


08:54 - The role of the cloud in delivering on the nonprofit's mission
11:18 - How the organization works with AWS
12:02 - How these innovations can scale beyond the 2022 USA Games


About the Fix This Podcast
Hear conversations spanning from researching climate change to improving patient outcomes to creating AI-driven art—and more. Dive deep with customers on the Fix This podcast.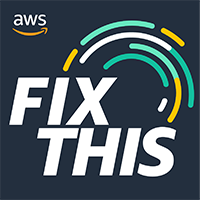 Customer Success Stories
Organizations of all sizes use AWS to increase agility, lower costs, and accelerate innovation in the cloud.