IMAGINE: The Modern Citizen Experience
Join us for conversations with diverse voices across the state and local government community
As the world changes rapidly, Amazon Web Services (AWS) is committed to helping state and local governments focus on what matters most: their citizens. Join us for IMAGINE: The Modern Citizen Experience, a discussion series that explores the latest challenges and opportunities government organizations are facing. Hear from government leaders, including chief information officers and directors, as they share their stories about the future citizen experience.

Lessons learned from COVID-19 and how it revolutionized citizen services delivery
Watch this fireside chat to learn how the Commonwealth of Virginia and Research Improving People's Lives quickly evolved their people, processes, and technology to better serve citizens.

Deleting the digital divide: Creating equity for citizens through technology
Join this discussion to learn how King County, City of Philadelphia and San Mateo County are closing the digital divide and better delivering essential services, like education and employment opportunities.

Innovative cloud technologies transforming state and local government
Hear NGA911, Iteris, and OpenGov discuss how cloud-based technologies are raising the bar for service delivery and enabling state and local governments to better work at the pace of citizen expectations.

Key themes
We carefully curated the content in this series around themes that are of key interest to government leaders and their teams.

Building the workforce of tomorrow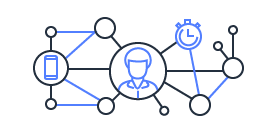 Revolutionizing the citizen experience
Modernizing for resiliency
Never miss an update. Join our mailing list.

Interested in receiving updates about IMAGINE: The Modern Citizen Experience? Subscribe and stay up to date on the latest.