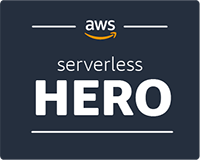 Matt Weagle, Engineering Manager at Lyft
Seattle, USA
Hero since 2019
As an engineering manager at Lyft, Matt leverages machine learning, serverless techniques, and a servicefull mindset to create innovative transportation experiences in an operationally sustainable and secure manner. Matt looks to serverless as a way to increase collaboration across development, operational, security, and financial concerns to support rapid business value creation.
He has been involved in the serverless community for several years. Currently, he is the organizer of the Seattle Serverless Meetup and co-organizer of the Seattle Serverless Days event. Additionally, he writes about serverless topics on Medium and Twitter.
Matt is also the primary developer of Sparta, a `go` framework for AWS Lambda-powered microservices. He has also published over 30 sample serverless applications on GitHub that show the power and promise of the serverless approach.

LinkedIn

Twitter

GitHub

Blog
What is the AWS Hero Program?
The AWS Hero program recognizes a vibrant, worldwide group of AWS experts whose enthusiasm for knowledge-sharing has had a real impact within the community. Heroes go above and beyond to share knowledge via social media, blog posts, open source projects, events, and user groups.