Alara Imaging
"Alara Imaging makes it easier than ever to achieve secure, bi-directional communication of medical imaging data between on-premises storage and the cloud. Alara Imaging is proud to work with AWS HealthImaging to support modern, cloud-native medical imaging to improve health systems and patient outcomes."
Nate Mazonson, CEO, Alara Imaging

ApolloEI
"At ApolloEI, we are experts in delivering enterprise imaging clinical workflow solutions to our customers. We are in the process of shifting arcc, our multi-disciplinary medical imaging platform, to be cloud-native on AWS. We are thrilled to build on top of AWS HealthImaging and take advantage of its scalability for image import and image viewing."
Mark J. Newburger, President & CEO, ApolloEI

CoreSlicer
"The CoreSlicer team is passionate about applying technology to quantify body composition from medical images. Our technology uses deep learning to illuminate biomarkers that enable doctors to deliver care that is more proactive, precise, and patient centered. We are excited to be collaborating with AWS on the development of our platform for a global user base. We are impressed by AWS HealthImaging's fast image viewing and tight integration with other AWS services."
Jonathan Afilalo, Principal Scientist & Founder, CoreSlicer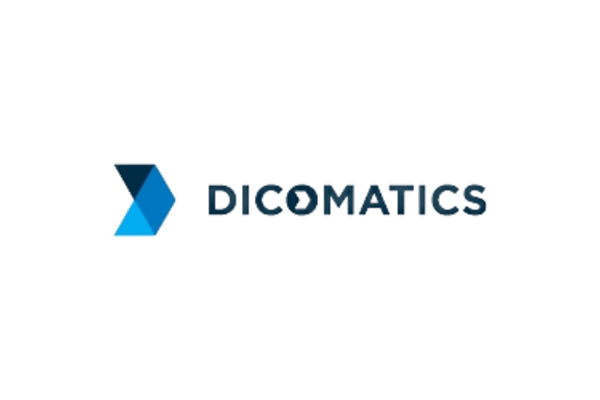 Dicomatics
"Dicomatics is a leader in seamless and scalable medical imaging data migration. From on prem to the cloud, we excel in handling petabyte-scale and complex migrations. With the power of AWS HealthImaging, our customers now have a specialized cloud service dedicated to storing their valuable data, fueling clinical workloads, and groundbreaking research."
Aviram Biton, Strategic Partnership, Dicomatics

Flywheel
"Flywheel's medical imaging AI development platform, together with the power of AWS HealthImaging, is helping to revolutionize research, drug development, and care delivery by providing the needed AI + data management tools for standardizing, curating, annotating, and training complex medical imaging datasets. Together we can help the healthcare industry extract greater value, deeper insights, and accelerate disease diagnosis and drug efficacy."
Dan Marcus, Chief Scientific Officer, Flywheel

NVIDIA
"MONAI, co-founded and accelerated by NVIDIA, is a domain-specific, medical imaging AI framework that speeds the translation of research breakthroughs and AI applications to clinical impact. With the integration of MONAI and AWS HealthImaging, medical images can be viewed, processed, and segmented in near real time—optimizing physician workflows, enhancing patient experiences, and helping hospitals improve efficiencies."
Prerna Dogra, Global Lead for Healthcare AI Products, NVIDIA

Philips
"Our vision is to help clinicians and staff manage growing workloads and optimize workflows to speed time to diagnosis and treatment of patients. AWS purpose-built services, like HealthImaging, can help Philips innovate faster and serve our customers and their patients. Our cloud-enabled HealthSuite Imaging PACS intends to use AWS HealthImaging to improve experiences and accessibility for clinicians all over the world."
Shez Partovi, Chief Innovation & Strategy Officer and Chief Business Leader of Enterprise Informatics, Philips

Radboudumc
"At Radboud University Medical Center, our mission is to be a pioneer in shaping a more person-centered, innovative future of healthcare. We are building a collaborative AI solution with AWS HealthImaging for clinicians and researchers to speed up innovation by putting ML algorithms into the hands of clinicians faster."
Bram van Ginneken, Chair of the Diagnostic Image Analysis Group, Radboudumc

Radical Imaging
"Radical Imaging is streamlining medical imaging in the cloud through its viewer-as-a-service product FlexView. AWS HealthImaging is a key enabler for us to deliver on our promise of any image, any workflow, anywhere; securely, with maximum performance, at scale."
Rob Lewis, CEO & Founder, Radical Imaging

Atrium Health
"Atrium Health is a nationally recognized leader in shaping health outcomes through innovative research, education, and compassionate patient care. A leader in experiential medical education and groundbreaking research, Wake Forest University School of Medicine is the academic core of the enterprise, including Wake Forest Innovations, which is advancing new medical technologies and biomedical discoveries. Our mission is to improve health, elevate hope, and advance healing—for all. We are actively collaborating with AWS to explore AWS HealthImaging's capabilities, which could help Atrium Health deliver on this mission on the cloud."
Rasu Shrestha, MD MBA, Executive Vice President, Chief Strategy and Transformation Officer, Atrium Health

University of Maryland Medical Intelligent Imaging (UM2ii) Center
"UM2ii was formed to unite innovators, thought leaders, and scientists across academics and industry. Our work with AWS will accelerate our mission to push the boundaries of medical imaging AI. We are excited to build the next generation of cloud-based intelligent imaging with AWS HealthLake Imaging and Amazon's experience with scalability, performance, and reliability."
Paul Yi, MD, Director, UM2ii Center

Visage Imaging
"Visage is a leading global provider of enterprise imaging solutions that enable PACS replacement at local, regional, and national scale. Visage is leading the way with 100% of our new customers over the past 3 years have implemented Visage 7 in the cloud. Visage 7 CloudPACS is ultrafast, providing sub-second access to all patient imaging coupled with the most extensive advanced visualization tools that enable radiologists to read more cases with greater clinical precision. With AWS HealthImaging, Visage 7 customers will have even more flexibility to manage and unleash the value of their enterprise imaging data assets."
Sam Hupert, MD, CEO, Visage Imaging

VIDA
"At VIDA, our mission is to accelerate research, clinical trials, and adoption of life saving treatments through AI-enabled clinical imaging data workflows. AWS HealthImaging is accelerating our roadmap by allowing us to rapidly implement DICOM imaging services. By speeding development and enabling our R&D team to focus on differentiating functionality, the VIDA Intelligence Portal is now thriving in the market."
Todd Johnson, CTO, VIDA

Next steps
Start using HealthImaging
Begin with HealthImaging in the AWS Management Console.

Connect with an expert
Reach out to the AWS Support team.

Explore HealthImaging FAQs
Find answers to commonly asked questions.