Software and hardware for robotics
Code, create and collaborate with our GitHub community to make your AWS DeepRacer more than the sum of its parts.
Featured projects
Check out our favorite projects or contribute your own on GitHub.
Projects are not required to participate in the AWS DeepRacer League.
Connect with the community
Get answers to your questions and collaborate on projects.

Look under the hood
AWS DeepRacer
Developers of all skill levels can get hands-on with machine learning with the AWS DeepRacer, a 1/18-scale race car.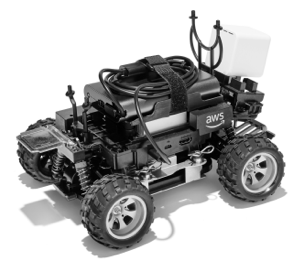 AWS DeepRacer Evo
AWS DeepRacer Evo is the next generation in autonomous driving. It comes fully equipped with stereo cameras and a LiDar sensor.
Extend capabilities with add-on hardware
Add 360 degree vision
Add 3D vision
Reduce processing time
Intel neural compute stick