Girls in Tech
AWS Machine Learning Engineer Scholarship Program
Advance your career by earning a scholarship to the AWS ML Engineer Nanodegree program on Udacity. You'll learn to apply machine learning techniques and algorithms, including deployment to the AWS production environment.

Start your ML engineering journey with AWS
The AWS Machine Learning (ML) Scholarship Program teaches developers of all skill levels machine learning concepts for pursuing a career in ML. Anyone 18 or older interested in expanding their machine learning skills can apply to the program. Our mission is to cultivate the next generation of ML leaders by increasing accessibility to ML skills training for all, including those from backgrounds that are underrepresented in tech. Through We Power Tech, AWS is collaborating with Girls in Tech and National Society of Black Engineers to increase diversity and talent in technical roles.
How it works
Apply for the course
Registration starts June 21, 2022 and scholarship participants will be auto enrolled into the AWS Machine Learning Foundations Course on Udacity. The course covers the fundamentals of machine learning, steps in the machine learning process, reinforcement learning and generative AI.
Complete the assessment
The AWS Machine Learning Foundations Course is self- paced with approximately 3-5 hours of coursework per week. At the end of the course, you will complete an assessment. The top 325 performing students will be selected to receive a scholarship valued at $2,000 USD to one of Udacity's most popular Nanodegree programs: AWS Machine Learning Engineer.
Earn a scholarship
Students awarded a Nanodegree scholarship can access the course beginning December 8, 2022. Here, you will learn advanced ML techniques and algorithms - including how to package and deploy your models to a production environment. You'll acquire practical experience such as using Amazon SageMaker to prepare you for a career in ML.
Join the path to greatness
"Tech needs representation from women, BIPOC, and other marginalized communities in every aspect of our industry. Companies must make meaningful and measurable change in the areas of diversity, equity, and inclusion to reach their greatest potential, and skills training programs uniquely tailored to increase representation from these groups are necessary for technology to achieve all that it's capable of. Girls in Tech applauds our collaborator AWS, as well as Udacity, for breaking down the barriers that so often leave women behind in tech. Together, we aim to give everyone a seat at the table." - Adriana Gascoigne, Founder and CEO, Girls in Tech
Leverage community and learn from scholarship alumni
This year participants will be able to learn from past AWS ML Engineer scholarship alumni. Hear from two alumni who will be joining as program tutors for the 2022 season!
"The AWS ML Engineer Nanodegree Program gave me a solid footing in understanding the foundational building blocks of Machine Learning workflows. This shaped my knowledge of the fundamental concepts in building state-of-the-art Machine Learning models. Udacity curated learning materials that were easy to grasp and applicable to every field of endeavor, my learning experience was challenging and fun-filled."
-Jikmyan Mangut Sunday, AWS ML Engineer Scholarship 2021 Alumni
"The AWS ML Engineer Nanodegree Program introduced me to a wide variety of ML tools which made the learning experience much easier. Before taking the program, the many tools provided by AWS seemed frustrating, but now I have a good grasp of them. I learned how to organize my code and work in a professional setting. The organized modules, follow up quizzes, and personalized feedback all made the learning experience smoother and concrete."

-Kareim Gazer, AWS ML Engineer Scholarship 2021 Alumni
The AWS Machine Learning Foundations Course (FREE)
Register for the AWS Machine Learning Foundations course. 100% of applicants will be immediately enrolled to the AWS Machine Learning Foundations course, see learning outcomes for below.
Learn the fundamentals of machine learning
Learn object-oriented programming best practices
Learn reinforcement learning with AWS DeepRacer and generative AI with AWS DeepComposer.
Commit to dedicating 3-5 hours a week on the course and work towards earning one of the follow-up Nanodegree program scholarships

Use your ML skills to win prizes
Go beyond the classroom and apply your AWS machine learning skills by competing in the AWS DeepRacer League for a chance to win prizes and glory. AWS DeepRacer is the world's first global autonomous racing league, driven by machine learning. Race for prizes and glory, and a chance to advance to the AWS DeepRacer Championship. Get on the track to compete online in monthly races worldwide while improving your machine learning skills!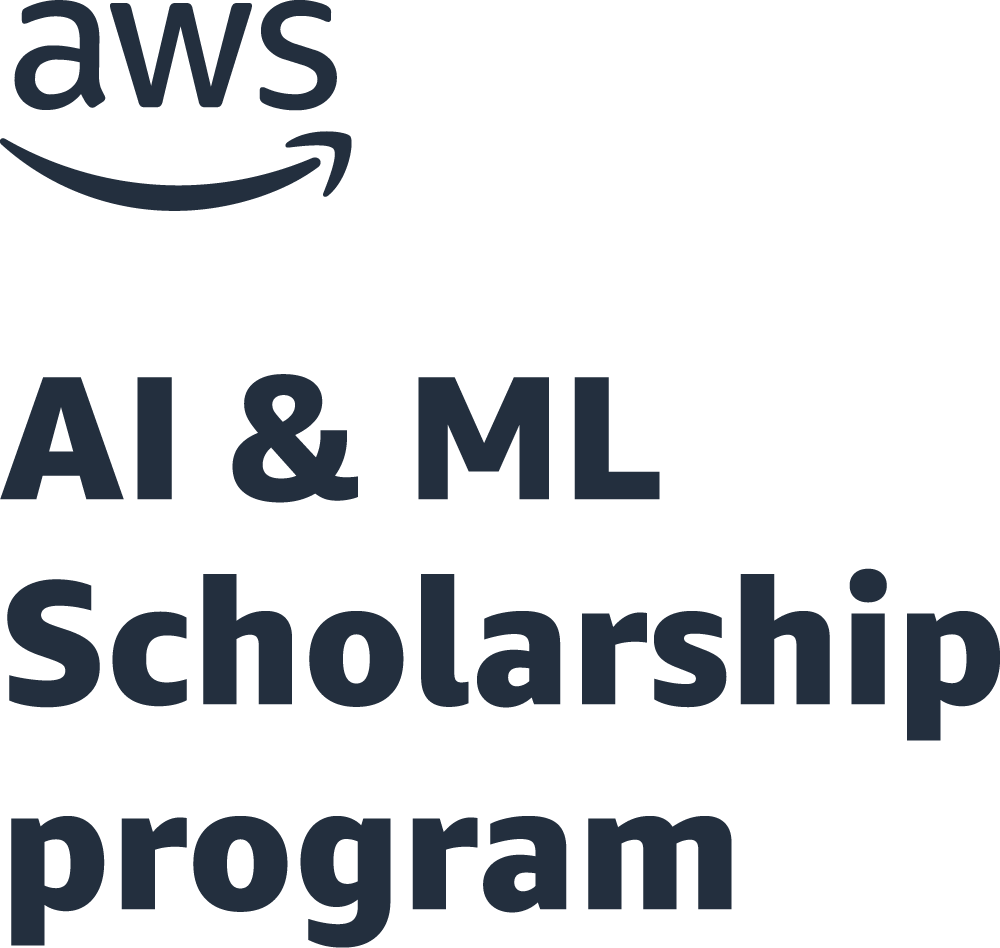 Discover more scholarship opportunities
The AWS Artificial Intelligence (AI) and Machine Learning (ML) Scholarship program, in collaboration with Intel and Udacity, aims to help underserved and underrepresented high school and college students globally learn foundational AI & ML concepts through Udacity Nanodegree scholarships and mentorship opportunities with AWS and Intel experts.

Get started with Machine Learning for free
Create your free AWS account and get started with free offers and services to build, deploy, and run machine learning applications in the cloud.