Topics: Nonprofit
Navigating Climate Risk with First Street Foundation
September 2022
As climate change increases the chance of wildfires, floods, and droughts, individuals are unsure if or when these catastrophic events will reach them. First Street Foundation is on a mission to uncover actionable climate data to deliver peace of mind and to help individuals understand their own home's climate risk through the power of shared data and knowledge. First Street Foundation is a research and technology nonprofit building on Amazon Web Services (AWS) to create a suite of scalable and flexible tools called Risk Factor. These tools include flood factor, heat factor, and fire factor to help understand the individual risk of a property. To learn more, the Fix This team chatted with Matthew Eby, chief executive officer, and Dr. Ed Kearns, chief data officer at First Street Foundation. Matthew and Ed discuss how the Risk Factor suite can empower individuals to understand their potential home's future climate risk.

Matthew Eby
Matthew Eby is the Founder and CEO of First Street Foundation, a research and technology nonprofit working to define America's climate risk. Under Matthew's leadership, the Foundation created a first-of-its-kind, peer-reviewed flood model, wildfire model, and extreme heat model to calculate the past, present, and future climate risk of every property in the United States. The Foundation has also calculated the associated economic damage for every property and made all of this data available through Risk Factor, a consumer facing website that is directly integrated for every property on websites such as Realtor.com and Redfin. Matthew holds an Honors Business Commerce degree and an MBA from McMaster University in Canada.
Matthew is a recognized business leader with global experience. He has worked and lived in Toronto, Tokyo, London, Atlanta, and New York. Before creating the First Street Foundation, Matthew founded and served as CEO of Anthro, a digital marketing agency serving social good and non-profit organizations. Before that, he was the Senior Vice President of Consumer and Brand Marketing for The Weather Company, where he managed a portfolio of brands including The Weather Channel (digital and broadcast) and the Weather Underground.

Dr. Ed Kearns
Dr. Ed Kearns is the Chief Data Officer of First Street Foundation, and as such, provides leadership for the organization's science and data activities.
Dr. Kearns previously served as Chief Data Officer for the U.S. Department of Commerce, overseeing the governance and management of data assets from its 12 bureaus. Appointed as NOAA's first Chief Data Officer in 2017, he has led the development of strategies and practices for managing NOAA's data as a national asset. Kearns promotes new uses and wider understanding of federal data through new public-private partnerships and technologies, such as the NOAA Big Data Project. As a workgroup leader for the White House's Leveraging Data as a Strategic Asset initiative, he helped develop the new Federal Data Strategy.
Previously, Dr. Kearns led climate data and archive activities for NOAA; guided Everglades restoration projects for the National Park Service; calibrated NASA satellite-based ocean data products; and developed ocean data systems as a professor at the University of Miami.
Dr. Kearns holds a Bachelor of Science in Physics and Marine Science from the University of Miami, and a Doctorate of Philosophy in Physical Oceanography from the University of Rhode Island.

02:40 – Introduction to First Street Foundation's Risk Factor
08:10 – Understanding the connection between real estate and climate risk
09:27 – Scaling its services on AWS

10:26 – Using machine learning to drive experimentation
12:26 – Looking ahead and expanding Risk Factor
14:05 – How First Street Foundation plans to increase awareness and adoption
About the Fix This Podcast
Hear conversations spanning from researching climate change to improving patient outcomes to creating AI-driven art—and more. Dive deep with customers on the Fix This podcast.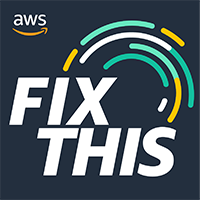 Customer Success Stories
Organizations of all sizes use AWS to increase agility, lower costs, and accelerate innovation in the cloud.