Access to healthcare is critical to an individual's quality of life, but around the world many struggle to have their basic needs met. ZiphyCare is an organization dedicated to removing barriers that prevent populations from accessing critical care. By building on Amazon Web Services (AWS), ZiphyCare has created a scalable solution that combines in-person and virtual care to more patients than ever before. The Fix This team sat down with Dr. Rada Sumareva, co-founder and chief executive officer (CEO), to learn more about how ZiphyCare improves access to care and delivers wifi, laptops, and any other resources that can positively facilitate the visit.
Dr. Rada Sumareva
CEO and Co-Founder, Ziphycare
Dr. Rada Sumareva, is a healthcare innovator and notable advocate for inclusion, diversity and humanitarian causes that benefit at-risk populations. She is the CEO and co-founder of Ziphycare, a digital health company with a mission to provide access to quality healthcare for all. Dr. Rada Sumareva has been a healthcare provider for over 2 decades servicing patients with multiple chronic conditions, many of whom come from the most vulnerable communities – the elderly, people with disabilities, people living in care deserts and the economically disadvantaged. She's also been involved in a number of health initiatives helping at-risk patients get better access to care, providing health education, raising awareness and improving compliance through her professional and non-profit affiliations (community boards, Henry Schein Cares, United Healthcare, UJA Federation and others). And recently became a member of the Women Business Leaders of the U.S. Health Care Industry Foundation (WBL), the premier network of over 3,000 women CEOs, board members, and leaders in health care.
01:45 - Introducing ZiphyCare
02:57 - Understanding the challenges people face when accessing healthcare
03:43 - Breaking down the ZiphyCare process

06:34 - Using AWS to make ZiphyCare possible
07:54 - Helping healthcare entities manage patients care
08:53 - Looking to the future
About the Fix This Podcast
Hear conversations spanning from researching climate change to improving patient outcomes to creating AI-driven art—and more. Dive deep with customers on the Fix This podcast.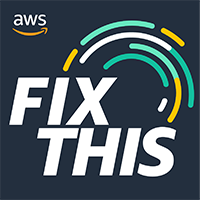 Customer Success Stories
Organizations of all sizes use AWS to increase agility, lower costs, and accelerate innovation in the cloud.