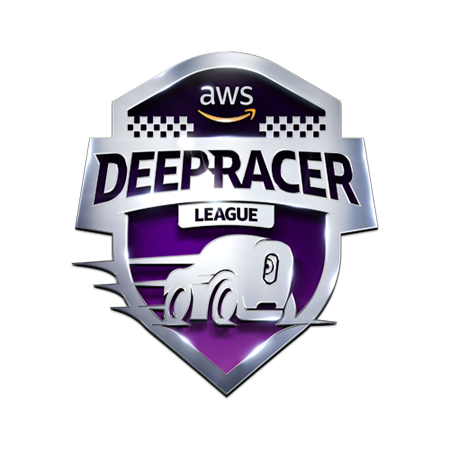 AWS DeepRacer League
Welcome to the world's first global autonomous racing league, driven by reinforcement learning. It's time to race for prizes and glory, and a chance to advance to the AWS DeepRacer Championship. Get on the track to compete online in monthly Virtual Circuit races or at Summit Circuit race events worldwide.

Virtual Circuit
Race online via the AWS DeepRacer console
Join the AWS DeepRacer League from anywhere in the world. Compete in time trial races and take on new challenges such as head-to-head racing via the AWS DeepRacer console. New tracks will be released each month, with 24 chances this year to win an expenses paid trip to re:Invent 2020!
With AWS Free Tier we've got you covered for up to 10 hours of training, so you can enter the AWS DeepRacer League at no cost to you.
Baadal Track
Race Online April 1 - 30
The April qualifier race for the AWS DeepRacer League Virtual Circuit, will take place on the all new Baadal Track. This track combines long arching straightaways perfect for passing opportunities, coupled with tight windings corners. But dont let the shape fool you - it serves up challenging features for time trial, object avoidance, and head-to-head racing. Top the leaderboard by balancing quick acceleration into the straightaways while optimizing for staying on track when decelerating into tight corners. Race in all 3 formats for triple the chances to climb the leaderboard this month!

Summit Circuit
Race in person at an AWS event
Rolling into AWS Summits around the globe in 2020, join the AWS DeepRacer League Summit Circuit to compete in a time-trial or head-to-head race featuring the all new AWS DeepRacer Evo. A winner will be crowned in both time trial and head-to-head races at every summit, for a chance to compete for the Championship Cup.
Time Trial Attend a workshop to learn how to develop your first RL model quickly and easily in the AWS DeepRacer console, or bring your own. Experiment and grow your skills by tuning and retraining your model, to successfully navigate around the track and achieve the fastest lap time! The developer with the fastest lap time will advance for a chance to compete for the Championship Cup.

Head-to-Head
Experiment with sensors and new training algorithms, to create an RL model capable of skillfully avoiding obstacles on the road, or detecting and predicting driving behavior of other cars. Bring your model to any AWS Summit to navigate around obstacles while racing head-to-head against AWS DeepRacer Evo. The developer with the fastest winning lap time will advance for a chance to compete for the Championship Cup.

Community Races
Race in a league of your own
The AWS DeepRacer League provides an opportunity for you to compete for prizes and meet fellow machine learning enthusiasts. Share ideas and insights on how to succeed and create your own private virtual race.

Login to the console and design a custom race in minutes. Share your unique race link with friends or open it to developers, globally.
AWS DeepRacer TV
AWS DeepRacer TV follows the world's first global autonomous racing league, featuring developers of all skill levels hoping to qualify for a chance to win the Championship Cup at AWS re:Invent.
Watch the series »
See the drama unfold in episode 6 as 64 of the world's best AWS DeepRacer developers face off in the re:Invent Championship Cup knockout rounds.
Season one ends with a bang as the field of 64 finalists is winnowed down to crown the 2019 champion.
More hands-on learning
Explore the portfolio of educational devices designed for developers of all skill levels to learn ML in fun, practical ways. Get started with reinforcement learning with AWS DeepRacer and learn how to build deep learning-based computer vision apps with AWS DeepLens.

AWS DeepRacer League Rules
Information on AWS DeepRacer League Rules and eligibility requirements.
Learn more

Learn more about pricing
Information on AWS DeepRacer pricing and integration with other AWS services.

Learn more