AWS DeepRacer League
Welcome to the world's first global autonomous racing league, driven by machine learning (ML). Developers of all skill levels can compete in races online and in person worldwide to win prizes while improving your ML skills!

Get started with the 2023 AWS DeepRacer League Preseason Race
Developers, start your engines! The 2023 preseason race launched on February 1 in the AWS console. Racers are welcome to compete all month on the global leaderboard for a chance to win a trip directly to AWS re:Invent 2023 to compete in the AWS DeepRacer League Championship Cup.
Try AWS DeepRacer Arcade on your mobile device
The all new AWS DeepRacer Arcade for mobile is a free, browser based car racing game that teaches you the fundamentals of machine learning.
During a quick tutorial, you'll learn how AWS DeepRacer leverages reinforcement learning to navigate autonomously around the track. After, you'll get to use your mobile device to complete a lap around a real DeepRacer virtual track against one of our pre-trained machine learning models. Submit your time to the global leaderboard to see how you stack up; there is no credit card or log-in required to play the arcade.
Compete in the 2023 AWS Innovate Preseason Race
The official 2023 AWS DeepRacer League will launch globally on March 1, 2023 with more chances to win than ever before! Get ready by training your models to compete all February long in the AWS Innovate Preseason race. You can also sign up to attend AWS Innovate Data and AI/ML Edition, where you can get tips for training your first model from AWS DeepRacer Pit crew experts during the 200L AWS DeepRacer workshop. Register to attend »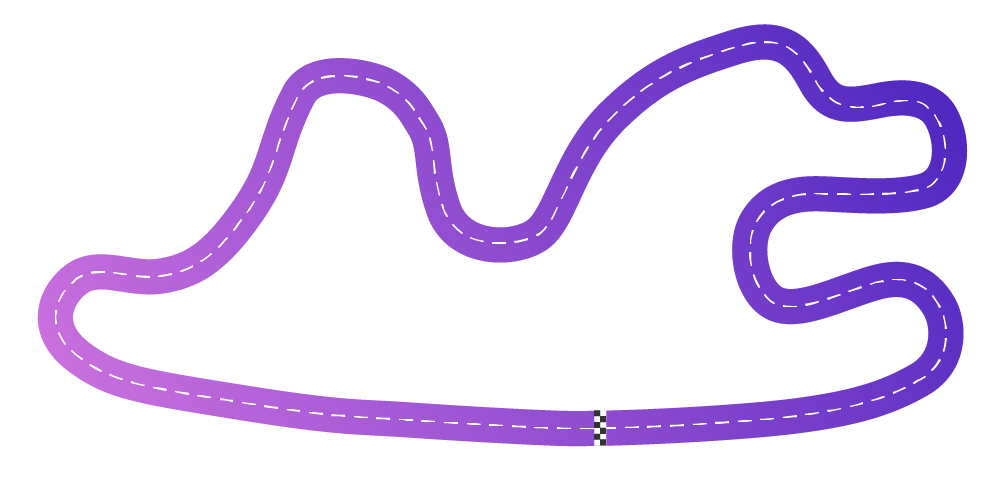 Fumiaki Loop
Format: time trial | Laps: 3 continuous | Penalties: 3 seconds
2022 Championship Speedway
Format: time trial | Laps: 3 continuous | Penalties: 3 seconds
The Championship Speedway 2022 is the official track of the AWS DeepRacer League Championships. The toughest physical track in AWS DeepRacer history (33.22m) will challenge competitors like never before with multiple hairpins and a long dragstrip over the finish line. Compared to the 2022 Summit Speedway, this track is 12cm narrower and 43% longer, adding extra difficulty for competitors.

Open Division
Jennens Family Speedway
Format: time trial | Laps: 3 continuous | Penalties: 3 seconds
The Jennens Family Speedway (49.56 m) is named in honor of the first ever racing family and 2021 re:Invent finalists James "JJ" and his son Timothy "Flatearth" Jennens. This track features two blistering fast drag strips right into unforgiving 90 degree sweeping turns that can spin out even the most skilled developers.

Pro Division
Jennens Super Speedway
Format: Head-to-bot | Laps: 3 continuous | Penalties: 3 seconds
The Jennens Super Speedway (62.07 m) builds on the Jennens family speedway with sharp 90 degree turns inspired by the technical street course features of famous races through the city of Toronto. Pros this month will need to navigate the technical section without off tracks, and apply top speeds on the drag strips to climb the leaderboard.

Featured reward: the re:Invent GT
All participants in the Winter Open race will receive the exclusive re:Invent GT digital reward in their garage at race close. This supercar design is inspired by the real full size cars that a few lucky re:Invent attendees got to drive on a closed track in Las Vegas by participating in the AWS DeepRacer Winner's Circle Driving Experience Sweepstakes.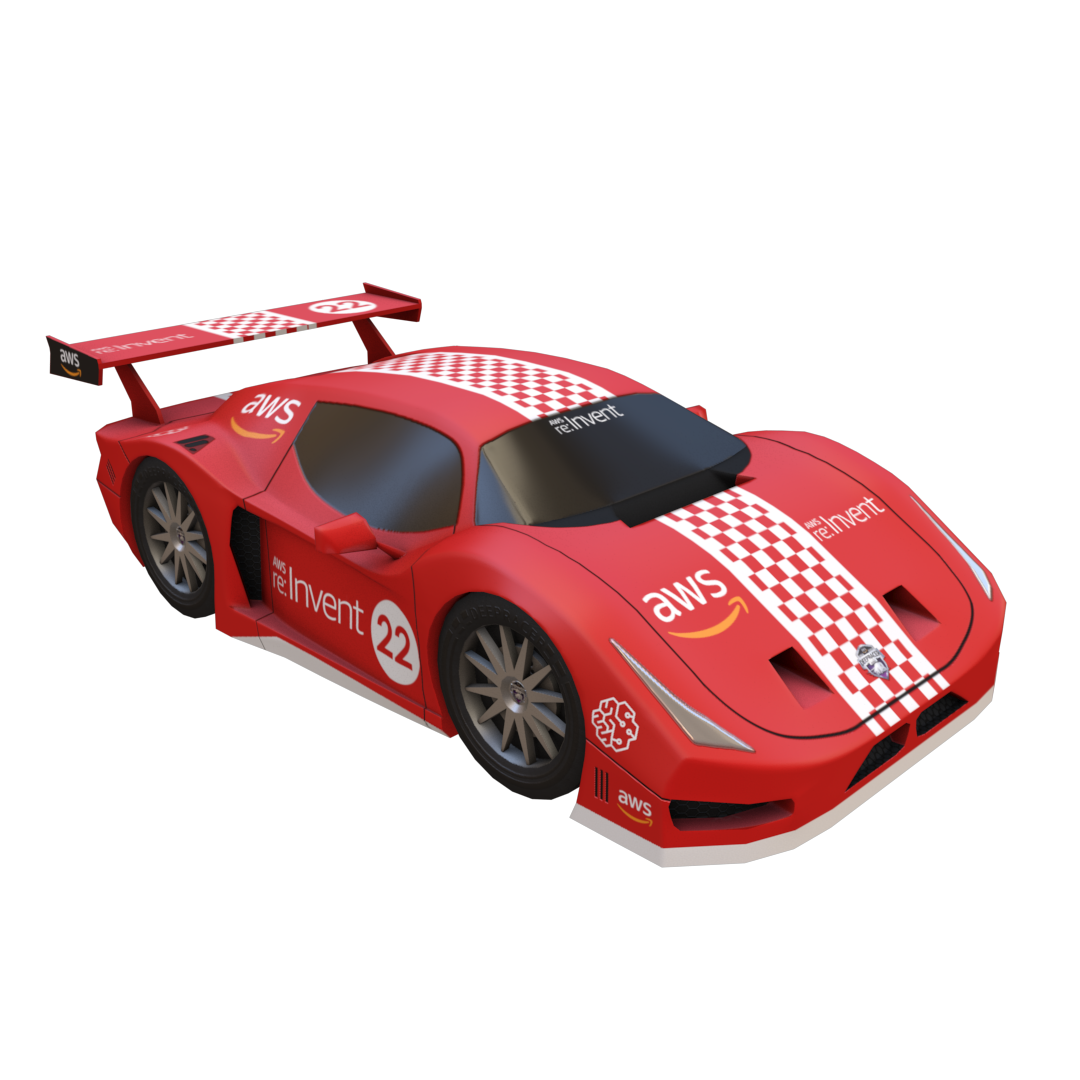 AWS Innovate Online Conference is a free online event designed to inspire and educate executives and IT professionals about AWS. Register to attend virtually in your region to participate in the AWS DeepRacer 200L workshop hosted AWS DeepRacer Pit Crew experts. During this 30 minute session, you'll learn the fundamentals of ML to get started building your first AWS DeepRacer autonomous driving ML model.
Congratulations to the 2022 AWS DeepRacer League Champions
Over 150,000 developers participated in AWS DeepRacer in 2022 from over 160 countries around the globe. From March to November the top 50 emerged from AWS Summit and Virtual Circuit racing; earning a trip to AWS re:Invent 2022 in Las Vegas and a chance to compete for the Championship Cup and $20,000 cash purse.
After 2 days of fierce competition on the all new and ultra challenging AWS DeepRacer 2022 Championship Speedway, 3 classmates from National Yang Ming Chiao Tung University in Taiwan made their way through the field to the finals. Watch as Yoway, I-Lee, and ZhengYi lay it all on the line with a single lap to determine who will be crowned the 2022 league champion.

To read more about the championship experience and join a global community of AWS DeepRacer developers head over to deepracing.io.
How to win prizes
Start in the Open Division | win virtual cars
For each month you compete, earn a new digital reward such as custom cars, paintjobs, and modifications by competing in the AWS DeepRacer Virtual Circuit. Racers can access earned rewards in your racer profile inside the AWS DeepRacer console. Build up your inventory to tune each model's custom look for racing in the League.
Advance to the Pro Division | win gear
Land in the top 10% at the end of any Open Division race and you'll advance to the Pro Division the following month, earning an AWS DeepRacer Pro welcome kit with exclusive DeepRacer merchandise shipped to your door. From sweatshirts to socks, stickers, and more - the welcome kit has everything you need to look the part as a certified pro. Pros also win an exclusive digital reward each month.
Take on the League's best | win a DeepRacer
Once you advance to the Pro Division, you'll compete with the best in the league for a chance to compete in the Pro Finale. The top 16 racers face off live each month on AWS Twitch, to compete for the biggest prizes in the league. The top 10 finishers in the Finale will each win an AWS DeepRacer Evo device valued at $399 to take your models from simulation to reality (sim2real) at home!
Land on the podium | win a trip to compete at re:Invent

The top 3 racers in the Pro Finale each month will qualify for the AWS DeepRacer League Championship Cup. Earn an expenses paid trip to Las Vegas to attend AWS re:Invent 2021 where you will compete for the title and the grand prize. Start racing today and it could be you on top of the podium this year!

AWS DeepRacer League Summit Circuit
The AWS DeepRacer League Summit Circuit 2022 has concluded. Congratulations from our top 2 racers at each summit for qualifying to compete in their regional races. Throughout October, the fastest in each region will compete LIVE on twitch.tv/aws. The top 3 in each regional advance to compete in the global championships at AWS re:Invent 2022. Tune in and cheer your hometown heroes on as they compete for prizes and glory! All live race times listed below in PST.

The FASTEST way to learn Machine Learning, literally.
AWS DeepRacer League brings developers from all over the world together through Machine Learning (ML) competition. With hands-on training, participants learn to build reinforcement learning (RL) models to race on an AWS DeepRacer device and in the 3D virtual racing simulator. Whether you're a seasoned pro at the top of the global leaderboard or developing a model for the first time, AWS DeepRacer is the fastest way to get rolling with ML. Explore the educational resources below to kickstart your ML journey, then get hands on in console to take to the track.

Take an online course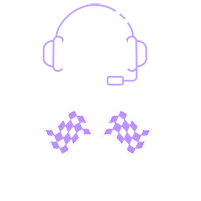 Learn the fundamentals in this free AWS Training & Certification course
Build Your Model
Get hands-on and build your model in 50 mins with this workshop
AWS DeepRacer TV
AWS DeepRacer TV follows the world's first global autonomous racing league, featuring developers of all skill levels as they progress their machine learning skills Tune in as racers from all over the globe face off as they hope to qualify for a chance to win the Championship Cup at AWS re:Invent.
Things are heating up on the virtual track! Join as the AWS DeepRacer League finds the best developers in the world in a competition like no other.

See the drama unfold in episode 6 as 64 of the world's best AWS DeepRacer developers face off in the re:Invent Championship Cup knockout rounds.
Season one ends with a bang as the field of 64 finalists is winnowed down to crown the 2019 champion.
More hands-on learning
Explore the portfolio of educational devices designed for developers of all skill levels to learn ML in fun, practical ways. Get started with reinforcement learning with AWS DeepRacer, learn how to build deep learning-based computer vision apps with AWS DeepLens, and express your creativity through generative AI with AWS DeepComposer.

AWS DeepRacer League Rules
Information on AWS DeepRacer League Rules and eligibility requirements.
Learn more
The 2023 AWS DeepRacer League competition administrator is PromoVeritas Ltd. Participants in the 2023 AWS DeepRacer League and AWS DeepRacer Student League can expect to receive prizing communication from noreply@awsdeepracerleaguewinners.com within seven business days of the close of each event.

Learn more about pricing
Information on AWS DeepRacer pricing and integration with other AWS services.

Learn more