AWS Panorama device options include the AWS Panorama Appliance, and the Lenovo ThinkEdge SE70, powered by AWS Panorama. These hardware options provide you choices in price and performance, depending on your unique use case. Regardless of the device option you choose, you can engage with AWS Panorama Partners to build a custom CV application, or implement pre-defined solutions such as improving supply chain logistics, optimizing traffic management, or evaluating manufacturing quality.
AWS Panorama device option key specifications
| | | |
| --- | --- | --- |
| | Lenovo ThinkEdge SE70 Device | AWS Panorama Appliance |
| List Price | $2339 MSRP | $4,000 |
| Storage | 256GB | 32GB |
| RAM | 8GB | 32GB |
| GPU | NVIDIA Jetson NX Xavier | NVIDIA Jetson AGX Xavier |
| Performance | 21 TeraOPS (TOPS) | 32 TeraOPS (TOPS) |
| Ethernet | 2 GbE | 2 GbE |
| IP Rating | IP51 | IP62 |
To learn more about how to purchase a Panorama device, please visit the How to Purchase tab.

Lenovo ThinkEdge SE70
The Lenovo ThinkEdge SE70 is designed to meet the expanding intelligent transformation needs from logistics, transportation and smart cities, to retail, healthcare and manufacturing. The new edge solution from Lenovo is created in cooperation with AWS leveraging AWS Panorama and is powered by the NVIDIA® Jetson™ Xavier™ NX platform.
Learn more about the Lenovo ThinkEdge SE70, including all technical specifications and how to reach out to a Lenovo sales representative to purchase the device, at the Lenovo ThinkEdge webpage.

AWS Panorama Appliance
The AWS Panorama Appliance is another hardware device option that can integrate seamlessly with your local area network, and can run multiple computer vision (CV) models on multiple concurrent video streams. The AWS Panorama Appliance is a ruggedized IP62 rated edge appliance, which makes it suitable for deployment in many types of environments as it is dust proof and water resistant.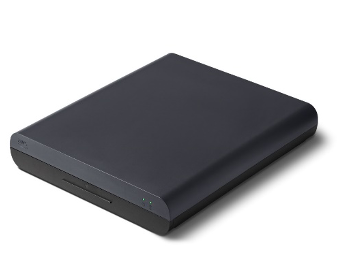 The AWS Panorama Appliance has one HDMI port for connecting to a video monitor to see inference output, and two GigE Ethernet ports to provide redundancy, to connect to two subnets, or for load balancing. The device is about a half rack unit wide, meaning two units can be placed side by side on a standard rack shelf on a server rack and fastened to the rack using the included screws.

AWS Panorama Device Setup
Extract powerful insights from your existing onsite cameras with AWS Panorama devices.
AWS Panorama devices are easy to set up following these steps:

Step 1: Unbox
Say hello to your Panorama device of choice!

---
Step 2: Plug in and connect to devices
Log in to your AWS account, and install one or more AWS Panorama devices on the same network as your on-premises cameras. Provision your AWS Panorama device for connection to the AWS Cloud and to connect to network cameras.

---
Step 3: Run CV on camera streams
You can use your own custom CV applications on the AWS Panorama device, or work with AWS Panorama Partners for use cases such as optimizing in-store experiences, improving restaurant operations, and gathering critical supply chain input. The inference results can be displayed on a monitor, or sent through MQTT messaging to a variety of local or cloud-based endpoints or systems.
Learn more about product pricing
Visit the AWS Panorama pricing page.
Learn more

Sign up for a free account
Instantly get access to the AWS Free Tier.
Sign up
Start building in the console
Get started building with AWS Panorama in the AWS Management Console.

Sign in