with faster time to insights

Empower builders to unlock

with faster time to insights

Empower builders to unlock

From large enterprises to emerging start-ups, more databases and analytics solutions are built on AWS than anywhere else.
Dive deeper with these resources to help you develop effective data, databases, and analytics strategies.

An Introduction to Cloud Databases: A guide for administrators
The rush to the cloud is often measured in pure business terms— and its growing popularity is widely recognized. For instance, a recent Gartner report finds that databases are growing at a rate of 68% in the cloud, whereas there is little on- premises growth outside of price increases and what they call "forced upgrades."
This e-book from O'Reilly Media and AWS provides a concise overview of what it takes to deploy databases in the cloud.

Read this e-book to learn more about:
Pros and cons of database options
Key considerations for successful migration
How DBA roles change once databases migrate to the cloud
---
Enter the Purpose-Built Database Era: Finding the right database type for the right job
Data is a strategic asset for every organization. Today's applications need databases that can store terabytes to petabytes of new types of data, provide access to that data with millisecond latency, process millions of requests per second, and scale to support millions of users anywhere in the world.
Read this AWS e-book to learn how to effectively use purpose-built databases to achieve your business goals faster and more efficiently.
Read this e-book to learn more about:
Strengths, challenges, use cases of each database
Which database to use and when
How to achieve scalability, availability, and performance
---
Harness the power of data
The key fact is that every organization has a growing data problem. First reactions often lead companies to believe that these issues are related to business intelligence processes and tools. However, the real hurdle is the inability to simply assess the data that organizations already have.
This e-book goes into how a modern analytics platform can open a world of opportunities to help your strategic and IT teams harness the power of data.

Read this e-book to learn more about:
How a modern analytics platform helps
How leading companies leverage AWS to harness the power of data
Five steps to create perpetual business momentum with your data

---
Creating a Modern Analytics Architecture
We hear from organizations all the time that they are looking to extract more value from their data but struggle to capture, store, and analyze all the data generated by today's modern and digital businesses.
In today's competitive world, data and analytics are indispensable. However, old-school models of data management lead to silos, dark data, and poor analytics.
Read this AWS e-book to explore the optimal data storage and how to create a modern analytics pipeline.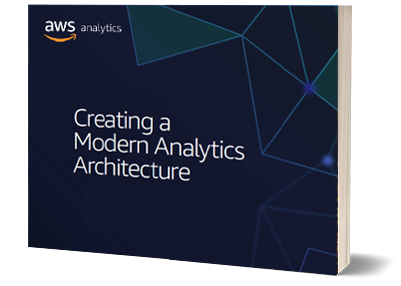 Read this e-book to learn more about:
Key insights on creating modern analytics architectures
Barriers and challenges to modernization
Pros and cons of integrating centralized data lake

---
The data-driven enterprise
There is a lot of talk these days about the data-driven enterprise and the need to become one. But what exactly does it take to become data-driven? And why is it important in today's digital environment? What practical steps can an enterprise take to make data fundamental to its mindset and practice? And what is the connection between data and that other priority of the digital age— business and technical agility?
Read this e-book to learn the practical steps of how to maximize the value of organizational data and ultimately create a powerful and data-driven enterprise.
Read this e-book to learn more about:
Path to creating a data-driven enterprise
Steps to unlock and maximize the value of data
How to use data to gain agility and make data more valuable


Featured Customers
Customers are using AWS to lower costs, become more agile, and innovate faster.
---
Whether you're looking for compute power, database storage, content delivery, or other functionality, AWS has the services to help you build sophisticated applications with increased flexibility, scalability, and reliability.
View AWS Free Tier Details »