Create Tomorrow with Data and Machine Learning
"We're at the beginning of a golden age of AI. Recent advancements have already led
to invention that previously lived in the realm of science fiction—and we've only
scratched the surface of what's possible"
- Jeff Bezos, Founder and CEO Amazon, 2019

Whether it's helping online shoppers automate repeat purchases, creating advanced real-time recommendations for online gamers, or accelerating new product development, businesses today are increasingly recognising the value of collecting real time and historical data and using machine learning technology to innovate faster for customers.

In the on-demand session, Create Tomorrow with Data and Machine Learning at AWS Innovate - AI/ML Edition, Glenn Gore, Worldwide Lead Solutions Architect, AWS, explores how businesses such as Amazon Retail, Amazon Alexa, and Amazon Robotics use Data and Machine Learning to innovate for customers.

Featured Speakers
Glenn Gore
Chief Architect, AWS
As the Chief Architect for Amazon Web Services, Glenn is responsible for creating architectural best practices and working with customers on how they use the cloud and innovation to transform their own businesses or disrupt new markets. Glenn has worked in engineering, R&D, and technology leadership roles with customers such as Facebook, Twitter, NASA and worked on projects such as the Hadron super collider, interplanetary networking and large scale distributed systems. Prior to joining AWS, Glenn was the CTO of WebCentral where he worked on highly scalable web platforms and big-data systems for customers. He also held roles at Ozemail and UUNET, the world's largest network provider.

Tye Brady
Chief Technologist, Amazon Robotics

Tye Brady is a leading strategic thinker and engineering professional with more than 25 years of hands-on experience in team leadership, technical management, and system design for advanced instrumentation, autonomous vehicles, and robotic systems. Tye is chief technologist at Amazon Robotics, where he heads advanced technology and research efforts. Before joining Amazon, Tye spent 15 years with Draper Laboratory in a variety of technical and leadership roles, advancing robotics and spacecraft engineering. He holds a master's degree in aeronautics and astronautics engineering from MIT. Tye is a founding partner of MassRobotics, a not-for-profit organisation serving as a world-class platform for robotic innovation.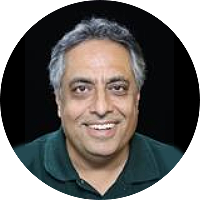 Manoj Sindhwani
VP, Alexa Speech

As Vice President of Alexa Speech, Manoj leads Science and Engineering teams for Wake Word Engine, Automatic Speech Recognition (ASR), Text to Speech (TTS), Local Voice Control and Acoustic Event Detection. Prior to joining Amazon in 2014, Manoj was Vice President of Engineering at Tollgrade Communications from 2011 to 2014, EnergyHub from 2010 to 2011, and Xtone Networks from 2008 to 2010. He holds Master's degree in Computer Applications from National Institute of Technology, Tiruchirapalli.

Jenny Freshwater
Director of Supply Chain, Forecasting & Capacity Planning, Amazon

Jenny Freshwater leads Forecasting for Amazon's consumer businesses worldwide. Jenny joined Amazon in 2010 and has held several positions during her 9 years with the company. Her career at Amazon started when she ran the software platform for the Amazon data warehouse, which stores petabytes of data used across the company for analytics and decision support. Jenny is currently responsible for forecasting long-range demand trends, fulfillment center capacity needs and demand for each product sold on Amazon sites worldwide. Prior to Amazon, Jenny built "big data" storage solutions for a variety of companies in the US. She has a degree in Applied Mathematics from the University of Miami, FL. Jenny currently lives in Seattle, Washington with her husband, son and daughter.

Mike Vogelsong
Senior Machine Learning Scientist, Amazon

Michael is a senior machine learning scientist at Amazon, working in Seattle. He previously cofounded the Deep Learning Technologies team with the goal of developing new machine learning (ML) solutions that apply generally across customer experiences, as well as shaping ML direction at Amazon. His work has been deployed in product search, recommendations, advertising, visual search, and fulfillment center robotics. He enjoys finding commonalities among seemingly distinct business and technical challenges, as well as mentoring individuals new to machine learning. Prior to joining Amazon over four years ago, Michael studied biomedical engineering (B.S.E.) at Duke University.

View Sessions & Synopsis
Data and Machine Learning: Helping Amazon Innovate Faster for Customers
Glenn Gore, Chief Architect, AWS
Learn how AWS has built AI, Data, and Machine Learning services that are accessible for technical builders and non-technical business leaders, and review how global brands such as Siemens Healthcare, Thorn, and Formula 1 use Data and Machine Learning to transform their delivery of services to customers. Glenn also explains why 5G will accelerate the value of Data and Machine Learning and how the Amazon Flywheel spins to create value for end customers.
---
Powering Voice Interaction
Manoj Sindhwani, VP, Alexa Speech
Manoj explores the evolution of the Amazon Alexa device since launch and explains how Alexa devices around the world use Data and Machine Learning models to keep learning and improving the service for customers every single day.

---
Before you click 'buy'
Jenny Freshwater, Director of Supply Chain, Forecasting & Capacity Planning, Amazon
Learn how Amazon uses Data and Machine Learning to create automated forecasting tools which enable the accurate and on-time delivery of hundreds of millions of products every day to customers around the world.
---
How Machine Learning is applied at Amazon
Mike Vogelsong, Senior Machine Learning Scientist, Amazon
Mike highlights how Data and Machine Learning models are used every day by Amazon to solve customer problems and improve product search and new product recommendations.

---
The Amazon Robotics Innovation Flywheel
Tye Brady, Chief Technologist, Amazon Robotics
Learn how Amazon Robotics integrates human intelligence and capability with robotics and Data and Machine Learning to increase productivity, speed up delivery times and create greater product selection for Amazon customers.


Featured Customer Stories
More and more organisations are building on AWS to drive innovation.
Start Building on AWS Today
Whether you're looking for compute power, database storage, content delivery, or other functionality, AWS has the services to help you build sophisticated applications with increased flexibility, scalability, and reliability.