Snowflake Data Cloud's Cloud Data Platform can be rapidly deployed on AWS
Snowflake delivers the Data Cloud — a global network where thousands of organizations mobilize data with near-unlimited scale, concurrency, and performance. Inside the Data Cloud, organizations unite their siloed data, easily discover and securely share governed data, and execute diverse analytic workloads. Join the Data Cloud.
Snowflake is an AWS Partner offering software solutions and has achieved Data Analytics, Machine Learning, and Retail Competencies.
Directly Access Your Snowflake Data From Amazon FinSpace
Easily use data you have in Snowflake from Amazon FinSpace, where quantitative analysts can find and access data from multiple sources to develop trading strategies and perform risk assessments. FinSpace is a data management and analytics service purpose-built for the financial services industry (FSI). Prepare, combine, and process data at scale with FinSpace notebooks and integrated Spark clusters. FinSpace works with Snowflake by providing analysts with direct access to their data in Snowflake. Explore how to easily access your Snowflake data from FinSpace notebooks.

Solution highlights
Store all of your data: Store semi-structured data such as JSON, Avro, ORC, Parquet, and XML alongside your relational data. Query all your data with standard, ACID-compliant SQL, and dot notation.
Pay for what you use: Snowflake's built-for-the-cloud architecture scales storage separately from compute. Whether up and down or transparently and automatically, you only pay for what you use.
Support all your users: Support concurrent use cases with independent virtual warehouses (compute clusters) that reference your common data.
Gain efficiency with per-second pricing: Turn your compute resources on and off as you need them, so you're only billed for the time you use.
Leverage a complete SQL database: Maintain your investment in the skills and tools you already rely on for your data analytics.
Increase flexibility of data sharing: Easily forge one-to-one, one-to-many, and many-to many data sharing relationships, so your business units, subsidiaries, and partners securely query read-only, centralized data.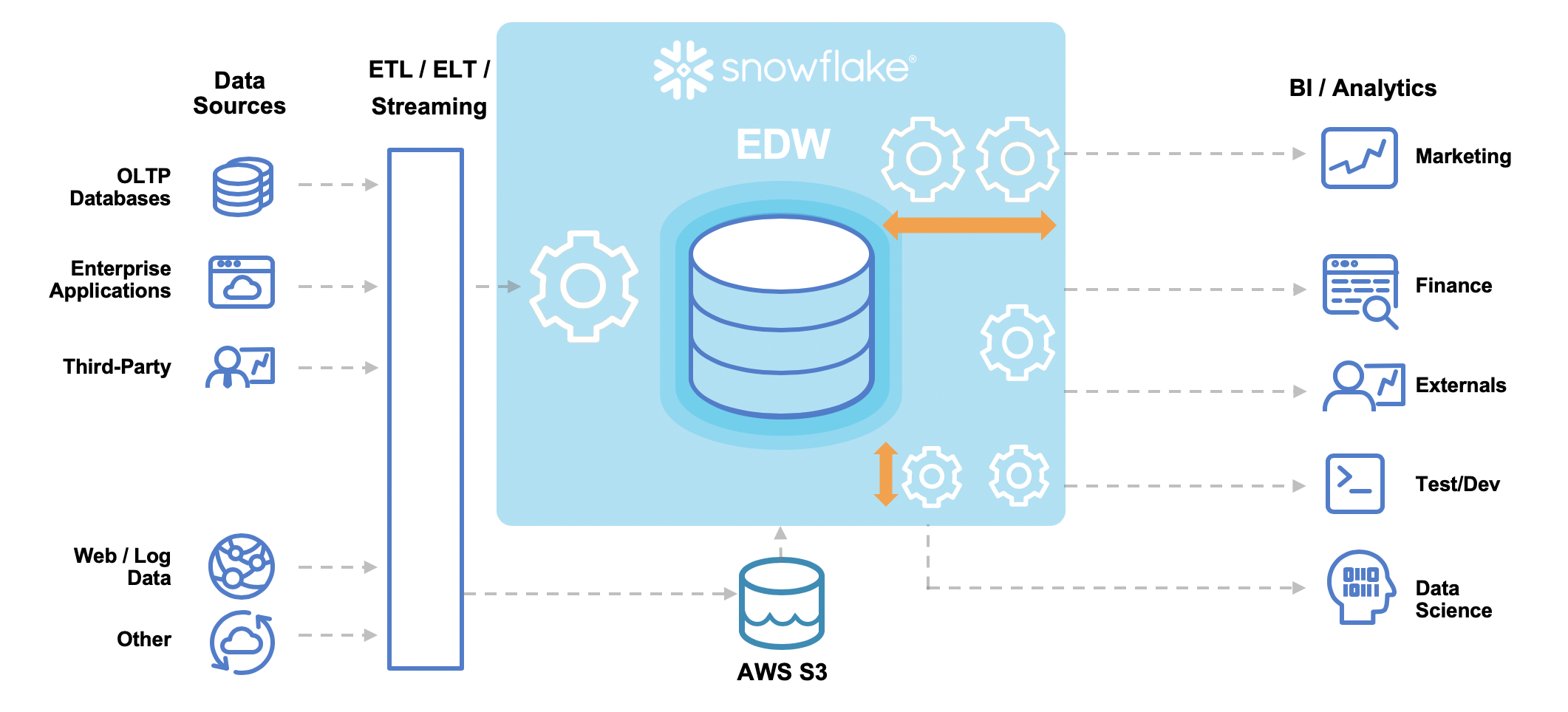 Learn more about Financial Services Partner Solutions
Contact this AWS Partner today