New Global Program to Help Customers Develop Cloud Solutions to Advance Health Equity
Over the next three years, AWS is committing $40M to harness the power of the cloud to advance health equity globally. Amazon Web Services (AWS) is offering AWS Promotional Credit and technical expertise to selected institutions and companies addressing health disparities that impact underserved or underrepresented communities around the world. The program will support applications that develop culturally responsive solutions to: 1) increase access to health services, 2) reduce disparities by addressing social determinants of health, and 3) leverage data to promote equitable and inclusive systems of care.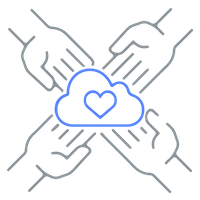 We have the opportunity to harness the power of health-related data in the cloud to address longstanding social and structural disparities that were amplified by the differential impact of COVID-19 on underserved populations. Cloud innovation can help achieve the United Nations Sustainable Development Goals for ensuring healthy lives and promoting wellbeing by supporting more equitable, sustainable, and inclusive recovery efforts.
Addressing health inequities requires a multi-faceted approach and a variety of solutions due to its complexities. Though technology is not a silver bullet, it can be a force multiplier for organizations building innovative cloud-based solutions to remove barriers and reduce disparities in health. Ex-amples of cloud interventions for underserved populations can include conversational artificial in-telligence (AI) to enhance community engagement, enable access to integrated health and social services, and target disparities in health outcomes. Underserved or underrepresented communities can include but are not limited to race, ethnicity, gender, disability, neurodiversity, geography, sexual orientation and gender identity.
We invite applications by organizations who are leveraging the cloud to reduce inequities in care and enhance health outcomes in any of the following three areas: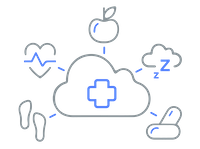 Increase access to health services



Access to health services is essential to improving health outcomes. Digital health has the potential to be a valuable—if not critical—tool to increase access to health. Technology has the potential to let patients consult with health services practically anywhere in the world, help overcome distance barriers, and facilitate critical care in emergency situations.

Eligible projects can include synchronous (i.e., real-time telephone or audio-video interaction) or asynchronous (i.e., patient portals) digital health solutions, remote patient monitoring, Internet of Things (IoT), language translation apps in healthcare settings, or digital tools to increase the availability and impact of health workers.
Reduce disparities by addressing social determinants of health

Reducing health disparities also requires addressing its underlying root causes. Research shows that non-medical drivers of health, otherwise known as social determinants of health (SDoH), are key to reducing inequities and improving health. Where people are born, grow, work, live, and age influence SDoH, which can be more important than healthcare or lifestyle choices in influencing health.

Eligible projects can include leveraging technology to improve access to social services, nutrition, transportation, housing, or economic opportunities to improve health outcomes. We will also support research to deepen our understanding of and inform strategies to address SDoH.
Leverage data to promote equitable and inclusive systems of care

Another contributor to health disparities are gaps in health data. A global assessment showed that only 51 percent of countries include disaggregated data in their published national health statistics reports. This means the health status of diverse groups are not represented in national averages and, as a result, are invisible when decisions are made based on this data. This can lead to health systems focusing support on certain demographics and not others.
Eligible projects can include creating or consolidating datasets to increase representation in health systems; linking to social determinants of health data to create more robust and informative datasets; or cleaning existing datasets to improve accuracy about race, ethnicity, gender, disability, or other data points that will help to advance health equity for all.
Application Deadlines
Applications are reviewed three times a year:

2021 Cycle Dates
November 15, 2021
2022 Cycle Dates
March 31, 2022
June 30, 2022
November 15, 2022
2023 Cycle Dates
March 31, 2023
June 30, 2023
November 15, 2023
2024 Cycle Dates
March 31, 2024
June 30, 2024
November 15, 2024
Program Support
AWS Promotional Credit: Selected program recipients are eligible to receive AWS Promotional Credit, which is applied automatically to your AWS account to help cover the AWS service usage related to your project. AWS Promotional Credit helps customers reduce or eliminate the cost to use AWS services. AWS Promotional Credit is subject to the AWS Promotional Credit Terms and Conditions.

Technical expertise: Program recipients can apply to receive technical expertise via AWS Professional Services (ProServe). ProServe works together with program recipients to provide assistance through a collection of offerings to help customers achieve specific outcomes related to enterprise cloud adoption.

Funding request: The maximum request per application should not exceed $250,000 in AWS Promotional Credit. We will consider applications that exceed this on a case-by-case basis, and such applications must be accompanied by a justification for the additional request.
Matching requirement: Applications from private sector institutions require a minimum 25 percent match of resources towards the total request. For example, if an applicant requests $100,000 in AWS Promotional Credit, the private sector applicant needs to provide at least $25,000 (25 percent) of their total request. Match resources can include cash or in-kind resources (i.e., personnel time, etc.). We will consider exceptions on a case-by-case basis, and applications seeking such an exception must be accompanied by a justification for an exemption from this requirement.

This program is led by the AWS Global Social Impact team, which is dedicated to working with customers and community partners to find solutions to the world's most pressing challenges and build long-term, innovative programs that have a lasting, positive impact.

Frequently Asked Questions
General information for applicants
Application preparation and review
Acknowledging AWS
AWS Promotional Credit and billing