Industrial Internet of Things
Bring industrial machines, cloud computing, analytics, and people together to improve performance, productivity, and efficiency
Industrial IoT (IIoT) bridges the gap between legacy industrial equipment and infrastructure and new technologies such as machine learning, cloud, mobile, and edge computing. Customers use IIoT applications for predictive quality and maintenance and to remotely monitor their operations from anywhere. AWS IoT services enable industrial companies to reason on top of operational data and improve performance, productivity, and efficiency of industrial processes.

Industrial IoT Use Cases
Predictive Quality
Predictive quality analytics extracts actionable insights from industrial data sources such as manufacturing equipment, environmental conditions, and human observations to optimize the quality of factory output. Using AWS IoT, industrial manufacturers can build predictive quality models which help them build better products. Higher quality products increase customer satisfaction and reduce product recalls.
Asset Condition Monitoring
Asset condition monitoring captures the state of your machines and equipment to determine asset performance. With AWS IoT, you can capture all IoT data, such as temperature, vibration, and error codes indicate if equipment is performing optimally. With increased visibility, you can maximize asset utilization and fully exploit your investment.

Predictive Maintenance
Predictive maintenance analytics captures the state of industrial equipment to identify potential breakdowns before they impact production resulting in an increase in equipment lifespan, worker safety, and the supply chain optimization. With AWS IoT, you can continuously monitor and infer equipment status, health, and performance to detect issues in real-time.

Why AWS IoT for Industrial Applications
Take Intelligent Actions
AWS IoT helps you collect data from the plant floor with a local gateway, structure and label that data, and generate real time KPIs and metrics to make better data-driven decisions. You can also add machine learning to your industrial environments. First, AWS IoT filters, transforms, and enriches IoT data before storing it in a time-series data store for querying and analysis. You can also build and train machine learning models in the cloud and then deploy them into your industrial environment to operate locally. AWS IoT provides pre-built templates so you can build machine learning models against the processed data, covering common industrial use cases.
Quickly Onboard Your Fleet
AWS IoT provides capabilities for getting large and diverse fleets of devices quickly connected. AWS IoT helps you onboard millions of new device types. You can maintain an inventory of devices complete with static and dynamic state information such as serial numbers, manufacturing date, or current temperature so you know the state of your devices every second. Once your devices are onboarded, you can use AWS IoT to rapidly build IoT applications by combining devices and web services, and defining the interactions between them with little to no code.

Minimize Production Downtime
When production lines go down or field operations stall, you miss service level agreements and risk revenue loss. Using AWS IoT, devices can collect data, communicate with each other, and take local actions even with intermittent cloud connectivity. Once connectivity is restored, devices send data to the cloud for additional processing and analytics. You can also continuously monitor data from your equipment and fleets of devices deployed across many locations for changes in operations and to trigger appropriate responses when events occur.

Help Keep Data and Devices Secure
AWS IoT helps keep devices and device data secure with built-in device authentication and authorization, data encryption, and access control to device data. You can also continuously audit security policies associated with your devices, monitor your device fleet for abnormal behavior, and receive alerts if something doesn't look right. You can even take corrective actions, such as pushing a security patch to your device fleet.

How It Works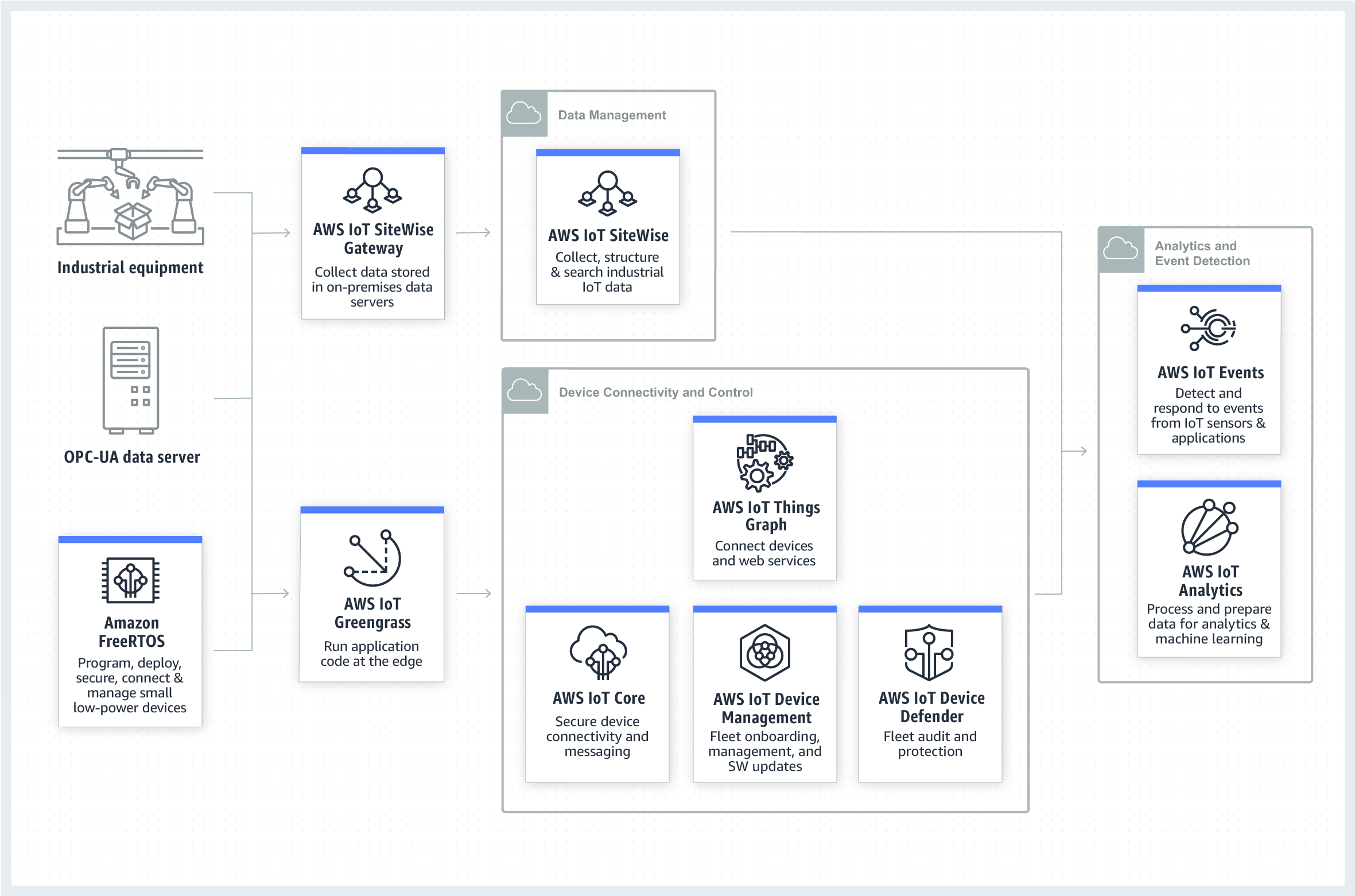 Blog Posts and Articles

Edouard Kachelmann and Ryan Dsouza
23 APR 2019

Explore Industrial IoT Resources
Learn how AWS IoT SiteWise can help you collect, structure, and search IoT data from industrial equipment at scale.

With edge-based software and cloud-based services, see how you can get started quickly and attain your industrial business goals.

Industry 4.0 is here, and organizations are rapidly automating factory floors, machinery, and production lines. Industry 4.0 promises to improve efficiency and lower operational costs, but there are challenges along the way such as device security, device management across diverse fleets, and analytics.