Adopting the AWS Cloud can provide you with sustainable business advantages. Supplementing your team with specialized skills and experience can help you achieve those results. The AWS Professional Services organization is a global team of experts that can help you realize your desired business outcomes when using the AWS Cloud. We work together with your team and your chosen member of the AWS Partner Network (APN) to execute your enterprise cloud computing initiatives.
Our team provides assistance through a collection of offerings which help you achieve specific outcomes related to enterprise cloud adoption. We also deliver focused guidance through our global specialty practices, which cover a variety of solutions, technologies, and industries. In addition to working alongside our customers, we share our experience through tech talk webinars, White Papers, and blog posts that are available to anyone. The most recent contributions are listed below.

AWS Professional Services provides a collection of service offerings to help you achieve specific outcomes related to enterprise cloud adoption. Each offering delivers a set of activities, best practices, and documentation reflecting our experience supporting hundreds of customers in their journey to the AWS Cloud. We organize the offerings into four categories which help you with various aspects of cloud adoption.

Envision offerings provide assistance as you evaluate a migration to the AWS Cloud. These offerings help you learn more about cloud computing and AWS, develop the path to cloud adoption, and evaluate potential impacts on your business. Topics covered include AWS services, cloud envisioning, and value analysis.

Assess offerings guide your preparation for a large-scale migration to AWS. Offerings in this category help you evaluate current state applications and architectures, plan your migration to a cloud-based IT operating model, and determine your next steps. Assess topics include applications, security, and infrastructure operations.
Accelerate offerings help you move a meaningful portion of your IT assets to the cloud. These engagements help you migrate on-premises workloads to AWS, develop new cloud-native applications, and adopt new capabilities of the AWS platform. Topics covered by Accelerate offerings include automation, networks, and DevSecOps.

Optimize offerings help you improve services or processes already running on AWS. These engagements typically occur after a migration to identify and execute additional refinements. Optimization topics range from suggested architectural frameworks to using specific AWS services.

In addition to our offerings, AWS Professional Services provides global specialty practices to support your efforts in focused areas of enterprise cloud computing. Specialty practices deliver targeted guidance through best practices, frameworks, tools, and services across solution, technology, and industry subject areas. Their deep expertise helps you take advantage of business benefits available with the AWS Cloud.

To guide your journey to the cloud, AWS Professional Services developed the AWS Cloud Adoption Framework (AWS CAF). The AWS CAF incorporates best practices and guidance learned through hundreds of in-depth customer engagements into a comprehensive framework for implementing cloud computing across your organization.
The AWS CAF breaks down the process of planning your cloud migration into six manageable areas of focus called Perspectives. In general, the Business, People, and Governance Perspectives focus on business capabilities, and the Platform, Security, and Operations Perspectives focus on technical capabilities. These Perspectives help you identify gaps in skills, processes, and dependencies, then capture them into templates. The templates are the basis for creating an action plan to help guide change management efforts throughout your journey to the cloud.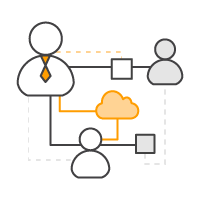 Moving to the cloud requires knowledge, tools, and alignment of your business and IT strategy. Strong collaboration between customer teams, AWS Partner Network (APN) Partners, and the AWS Professional Services team consistently produces impactful enterprise business outcomes. Combining the broad range of consulting services and software available from the APN with focused support from AWS Professional Services provides you with the breadth of skills and resources needed to best realize the potential of the AWS Cloud.
A set of strategies, best practices, and resources to guide your large-scale migration to the AWS Cloud.
A program to help enterprises that are committed to cloud migrate their existing workloads to AWS.
A framework to help cloud architects build secure, high performing, resilient, and efficient infrastructure.
Gain tips, tricks, best practices, and other thoughts as curated by Stephen Orban, Head of Enterprise Strategy at AWS.

A comprehensive list of technical AWS whitepapers examining topics such as architecture, security, and economics.

A selection of live online presentations that cover a broad range of topics at varying technical levels.