The Fix This team chatted with retired General Clint Crosier, the director of Aerospace and Satellite Solutions business at Amazon Web Services (AWS). Clint shares his thoughts on how AWS will help customers approach challenges differently in order to deliver on their missions. From being customer obsessed to discovering more about life on Earth through space exploration, Clint discusses how AWS will help customers explore the new frontier. Next, the team talked to Payam Banazadeh, founder and chief executive officer of Capella Space (Capella). Payam explains how Capella's Earth observation satellites use AWS Ground Station to speed up the process of downlinking data and delivering it to decision makers.

Payam Banazadeh
Payam Banazadeh is chief executive officer and founder of Capella Space, which operates the first and only constellation of commercial Synthetic Aperture Radar (SAR) satellites in US that provides global all weather and all light persistent monitoring services. Prior to starting Capella Space, Payam was a project manager and flight systems engineer at NASA Jet Propulsion Laboratory (JPL) and has been awarded NASA Mariner Award, NASA Discovery Award, and NASA Formulation Award. Outside of Capella, Payam is an advocate of raising awareness around the volatility of life on Earth and the responsibilities of technologists to think about their work and its intended and unintended consequences.

Clint Crosier
Clint Crosier leads the AWS Aerospace and Satellite Solutions business, responsible for providing commercial and government customers with tailored, secure, and cost-effective cloud solutions for building satellites, conducting space and launch operations, and reimagining space exploration. Before AWS, he spent 33 years in the US Air Force/US Space Force retiring as a Major General where he operated multiple satellite constellations, launched rockets putting satellites into orbit, and held key roles as a US Senate Staffer and in Department of Defense Intelligence. He also served as the lead planner and architect of the stand-up of the US Space Force, the first new military service in 72 years.

00:53 - How the cloud can be used to help us better understand our world and space
02:23 - Why data from space matters
03:15 - Top goals for the AWS Aerospace and Satellite Solutions business unit

04:20 - Common industry obstacles
10:04 - Earth observation satellite images verus SAR
16:39 - How Capella uses AWS Ground Station
About the Fix This Podcast
Hear conversations spanning from researching climate change to improving patient outcomes to creating AI-driven art—and more. Dive deep with customers on the Fix This podcast.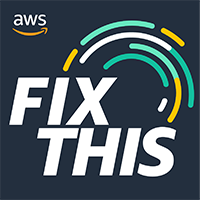 Customer Success Stories
Organizations of all sizes use AWS to increase agility, lower costs, and accelerate innovation in the cloud.