Community Solutions is a US-based nonprofit working to end homelessness through its Built for Zero program. Built for Zero is a movement uniting cities with the tools and strategy they need to help those affected by homelessness. By using Amazon Web Services (AWS), Community Solutions can create and share dashboards with local organizations to help visualize progress and facilitate on the ground research. To better understand how the Built for Zero program is directly supporting local organizations in the US, the Fix This team sat down with Lauren De Amico, a member of the Built for Zero infrastructure team, Eileen O'Donnell, executive director of Coming Home of Middlesex County, and Christiana Osawe, system solution navigator at Coming Home of Middlesex County, to hear how Middlesex County, New Jersey has directly benefited from the Built for Zero services.
Lauren D'Amico
Lauren D'Amico is the Senior Strategy Lead: Data Coaching & Capacity Building for the Built for Zero Data Team at Community Solutions. In this role, she leads the Data Coaching and Capacity Building team's mission to help communities address the technology and data management barriers preventing the achievement of utilizing quality data to drive efforts to end homelessness. Additionally, the Data Coaching and Capacity Building team provides training and support to Built for Zero staff and communities in service of growing their skills in data analysis and quality improvement measurement concepts. Prior to joining the Community Solutions team, Lauren served as the Director of Information Management Systems in Jacksonville, FL and focused exclusively on data systems in the consideration of impacts and outcomes of supportive and affordable housing, community development, CoC Governance, and system change processes. She holds a B.A. in Communication and Women's Studies from West Chester University and a Master's in Public Administration from the University of North Florida.

Eileen O'Donnell
Eileen is the Executive Director of Coming Home of Middlesex County, Inc. Her 20 years of professional experience as a health care attorney and business woman, providing legal, business and policy analysis services to public, as well as private, entities, that she brought to this role, served her well and enabled her to grow and develop the organization from the idea that it was when she assumed the role in April 2011. She holds a B.A. in Psychology; a Masters in Public Policy from the Eagleton Institute of Politics; a J.D. from Rutgers' School of Law and a Masters in Social Work from Rutgers University

Christiana Osawe
Christiana Osawe is a curious learner who is passionate about seeing people live full lives despite the circumstances and barriers lined up against them. In her home state of New Jersey, she studied Public Health and Business Administration at Rutgers University-New Brunswick, with a focus on how poverty impacts health outcomes. Being mystified seeing her neighbors without homes sleeping on the streets she walked, she decided she wanted to do something about it. During her summer internship at a local hospital, she was connected with Coming Home, a non-profit agency in her college town whose mission was to create a system to end homelessness in Middlesex County. She has now worked for Coming Home full-time for 6 years, during which time she has had a variety of experiences, working directly with consumers without homes and participating in many system-level efforts toward ending homelessness. In her current role as System Solutions Administrator and Built for Zero Improvement Team Lead, she uses data as a bridge to drive system change efforts that would lead to sustainable reductions in homelessness. Christiana enjoys drinking matcha lattes, reading by lakes, laughing with loved ones, and chatting with just about anyone that comes her way.

01:35 - Understanding how Community Solutions and Coming Home of Middlesex County work together to reduce homelessness
06:10 - How Middlesex County uses the Built for Zero program
07:56 - Diving deep into the data behind homelessness

10:17 - Creating cloud-based dashboards to measure and track progress
14:07 - Understanding how this data impacts individuals experiencing homelessness
15:10 - Looking to the future
About the Fix This Podcast
Hear conversations spanning from researching climate change to improving patient outcomes to creating AI-driven art—and more. Dive deep with customers on the Fix This podcast.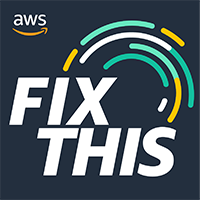 Customer Success Stories
Organizations of all sizes use AWS to increase agility, lower costs, and accelerate innovation in the cloud.