What does this AWS Solution do?
Speech recognition and natural language understanding are popular topics in the area of machine learning, yet these technologies pose some of the most challenging problems in computer science. Many Amazon Web Services (AWS) customers choose to develop conversational interfaces for their applications to provide engaging and lifelike experiences for their end users.
The AWS Cloud offers robust, flexible, and highly available services that enable machine learning on the cloud, including Amazon Lex, a fully managed service that enables developers to quickly and easily build sophisticated conversational bots ("chatbots").
AWS customers who want to implement chatbots in other languages must develop their own backend platforms that support language analysis and abstraction, and knowledge training that is specific to their business needs. To help customers implement those chatbots, AWS offers the Serverless Bot Framework solution.

AWS Solution overview
AWS offers a solution that automatically deploys, configures, and integrates with managed services such as AWS Lambda, to apply machine learning algorithms, and Amazon Polly, to turn text into lifelike speech. The diagram below presents the architecture you can deploy in minutes using the solution's implementation guide and accompanying AWS CloudFormation template.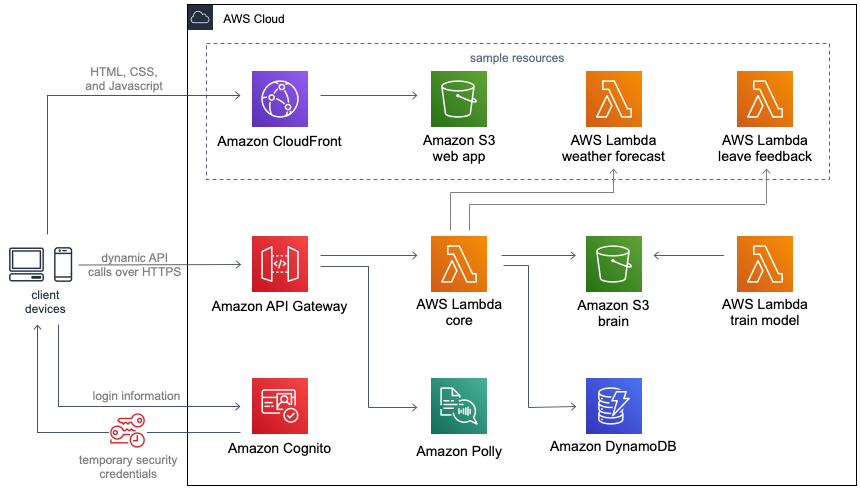 Click to enlarge
Serverless Bot Framework architecture
The template deploys an API Gateway endpoint where customers can send requests and Lambda functions that apply machine learning algorithms.
Amazon Polly turns text into lifelike speech, an Amazon DynamoDB table stores conversation logs and interaction context, and Amazon Simple Storage Service (Amazon S3) buckets store configuration files.
The solution also deploys a sample web application into an Amazon S3 bucket configured for static website hosting.
Features
Serverless Bot Framework supports multiple languages
Currently, the Serverless Bot Framework solution supports English, French, German, Italian, Portuguese, Russian, and Spanish languages.
Sample web app
The solution includes a sample web application you can use as a reference framework to create your own application that fits your business need.
Configuration supports two types of conversations
Serverless Bot Framework supports two types of conversations: (1) Static-which does not require access to external resources or any specialized AWS Lambda functions to implement the bot's logic and (2) Dynamic-used for more complex interactions and invoke Lambda functions to perform additional tasks.
Explore all AWS Solutions
Browse our portfolio of AWS-built solutions to common architectural problems.

Learn more
Find a Partner
Find AWS certified consulting and technology partners to help you get started.

Learn more
Start building in the console
Sign-up and start exploring our services.

Get started