Faster, more accurate identity resolution & targeting

Map and unify billions of relationships and query customer data with millisecond-latency using AWS Neptune— the only fully managed graph database in the cloud —along with managed machine learning and serverless computing tools from AWS. Extend audience reach and improve cross-device performance and audience activations. Reduce resources with fully managed services for identity graph and machine learning.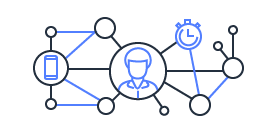 Why AWS
Breadth and Depth
AWS is the only cloud with a fully managed graph database service available worldwide—Amazon Neptune—a purpose-built, high-performance graph database engine optimized for storing billions of relationships and querying the graph with milliseconds latency.

Cost-Leadership
Reduce total cost of ownership (TCO) by storing and quickly querying hundreds of billions of nodes and edges with lower latency and lower costs for storage than other databases

Experience
More experience with big data workloads than any other cloud—more than 10,000 data lakes run on AWS.

Customer Spotlight
IgnitionOne
"Amazon enables IgnitionOne to provide enterprise marketers advanced identity resolution, giving them a single view of their customer. Amazon Neptune's fast and reliable graph database delivers the performance and efficiency we need to connect marketers to their customers."
- Stephen Marshall, Chief Information Officer, IgnitionOne
---
Get started
Getting started with AWS is easy. You can set up an account with just a few clicks without any up-front or on-going commitment. Contact our experts and start your own AWS Cloud journey today.