AWS DeepRacer Student League Beta
Introduce your students to the AWS DeepRacer Student League and lead your school to victory at AWS re:Invent 2021. The top school will earn $10,000 in computer science grants from AWS to benefit enrollment and accessibility for underrepresented students in your computer science department, a custom AWS DeepRacer track kit, and a fleet of DeepRacer devices for going hands-on to teach machine learning.
Your students have the opportunity to win $1,000 scholarships, AWS DeepRacer devices, custom merchandise, and a trip to compete in the AWS DeepRacer League global Championships at AWS re:Invent. Build a team today with AWS Academy. There is no cost to join and each student will receive $100 in AWS credits to train and compete.

Share free AWS DeepRacer machine learning educational content with your students to help them climb the leaderboard, and join the global AWS DeepRacer Slack community to connect with students, professionals, and educators from around the globe that participate in AWS DeepRacer.

E-learning course
Take the free 90 minute e-learning course hosted by AWS DeepRacer TV Host Blaine Sundrud to learn the fundamentals of machine learning with AWS DeepRacer.
Build a model
Use the Github lab to build your model in 50 mins with sample code and a host of self serve resources to train and evaluate your model.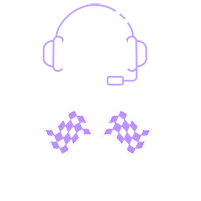 Pit stop
Take a drive through the AWS DeepRacer pit lane and pick up tips and tricks from a variety of videos, blogs, and tutorials published by the global community.
Connect with the Community
Ask questions, exchange tips, and share best practices with fellow racers.