What is Cloud Program Verification?
AWS Educate's Cloud Program Verification helps institutions prepare students for in-demand careers in cloud computing by aligning academic programs to entry-level job requirements.

AWS Educate works with academic institutions—including high schools, community colleges, vocational schools, technical academies, and universities—to embed cloud-specific learning objectives and hands-on work into their programs to reflect the demands of employers who are seeking cloud-skilled professionals.
AWS Educate works with institutions to:
Support leaders with the cross-functional work necessary to transform traditional academic programs into pathways that lead to careers in cloud computing.

Align curriculum with the cloud computing skills and competencies that employers seek in working professionals.
Train faculty through professional development sessions in cloud concepts.
Provide students with resources and training to understand and set goals towards a career path in cloud computing.
Engage employers with academic institutions to build a pipeline into in-demand cloud career opportunities.

Cloud Program Verification
The increasing demand for cloud skills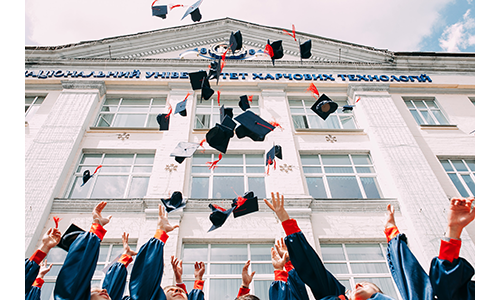 Cloud computing has been a top LinkedIn skill for the past five years, and the average salary for someone with an AWS Certification tops $100K. The global public cloud computing market has consistently grown 15% YoY and is projected to continue to do so through 2022 according to Gartner.

By working with faculty, AWS Educate partners with academic institutions to integrate cloud-related learning into their curriculum for a cloud computing degree or certificate.

AWS Educate will work with your institution to:
Map Curriculum
Map curriculum to cloud careers.
Develop Faculty
Develop faculty to build cloud knowledge.

Support Students
Support students on a cloud career path.

Making an impact with AWS Educate
"The field of cloud computing is growing and dynamic. [...] This initiative represents exactly the kind of cooperation we need to ensure that Virginians have access to the skills they need for 21st-century jobs, while also helping employers find Virginia workers with the right training to fill those jobs."

Ralph Northam, Governor, Commonwealth of Virginia
Making an Impact with AWS Educate
"I am so proud that Louisiana's community and technical college system is adopting the Amazon Web Services curriculum. This means our students will be at the forefront of a degree program that is in direct response to the growing needs of tech employers throughout Louisiana. I want to thank AWS for this exciting opportunity ... as one more tool to help prepare our students for the high-demand 21st-century jobs."

John Bel Edwards, Governor, Louisiana

Making an Impact with AWS Educate
"I want to thank AWS Educate for working with our partners around the state to bring valuable higher education opportunities to our students so they can compete in the 21st century economy. Implementing a cloud IT curriculum and certification program in our secondary education programs will provide Texas students with the tools they need to succeed outside of the classroom."

Greg Abbot, Governor, Texas

Making an impact with AWS Educate
"AWS Educate's support has been unwavering, and we appreciate their commitment. Now, our graduates will have the opportunity to seek employment as cloud professionals or opt for a seamless transition to a four-year university where they can continue to study cloud computing."
Chad Knights, Provost for Information and Engineering Technologies, Northern Virginia Community College

Making an impact with AWS Educate
Miami Dade College
"We are excited with the integration of AWS Educate into our curricula. AWS Educate is already providing our students with in-depth, project-based learning opportunities and access to AWS's cutting-edge technology, helping to give our students a competitive advantage in obtaining fast-paced, high-paying jobs upon graduation."
Antonio Delgado, Dean, School of Engineering and Technology, Miami Dade College
Making an impact with AWS Educate
University of Louisiana System
"By creating stackable programs in cloud computing from our community and technical colleges into the University of Louisiana system, we are quickly expanding opportunity for our students and driving economic growth across the entire state."
Jim Henderson, President and CEO, the University of Louisiana System
Other organizations making an impact with AWS Educate
Other organizations making an impact with AWS Educate
Other organizations making an impact with AWS Educate
Other organizations making an impact with AWS Educate
Other organizations making an impact with AWS Educate
Learn more about AWS Educate Cloud Program Verification
*The ability for employers to message students within AWS Educate and the AWS Educate Interview Accelerator are currently only available in the United States. AWS makes no recommendations regarding specific job listings or hiring companies. In addition, AWS assumes no responsibility for (i) the contents, accuracy, or completeness of any job listing, (ii) the availability or unavailability of any jobs referenced in job listings, or (iii) any communications between hiring companies and AWS Educate members that may result from job listings. Use of the AWS Educate Job Board features is subject to the AWS Educate Terms & Conditions.
AWS Educate provides its members with no cost access to learning content and AWS services designed to build knowledge and skills in cloud computing. It is available globally to students who are 14 or older, with the exceptions of China, Switzerland, and European Economic Area countries (16 or older); and Algeria, Lebanon, and Portugal (18 or older). The AWS Educate Terms & Conditions govern participation in the AWS Educate Program. Use of AWS Promotional Credits are subject to the AWS Promotional Credit Terms & Conditions.