AWS Key Management Service (KMS) is a managed service that makes it easy for you to create and control the encryption keys used to encrypt your data, and uses Hardware Security Modules (HSMs) to protect the security of your keys. AWS Key Management Service is integrated with other AWS services including Amazon EBS, Amazon S3, and Amazon Redshift. AWS Key Management Service is also integrated with AWS CloudTrail to provide you with logs of all key usage to help meet your regulatory and compliance needs.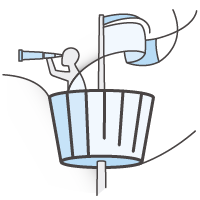 AWS Config is a fully managed service that provides you with an AWS resource inventory, configuration history, and configuration change notifications to enable security and governance. With AWS Config you can discover existing AWS resources, export a complete inventory of your AWS resources with all configuration details, and determine how a resource was configured at any point in time. These capabilities enable compliance auditing, security analysis, resource change tracking, and troubleshooting.

AWS Service Catalog is a service that allows administrators to create and manage approved catalogs of resources that end users can then access via a personalized portal. You can control which users have access to which applications or AWS resources to enable compliance with your business policies, while users can easily browse and launch products from the catalogs you create. AWS Service Catalog can enable your organization to benefit from increased agility and reduced costs as end users can find and launch only the products they need from a catalog that you control. AWS Service Catalog will be available in early 2015.

---