21 December, 2022
10:00 AM – 5:00 PM IST | 2:30 PM - 9:30 PM AEST
Empowering businesses to make real impact with AI & ML
Watch the sessions from 6th edition of Amazon AI Conclave on-demand. The AI Conclave aims to help builders and businesses make smart, customer-centric, scalable solutions in the cloud and on the edge using Amazon's broadest and deepest set of artificial intelligence and machine learning services (AI & ML).

The event features keynote sessions presented by industry leaders, deep-dive technical sessions and customer showcases of advanced AI & ML solutions.
Accelerate innovation, scale effortlessly, and create real impact for your business, with AI & ML services on AWS.
Who should attend?
Data Scientists, Developers and AI/ML Practitioners
Get hands-on and step-by-step architectural and deployment best practices
Building computer vision ML applications on AWS
Explore ML Ops on AWS
Earn a certificate of attendance
Connect 1:1 with AWS experts for insights on building with AWS and cloud computing
---
Data CXOs and Business Leaders
Learn how AI is change the way we do business today with the 'AI state of the union' keynote
Hear how companies around the world and across all industries are leveraging AWS AI and ML
Explore ways to boost revenue by creating new products with AI and ML
Hear from AWS AI and ML experts and Industry leaders
Agenda
Break (1:15pm - 2:00pm IST | 5:45pm - 6:30pm AEST)
Virtual booth showcase (3:30pm - 5:00pm IST | 8:00pm - 9:30pm AEST)
Featured speakers
Vikram Anbazhagan
Director of Product Management, Amazon AI, Amazon Web Services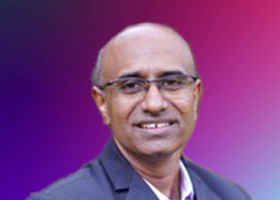 Guru Bala
Head of Specialist Solutions Architect, AWS India


Akanksha Balani
Global Alliance - AWS @ Intel
Vaishali Kasture
Director Enterprise Segment, AISPL
Harjyot Soni
Director - Enterprise Support, AISPL
Sundar VG
Director, Business Development, AISPL
Kumara Raghavan
India Head of Startup Business, AISPL
Meet our sponsors Session levels designed for you
Level 100: Introductory
Sessions are focused on providing an overview of AWS services and features, with the
assumption that attendees are new to the topic.


Level 200: Intermediate
Sessions are focused on providing best practices, details of service features and demos with the assumption that attendees have introductory knowledge of the topics.

Level 300: Advanced
Sessions dive deeper into the selected topic. Presenters assume that the audience has
some familiarity with the topic, but may or may not have direct experience .

Level 400: Expert
Sessions are for attendees who are deeply familiar with the topic, have implemented a
solution on their own already, and are comfortable with how the technology works.

Learn more about AI & machine learning on AWS
---
customers use AWS for machine learning
Leader in IDC MarketScape: Vision Artificial Intelligence Software Platform 2021 Vendor Assessment

increase in team productivity using Amazon SageMaker

reduction in data labeling costs using Amazon SageMaker

of all deep learning projects in the cloud run on AWS

---
Frequently Asked Questions

Start building on AWS today
Whether you are looking for compute power, database storage, content delivery, or other functionality, AWS has the services to help you build sophisticated applications with increased flexibility, scalability, and reliability.