Overview
In this tutorial you will register a new domain name for your website. You will then connect that domain name through the Domain Name System (DNS) to a currently running EC2 instance (such as a WebApp, or website running WordPress, Apache, NGINX, IIS, or other Website platform).
Cost implications:
There's an annual fee to register a domain. The fee can range from $9 to several hundred dollars depending on the top-level domain. This fee is not refundable. See the Amazon Route 53 domain pricing documentation for full details.
When you register a domain, we automatically create a hosted zone that has the same name as the domain. You use the hosted zone to specify where you want Amazon Route 53 to route traffic for your domain. The fee for a hosted zone is $0.50 per month. You can delete the hosted zone if you want to avoid this charge. See the Amazon Route 53 Hosted Zone pricing documentation for full details.

What You Will Learn
In this guide, you will learn how to:
Allocate a new public IP address
Register a new domain using Amazon Route 53 in the AWS console.
Update DNS records to point to a running EC2 instance.

Prerequisites
Before Starting this guide, you will need:
An AWS account: if you don't already have one follow the Setup Your Environment getting started guide for a quick overview.
Cost to Complete
See Cost Implications section
Requires
AWS Account
Recommended browser: The latest version of Chrome or Firefox
[**]Accounts created within the past 24 hours might not yet have access to the services required for this tutorial.

Tutorial
Step 1: Obtain a Static IP Address
a. Open a browser and navigate to the AWS Management Console located at https://console.aws.amazon.com

Once logged in, you will arrive at the AWS Management Console Home. Ensure you have selected your desired region based on your infrastructure requirements in the upper right hand corner.

Pro Tip: You can learn about the console through the Getting Started with AWS Management Console tutorial.
b. In the top search bar, enter "Elastic IP". The search bar will return several results on services and features available.

Click the ELASTIC IPs - EC2 feature from the list.

Pro Tip: The search bar provides a quick and easy method to find services, features, blogs, & more.

d. On the Allocate Elastic IP address configuration page, make sure to select the correct Network Border Group based on your infrastructure location. If you create infrastructure resources in the US-WEST-2 region, then select US-WEST-2 network border group. If you are not sure of the region, pick a region that is close to you or where you want to provide the service.
Click on
Allocate
at the bottom to continue.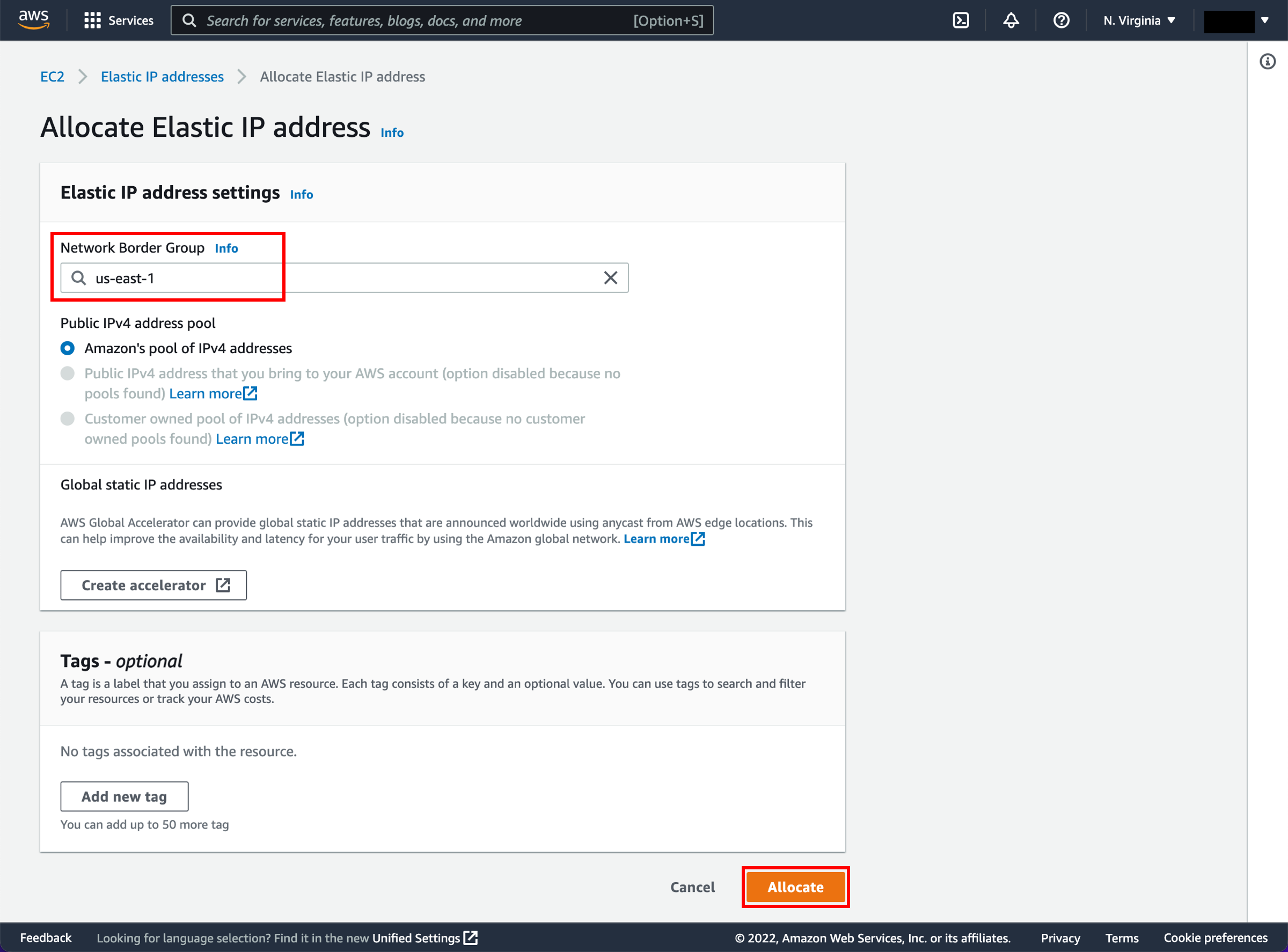 e. Your new Elastic IP address will be available shortly. You will get the following green confirmation if completed successfully. Take note of the IP address. You will be using this in the following steps to configure DNS.
Pro Tip: If you need to configure this later, you can find the
Associate this Elastic IP address
button under the
Actions
menu item.
f. The following screen allows you to select the Instance and Private IP address to map the public IP address. One you have selected your infrastructure, click on the Associate button to continue.
Pro Tip: The IP address can also be associated directly to a network interface.
Step 2. Configure DNS
c. You can now configure DNS for your IP address using your domain.
Enter the name of your domain, a description, and whether you want the domain to be publicly accessible or private to your internal network.
Click on the Create hosted zone button to finish the configuration.
d. You can now create DNS records for your domain. In this tutorial we will create a simple A record. Click the Create record button to get started

Dive Deeper: Read the Route 53 documentation for a full overview of the various records you can create.
e. Enter in your A record information and ensure "A" is selected in the Record Type field. For this tutorial, we'll enter www for Record name.

Enter the IP address from Step 1e into the Value.

Click the Create records button once you have finished.

Pro Tip: You can add multiple record types at one time by using the Add another record button before finalizing.

Your Domain is now ready to use, open a browser and go to https://your-domain.com. (Please make sure you have your EC2 instance properly setup as a web server before browsing to the above URL).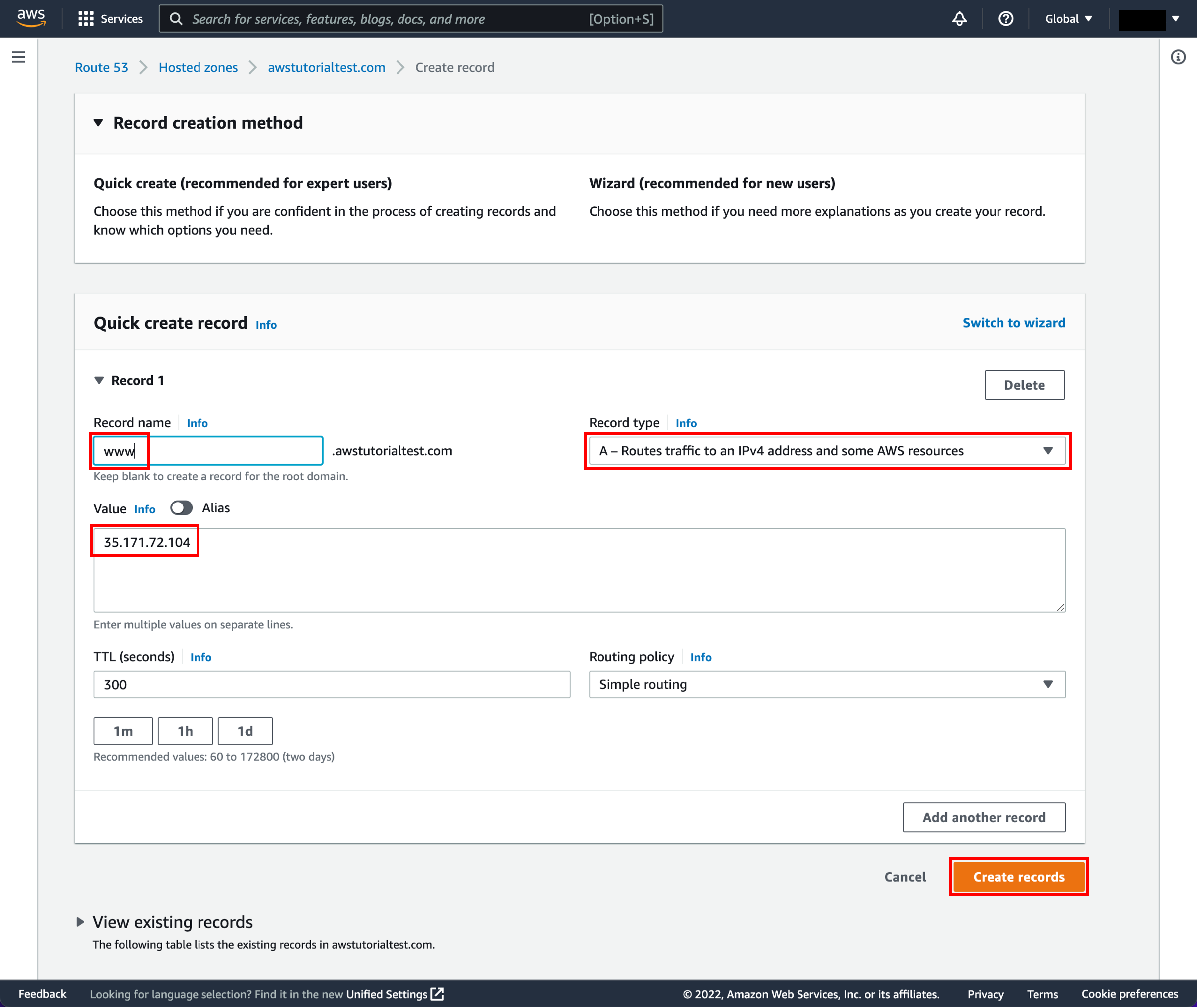 Conclusion
Congratulations! You have finished the How to Register a Domain Name with Amazon Route 53 how-to guide.
In this guide, you learned how to provision a public IP address, register a new domain name, and configure DNS.

You can continue your journey with AWS by following the the next steps section below.

Next Steps