QuickSight embedding makes it easy to integrate a modern analytics experience into your apps, portals, and websites. As a fully managed platform, QuickSight is designed and priced to grow with you, offering an architecture that scales to millions of customers while only paying for what you use.
---
Provide a complete analytics experience
Create rich, interactive dashboards that leverage all of QuickSight's visualization and analytics capabilities including ML Insights and Auto-Narratives. Allow your customers to easily drill, slice, and explore their data, getting them to the insights they need quickly, on any device.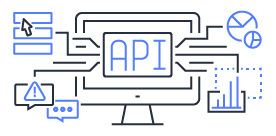 Rich APIs and SDK
Our JavaScript SDK lets you create a seamless experience between your application and the embedded dashboards powered by QuickSight. Easily pass parameters, handle error states with customized messages, and control dashboard settings. QuickSight's APIs for user and group management allow you to dynamically provision users and manage access to dashboards with a seamless SSO experience.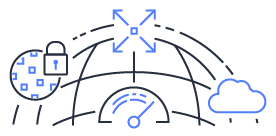 A Scalable, Global Platform
QuickSight is a fully managed, multi-tenant AWS service that is architected to scale with your needs. Featuring global availability, support for 10 major languages, end-to-end data security, zero downtime and blazing fast performance powered by SPICE, QuickSight provides a robust analytics platform that is designed to grow with you for the long term.

Easy to develop and maintain
Create dashboard templates that you can embed into your application for all of your customers, while ensuring that everyone only sees their data using row-level security. Easily edit your dashboards with QuickSight's web-based authoring experience, and publish them once, immediately updating them for all of your customers.

How it works

Benefits
We manage everything
QuickSight provides the security, stability, and global availability you would expect from an AWS service. As a fully managed solution there's no need for dedicated infrastructure, ongoing maintenance, software updates, backups or capacity planning.

Minimize dev and maintenance
Leveraging QuickSight to power your analytics experiences removes the need for time consuming custom development. Rapidly iterate and experiment with new analytics capabilities for your customers with no specialized skills required, allowing your team to focus on your core product offerings.

Constant innovation
With over 100 new features added over the last year, QuickSight let's you continuously provide your customers with the most advanced analytics experience, giving you instant access to new features as soon as we add them.

Only pay for what you use
QuickSight embedding leverages our Pay-per-Session pricing model so you only pay when customers access the embedded dashboards, ensuring that your costs only grow linear to your actual usage. Get started fast with no upfront costs, only paying for what you use as you grow.

Use Cases
Packaged data products
Use QuickSight to create a branded, interactive platform for delivering interactive reports and dashboards to your partners and customers. Monetize your data by offering differentiated services that create new revenue streams and deeper relationships with your customers.

Enhanced analytics features for your apps
Add compelling, value-added data services and features to your applications in a matter of hours. Provide your customers with modern dashboards and reports that take advantage of QuickSight's rich features like ML Insights and Auto-Narratives to get your customers to the insights they need.

Integrate data into your workflows
Build data and insights directly into your user's workflow by embedding dashboards and reports into your portals, internal sites and applications.

Customer Quotes
"Amazon QuickSight will allow us to quickly build fast, interactive dashboards that will seamlessly integrate with our Next Gen Stats applications. With the Amazon QuickSight Readers and pay-per-session pricing, we are able to extend these secure, customized and easy to use dashboards for each Club without having to provision servers or manage infrastructure – all while only paying for actual usage. We love the direction, and look forward to expanding use of Amazon QuickSight."

Matt Swensson, VP Emerging Products - NFL

Learn more about pricing
Pay-per-Session pricing for all your users.
Learn more

Sign up for the newsletter
Learn about new features, tips, and how-to's

Sign up
Get started in the console
Start building with Amazon QuickSight.

Sign in