Topics: Sustainability
Becoming a Leader in Sustainable Best Practices with Canva
May 2023
Canva is a digital art platform that allows users to express themselves and create content with a push of a button. Canva is the first Australian company to sign onto The Climate Pledge, a commitment to reach net-zero carbon emissions by 2040 that was co-founded by Amazon in 2019. Canva is more than a digital tool, it is also a leader in supporting sustainability best practices. Canva has reached a 90 percent reduction in cloud service emissions and using the Amazon Web Services (AWS) Customer Carbon Footprint Tool, it can forecast future emissions and strategies to reach its sustainability goals. To better understand how Canva uses AWS, the Fix This team sat down with Mike Williams, head of sustainability at Canva. Mike shares the importance of working together and using multi-step plans to see results.

Mike Williams
Head of Sustainability, Canva
Mike Williams is the head of sustainability at Canva, the world's largest online design platform with over 125 million global monthly users. Canva's mission is to empower the world to design anything, publish anywhere. Mike is based in the company's headquarters in Sydney, Australia, and he is responsible for delivering on Canva's overall sustainability strategy, including initiatives focused around decarbonization goals, climate initiatives, and implementing environmental best practices across international operations.
Prior to his current position, Mike spent over 6 years with Canva across a number of roles spanning partnerships, people operations, product, and growth.
Mike holds a Juris Doctor from the University of Sydney, and a Bachelor of Accounting from the University of Technology, Sydney.

01:39 - Introducing Canva and its reach
02:22 - How Canva approaches sustainability
04:03 - Signing The Climate Pledge and leading by example


05:12 - Using the AWS Carbon Footprint Tool
06:34 - Looking to the future
07:56 - Advice on how to become a sustainability leader

About the Fix This Podcast
Hear conversations spanning from researching climate change to improving patient outcomes to creating AI-driven art—and more. Dive deep with customers on the Fix This podcast.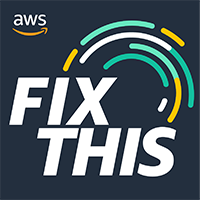 Customer Success Stories
Organizations of all sizes use AWS to increase agility, lower costs, and accelerate innovation in the cloud.