Topics: Sustainability
Becoming a Sustainable Technologist with Starbucks
December 2022
Starbucks supports millions of mobile orders every day. Whether you order on a mobile application, in person, or through a friend – Starbucks is always innovating to find new ways to support its global customer base. By using Amazon Web Services (AWS) and the AWS Carbon Footprint Tool, Starbucks can scale to meet demand, create new services to delight customers, and make sustainable business decisions. Starbucks helped create and announce the sustainability pillar for the AWS Well-Architected Framework and continues to be a leader in sustainable technology. To learn how Starbucks uses AWS and prioritizes sustainability, the Fix This team chatted with Drew Engelson, director of engineering, Unified Commerce Platform at Starbucks. Drew shares how Starbucks uses AWS to make data-informed decisions and how it empowers technologists around the world to adopt a sustainable mindset.

Drew Engelson
Director of Engineering, Starbucks
As Director of Engineering at Starbucks, Drew serves the engineering teams that deliver the Starbucks Rewards and Starbucks Mobile Order and Pay platforms. Drew believes we must wield our technical prowess responsibly; optimizing our digital carbon footprint to achieve planet-positivity.

With a background in software engineering, architecture, cloud, and devsecops, Drew has leveled-up leading brands such as National Geographic, PBS, Marvel, Gannett/USA TODAY, Zipcar, and The White House.

03:33 - Understanding the connection between cost optimization and sustainability
06:08 - Which data sets help Starbucks understand its environmental impact
07:58 - Empowering others at Starbucks to think sustainably

10:30 - How Starbucks sustainability goals have developed
12:43 - Looking to the future
13:10 - Advice for individuals to become sustainable technologists and make a difference

About the Fix This Podcast
Hear conversations spanning from researching climate change to improving patient outcomes to creating AI-driven art—and more. Dive deep with customers on the Fix This podcast.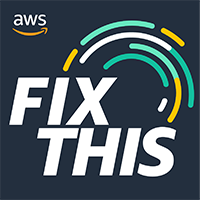 Customer Success Stories
Organizations of all sizes use AWS to increase agility, lower costs, and accelerate innovation in the cloud.