Topics: Sustainability and Agriculture
Improving Access to Fresh Food with Rise Gardens
October 2022
Quality fresh food is essential for day-to-day lives, but these foods can often be inaccessible, too expensive to purchase, and tough on the environment. With crops transported globally for our consumption, these long-haul trips are only adding to excess emissions concerns. Rise Gardens is a green tech startup building on Amazon Web Services (AWS) to combat this issue by empowering users to grow fresh food directly in their homes. The Fix This team chatted with Dan Kuhn, chief technology officer at Rise Gardens, to hear how it is using Amazon Alexa and the internet of things (IoT) to power its hydroponic indoor gardens and mobile application. The mobile app alerts users when to water plants and when to harvest, resulting in less water use, and the hydroponic gardens allow users to grow produce without being confined to a climate or region.

Dan Kuhn
Dan is the chief technology officer for Rise Gardens, the maker of consumer indoor hydroponic gardens. He is a maker at heart, developing technology solutions, creating teams, growing companies and building things with his hands.

He began his career as an engineer where he designed, patented and tested a new turbine engine technology that now operates in commercial regional jets. From there he took a sabbatical and joined the Peace Corps to work with communities building wells in Africa.

When returning he shifted into the software technology domain first working at American Express building their online card internet platform. From there he took the role of leading the technology team for Click Commerce and helping them transition from startup to a public company. With the startup bug having taken hold, he became the co-founder of Aginity where they revolutionized the idea of large-scale analytic management for Fortune 500 companies.

At Rise Gardens he has been enjoying the opportunity to manage not only the software technology team but also their electronics, mechanical engineering and analytics capabilities.

01:56 – Introduction to Rise Gardens
03:11 – Understanding hydroponic indoor garden beds
06:49 – Using data to improve the growing experience

07:36 – How Rise Gardens uses AWS and IoT devices to power its services
10:38 – Understanding the importance of sustainability at the individual level
About the Fix This Podcast
Hear conversations spanning from researching climate change to improving patient outcomes to creating AI-driven art—and more. Dive deep with customers on the Fix This podcast.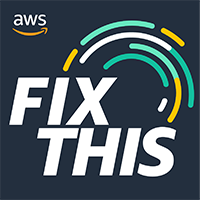 Customer Success Stories
Organizations of all sizes use AWS to increase agility, lower costs, and accelerate innovation in the cloud.