Trade Ledger Accelerates Loan Disbursements by 97.5 Percent with Lending Platform on AWS
Bridging the $5.2 Trillion Funding Gap
Access to funding for small businesses has been a challenge for many years, with an estimated $5.2 trillion small-and-medium enterprise (SME) funding gap as of October 2021. SMEs may not qualify for finance or find their applications rejected due to lack of information, limited transaction history from being too new, or incorrect data provided.

Trade Ledger—a multi-product business lending platform—saw this as an opportunity. "Our mission is to provide the technology and insight to accelerate and transform business finance, in particular SME and mid-market lending, unlocking economic growth and social mobility," says Martin McCann, chief executive officer and co-founder of Trade Ledger.

Trade Ledger helps banks and large non-bank lenders provide credit to SMEs by consolidating the information they require to make decisions. By leveraging Trade Ledger's open banking lending platform, lenders can access the data they need throughout the customer lifecycle, analyze that data, and automate key processes.

The result is a streamlined credit decisioning process allowing lenders to act faster with less risk and serve more borrowers.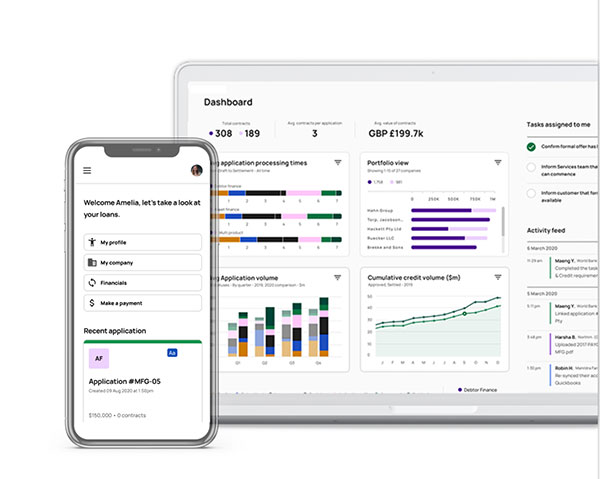 We offer a truly global lending platform with AWS that runs smoothly for our Tier One banking customers with zero downtime. That's a good sign of success for us."

Matthias Born
Chief Technology Officer and Co-founder of Trade Ledger

A Startup with a Global Mindset from Day One
Trade Ledger launched its lending-as-a-service platform on the Amazon Web Services (AWS) Cloud. Matt Born, chief technology officer and co-founder of Trade Ledger, says, "While we're a startup, our goal from day one was to establish a global enterprise lending-as-a-service business, but without owning large scale on-premises infrastructure or running a sizable IT team."

He continues, "We also knew that the future was in cloud services, and, increasingly, more banks are leaning towards this. It was pretty clear that the cloud was the solution to scale our business."

When building the Trade Ledger platform on AWS, speed and flexibility were key. The platform is componentized, which makes it highly configurable. Trade Ledger's customers can create their own workflows on the platform, apply their own risk policies, and offer new multi-product, region, and channel services, including complex lending products like invoice financing.

Onboard New Clients Securely in Hours
In 2017, Trade Ledger transitioned from a monolithic architecture to component-based architecture with Amazon Elastic Kubernetes Service (Amazon EKS) on Amazon Elastic Compute Cloud (Amazon EC2) instances. This approach on AWS allows Trade Ledger to run and scale Kubernetes applications flexibly, with two team members managing the infrastructure. Trade Ledger estimates it would have needed to increase its IT team by 10 times with an on-premises approach.

Furthermore, with Amazon EKS, Trade Ledger can spin up services across multiple AWS Availability Zones, allowing the business to serve its global customer base without compromising on speed, latency, and uptime. "With Amazon EKS, we can replicate secure, isolated environments for new clients and have them up and running in a couple of days instead of weeks, with the same services and the same instances," Born says.

Complete Loan Application Process in 4 minutes
Typically, banks take approximately 90 days to process a line of credit application, and it takes about 30 hours of manual work for borrowers. Trade Ledger automates many manual application processes using application programming interfaces (APIs), completing the entire process in as little as 4 minutes.

The flexibility of AWS ensures the Trade Ledger platform applies the right amount of computing power at the right time during the loan-request workflow. Born explains, "There are certain calculations that take place in our credit decision engine that require a bit of extra compute memory, and the flexibility of Amazon EC2 gives us what we need when we need it."

Accelerate Loan Decision Making Process by 97.5%
One of Trade Ledger's customers—a Tier One global bank—has reduced its loan decision-making process time by 97.5 percent, from around 120 days to just three. In addition, application analysis has decreased from 21 days, to slightly over 10 minutes.

"We offer a truly global lending platform on AWS that runs smoothly for our Tier One banking customers with zero downtime. That's a good sign of success for us," Born says.

The ability to reduce time to disburse loans is the result of the startup's infrastructure-as-code approach to automate infrastructure management. "We're working towards a self-healing infrastructure that can automatically identify underperforming systems, and instantly commission new ones to maintain the desired performance," McCann says. "In the financial industry, where small time differences can lead to significant losses, this is an important factor for our customers."

Leveraging the AWS Ecosystem
2020 proved to be a successful year for Trade Ledger, with the startup achieving twelvefold growth while still maintaining a lean team. It has seen continued success in 2021.
Trade Ledger is an AWS Partner and is part of the AWS Global Startup Program, which helps mid-to-late-stage startups that have raised institutional funding. "As an AWS Partner, we can work with other partners to build solutions for the enormous fintech market. We also have AWS Marketplace on our roadmap, to market and sell our software to AWS customers," comments Born.

Born concludes, "A great solution is about innovation and change. And one that helps us to be scalable and flexible. The AWS ecosystem provides us with all the relevant ingredients and the support to establish Trade Ledger as a world class enterprise technology business."

To Learn More
---
About Trade Ledger
Launched in Sydney, and now headquartered in London, Trade Ledger offers its lending as a service platform to banks and non-bank lenders, enabling them to provide credit to SMEs cost effectively by consolidating the information required to make decisions.

Benefits of AWS
Allows lenders to launch products in weeks
Reduces loan workflows from months to days
Cuts application processing time from 90 days to four minutes
Decreases application analysis from 21 days to approx.10 minutes
Avoids tenfold increase in infrastructure team
Onboards customers in hours versus weeks
Achieves tenfold business growth

---
AWS Services Used
Amazon Elastic Kubernetes Service
Amazon Elastic Kubernetes Service (Amazon EKS) is a managed container service to run and scale Kubernetes applications in the cloud or on-premises.

Amazon Elastic Compute Cloud
Amazon Elastic Compute Cloud (Amazon EC2) is a web service that provides secure, resizable compute capacity in the cloud. It is designed to make web-scale cloud computing easier for developers.

---
Get Started
Companies of all sizes across all industries are transforming their businesses every day using AWS. Contact our experts and start your own AWS Cloud journey today.