This year, the annual AWS Summit goes regional and will take place in Singapore on 4th of April, 2018. Whether you are new to the cloud or an experienced user, you will learn something new at the AWS Summit. This free event is designed to educate new customers about the AWS platform and offer existing customers information on architecture best practices and new services. Come early to hear an exciting keynote with new announcements, great customer stories and attend the afternoon breakout sessions covering hot topics, like new services, architecture, AI & data, FSI and more.

You have an opportunity to attend the keynote sessions and 35 breakout sessions led by AWS Solutions Architects and Customers.
High-energy exhibition showcasing key AWS technology and consulting partners, as well as access to AWS experts.
Visit the Startup Park, AWS Booth or ISV Village to learn more about innovation, solutions, partners or training!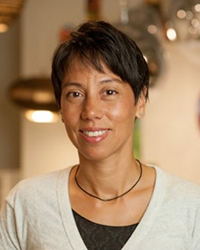 Mai-Lan Tomsen Bukovec is the Vice President and General Manager of Amazon S3, Amazon Web Services' object storage service. Mai-Lan has been with Amazon Web Services since 2010. During her tenure at Amazon Web Services, Mai-Lan has also been the General Manager for compute AWS services, such as Amazon Simple Workflow, Amazon Elastic Compute Cloud (EC2) Auto Scaling, and Amazon CloudWatch. Prior to joining Amazon, Mai-Lan spent more than a decade at Microsoft, her work spanning different roles including the Product Unit Manager (PUM) for Microsoft's Web server Internet Information Services (IIS), and three years in early stage startups.
Mai-Lan lives in Seattle with her husband and three boys. When she is not working on Amazon cloud services and spending time with her family, Mai-Lan trains as a recreational boxer. She also holds a green glove ranking in the martial art Savate.
Ian Massingham leads Technical and Developer Evangelism at Amazon Web Services and has been working with cloud computing technologies since 2008. He and his team around the world work with developers and other types of technical end-users within AWS customers of all sizes, from start-ups to large enterprises, to increase awareness and adoption of AWS cloud services amongst developers.
Ian and his team are prolific conference speakers and participate in a wide variety of developer conferences, meetups and other developer communities in order to connect with developers and inform, inspire and educate them about AWS. As an individual technologist, Ian has a special interest in the development of Connected Device and IoT applications, and in serverless architecture patterns for the deployment of applications in the AWS Cloud.
Ian has over 20 years' experience in the IT industry, covering operations and engineering within internet hosting, internet access, telecommunications and cloud service providers. Prior to joining AWS, he led a systems engineering team for an integrated software and hardware company that focused on the creation of cloud computing services with telecommunications and IT service providers across Europe, the Middle East and Africa region.
| | |
| --- | --- |
| 07:30am – 09:00am | Registration and Exhibition Showcase |
| 09:00am – 09:05am | Welcome Remarks – Nick Walton, Managing Director of ASEAN, AWS |
| 09:05am – 10:30am | Opening Keynote – Mai-Lan Tomsen Bukovec, Vice President and General Manager Amazon S3, AWS |
| 10:30am – 11:15am | Refreshment Break and Exhibition Showcase |
| 11:15am – 01:05pm | Breakout Sessions |
| 01:05pm – 02:00pm | Lunch and Exhibition Showcase |
| 02:00pm – 03:50pm | Breakout Sessions |
| 03:50pm – 04:20pm | Refreshment Break and Exhibition Showcase |
| 04:20pm – 05:00pm | Breakout Sessions |
| 05:00pm – 05:45pm | Closing Keynote – Ian Massingham, Global Head of Technical & Developer Evangelism, AWS |