This year, the annual AWS Summit goes regional and will take place in Singapore on 4th of April, 2018. Whether you are new to the cloud or an experienced user, you will learn something new at the AWS Summit. This free event is designed to educate new customers about the AWS platform and offer existing customers information on architecture best practices and new services. Come early to hear an exciting keynote with new announcements, great customer stories and attend the afternoon breakout sessions covering hot topics, like new services, architecture, AI & data, FSI and more.

You have an opportunity to attend the keynote sessions and 35 breakout sessions led by AWS Solutions Architects and Customers.
High-energy exhibition showcasing key AWS technology and consulting partners, as well as access to AWS experts.
Visit the Startup Park, AWS Booth or ISV Village to learn more about innovation, solutions, partners or training!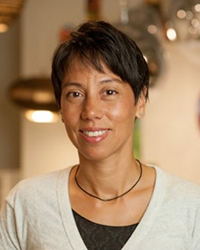 Mai-Lan Tomsen Bukovec is the Vice President and General Manager of Amazon S3, Amazon Web Services' object storage service. Mai-Lan has been with Amazon Web Services since 2010. During her tenure at Amazon Web Services, Mai-Lan has also been the General Manager for compute AWS services, such as Amazon Simple Workflow, Amazon Elastic Compute Cloud (EC2) Auto Scaling, and Amazon CloudWatch. Prior to joining Amazon, Mai-Lan spent more than a decade at Microsoft, her work spanning different roles including the Product Unit Manager (PUM) for Microsoft's Web server Internet Information Services (IIS), and three years in early stage startups.
Mai-Lan lives in Seattle with her husband and three boys. When she is not working on Amazon cloud services and spending time with her family, Mai-Lan trains as a recreational boxer. She also holds a green glove ranking in the martial art Savate.
---
Ian Massingham leads Technical and Developer Evangelism at Amazon Web Services and has been working with cloud computing technologies since 2008. He and his team around the world work with developers and other types of technical end-users within AWS customers of all sizes, from start-ups to large enterprises, to increase awareness and adoption of AWS cloud services amongst developers.
Ian and his team are prolific conference speakers and participate in a wide variety of developer conferences, meetups and other developer communities in order to connect with developers and inform, inspire and educate them about AWS. As an individual technologist, Ian has a special interest in the development of Connected Device and IoT applications, and in serverless architecture patterns for the deployment of applications in the AWS Cloud.
Ian has over 20 years' experience in the IT industry, covering operations and engineering within internet hosting, internet access, telecommunications and cloud service providers. Prior to joining AWS, he led a systems engineering team for an integrated software and hardware company that focused on the creation of cloud computing services with telecommunications and IT service providers across Europe, the Middle East and Africa region.
---
George Wang is currently the Senior Vice President, Information Technology, Singapore Airlines, responsible for overall IT and Digital for the company. Working closely with business, George leads the team to position SIA as a leader in applying digital technology in the airline industry focusing on step changes in technology, culture, process and organization.
He started his career developing multi-lingual multi-media search engine and internet security in the early 90s. Before joining SIA, He held a number of senior IT leadership positions across cyber security, infrastructure, architecture, strategy and technology in Reuters and NOL. George is a board director of SilkAir Pte Ltd. He holds a Master of Business Administration degree with High Honours (Beta Gamma Sigma) from the University of Chicago-Booth School of Business.

---
Driving significant technical change at corporations in Thailand, Asia, and Globally as Executive at Accenture and Deloitte, Global Chief Architect at GE Capital and Standard Chartered, CEO at Thailand's first Internet and e-Commerce Business, CTO at Cisco Systems and now Central Group. Axel setup exceptional Technology journey's helping organizations to transform, become agile, and more competitive, continually adopting new technologies and productizing these.
---
Akshay Garg is the cofounder and CEO of FinAccel, a VC backed financial technology company that leverages deep data analytics to automate credit risk scoring and access to credit for consumers in Southeast Asia. FinAccel's flagship product Kredivo enables ecommerce buyers to purchase products on credit, based on real-time credit decisioning that evaluates nearly 5000 features in real-time. Kredivo is currently available on 150+ ecommerce merchants in Indonesia. Akshay previously cofounded Komli Media, one of Asia's leading adtech companies, which raised over US$70m from top tier investors and was acquired by Axiata, Malaysia's leading telco in 2015. Komli pioneered RTB (Real Time Bidding) and audience profiling in Asia. Akshay is a Kauffman Fellow, an elite worldwide network of venture capital investors and innovation leaders, and an active angel investor.

---
Theo Vassilakis is the Group Chief Technology Officer of Grab. He sets the strategic direction for the technology team at Grab, oversees the growth of Grab's products and services as well as the further development of its machine learning, data science and engineering capabilities. Prior to joining Grab, Theo has led large, multi-site teams, including BigQuery/Dremel now in Google Cloud Platform, and Cosmos/Scope now in Azure Data Lake Analytics. Within Facebook's Oculus Research and Microsoft Research, he has led and worked on cutting edge eorts including a backend for Augmented Reality - scaling computer vision (SLAM, 3D reconstruction) into distributed cloud infrastructure - as well as data mining and exploration for Microsoft SQL Server.
As an entrepreneur, he co-founded Metanautix, a big data analytics startup funded by Sequoia Capital and acquired by Microsoft. He has co-authored inuential research papers on Dremel, written for industry publications, served on research program committees, and appeared as a panelist on various topics. Theo holds a B.Sc. from Stanford University, and a Ph.D. from Brown University, both in pure Mathematics. After having moved to the United States from his native Athens, Greece in the early 90s, Theo and his family are invigorated by the new adventures that their move to Southeast Asia will bring. In his spare time, Theo enjoys experimenting with hardware through a variety of projects, ranging from a prototype human input device to quadcopters for indoor spaces.

07:30am – 09:00am
Registration and Exhibition Showcase
09:00am – 09:05am
Welcome Remarks – Nick Walton, Managing Director of ASEAN, AWS

09:05am – 10:30am

Opening Keynote – Mai-Lan Tomsen Bukovec, Vice President and General Manager Amazon S3, AWS

AWS Customer Speakers:
Axel Winter, Group CTO, Central Group
Akshay Garg, CEO, FinAccel
George Wang, SVP IT, Singapore Airlines

10:30am – 11:15am
Refreshment Break and Exhibition Showcase
11:15am – 01:05pm
Breakout Sessions
01:05pm – 02:00pm
Lunch and Exhibition Showcase
02:00pm – 03:50pm
Breakout Sessions
03:50pm – 04:20pm
Refreshment Break and Exhibition Showcase
04:20pm – 05:00pm
Breakout Sessions
05:00pm – 05:45pm

Closing Keynote – Ian Massingham, Global Head of Technical & Developer Evangelism, AWS

AWS Customer Speaker:
Theo Vassilakis, CTO & Head of Engineering, Grab