Amazon Chime
Working together, simplified
Amazon Chime is a communications service that lets you meet, chat, and place business calls inside and outside your organization, all using a single application.
With Amazon Chime, customers can:
Conduct and attend online meetings with HD video, audio, screen sharing, meeting chat, dial-in numbers, and in-room video conference support;
Use chat and chat rooms for persistent communications across desktop and mobile devices;

Administer enterprise users, manage policies, and setup SSO or other advanced features in minutes using the Amazon Chime management console.

Amazon Chime offers an easy-to-use app available for Windows, Mac, web, iOS, and Android devices.
For a set of real-time communications components to quickly add messaging, audio, video, and screen sharing capabilities to your web or mobile applications, please visit Amazon Chime SDK.
Why Amazon Chime?
Choose how you communicate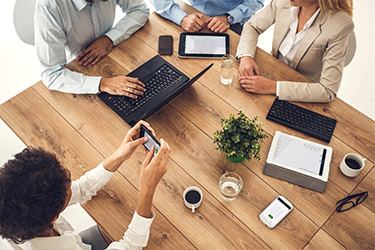 Amazon Chime lets you choose the communication options that are best suited for your business. You have the option to choose from meetings, chat, and business calling. With Amazon Chime, you have the flexibility to choose the communication option that fits with your business needs, and the freedom to scale up or down as needed.

Use one app for all your communication
Amazon Chime lets you meet, chat, and place business phone calls with a single, secure application. You don't need to switch between applications to collaborate and can instantly go from a chat to a call, share your screen, and even invite more people to join your meeting. When it's time for your meeting, Amazon Chime will call you on all your devices to help ensure you are never late, and that your meetings start on time.

Pay only for what you use
Amazon Chime offers pay-per-use pricing which lets you pay for features you use, on the days that you use them. With pay-per-use pricing there's no upfront investment or long-term contracts. You can switch between Basic features that don't include a charge, and Pro features that do include a charge. You can use the right features for your business without worrying about overspending.

Amazon Chime APN Partners
Nextiva offers Amazon Chime video conferencing and screen sharing as part of its suite of connected communications solutions, allowing businesses to stay connected while working from anywhere.
Lumen offers Amazon Chime as part of their Unified Communications and Collaboration Services portfolio, providing enterprise customers the reliability and security of Lumen global network, and the benefit of consolidated billing.


Sign up for free
Use all Amazon Chime Pro features for your organization.

Sign up

Attend a meeting or download clients
Join a meeting or sign up for Amazon Chime Basic for 1:1 meetings and chat.

Attend a meeting or download clients
Contact Sales
Fill and submit a contact us form to request sales support.

Contact us