Amazon Chime is a communications service that lets you meet, chat, and place business calls inside and outside your organization, all using a single application. With Amazon Chime, you have the flexibility to choose the features that you need for online meetings, video conferencing, and business calling, and pay only when you use them.

Amazon Chime Voice Connector is a service that carries your voice traffic over the internet and elastically scales to meet your capacity needs. This lets you save money by eliminating fixed telephone network costs and simplifies your voice network administration by transitioning it to the AWS Cloud.

Why Amazon Chime
Choose how you communicate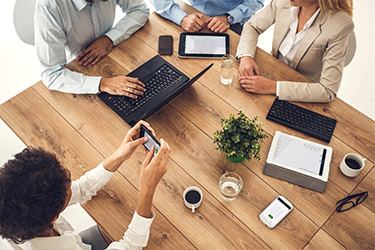 Amazon Chime lets you choose the communication options that are best suited for your business. You have the option to choose from meetings, chat, and business calling or use Voice Connector to direct your voice traffic over the internet. With Chime, you have the flexibility to choose the communication option that fits with your business needs, and the freedom to scale up or down as needed.

Use one app for all your communication
Amazon Chime lets you meet, chat, and place business phone calls with a single, secure application. You don't need to switch between applications to collaborate and can instantly go from a chat to a call, share your screen, and even invite more people to join your meeting. When it's time for your meeting, Amazon Chime will call you on all your devices to ensure you are never late and your meetings start on time.

Pay only for what you use
Amazon Chime offers pay-per-use pricing which lets you pay for features you use, on the days that you use them. With pay-per-use pricing there's no upfront investment or long-term contracts. You can switch between Basic features that don't include a charge, and Pro features that do include a charge. You can use the right features for your business without worrying about overspending

"Amazon Chime has provided a platform for us to use a single product for online meetings, voice and video chat, along with in-room conferencing services. Working across any client device using native applications or browser extension, the experience can be seamless for our associates and external meeting participants. The value proposition of the pay-per-use pricing will now be enhanced by the Business Calling capability, enabling us to direct-dial phones in over 100 countries. This will lower telecommunications costs overall, and help further simplify our technology landscape."

Amazon Chime Partners
Amazon Chime is available through our partners, CenturyLink and Vonage
CenturyLink offers Amazon Chime as part of their Unified Communications and Collaboration Services portfolio, providing enterprise customers the reliability and security of CenturyLink's global network, and the benefit of consolidated billing.
Vonage includes Amazon Chime in several of its business communications plans at no additional cost, providing their customers with a modern collaboration experience that's integrated with Vonage's full range of unified communications solutions for greater mobility, flexibility and workplace productivity.
Blog posts & articles
Announcing Amazon Chime Business Calling and Amazon Chime Voice Connector

Jennie Tietema
March 18, 2019
Check out the Amazon Chime features page
Learn more about Amazon Chime features

Learn more

Contact us
Contact us and let us provide you with a personalized demo.
Sign up

Download Amazon Chime
Try Amazon Chime Pro features free for 30 days!
Download