AWS and Community Outreach
Making a positive impact around the world with AWS InCommunities
Amazon Web Services (AWS) is committed to making a positive difference around the world. Whether it's using technology to solve the world's most pressing issues, or through our employees donating their time to support causes they care about, AWS is dedicated to building a world where every person has the opportunity to live a life of dignity on a healthy planet.
To make a positive impact, specifically in the regions where we build and operate our global infrastructure, we established a program called AWS InCommunities. AWS InCommunities launches long-term, innovative programs that will have a lasting impact in our regions around the world.

How AWS InCommunities makes a difference
Global Signature Programs
AWS is dedicated to inspiring future builders, especially those from underrepresented and underserved communities who reside in areas where we have a physical presence. Through our Signature Programs, we help increase thousands of students' access to STEAM education opportunities in fun and imaginative ways. We are intentional about adding the "A" to "STEM" because we know that the arts help build future-ready students who develop into well-rounded and creative problem solvers.
AWS Tech Week
Tech Week is a global initiative that inspires employees to participate in and lead tech-related community events. Options range from mapathons to identify locations for disaster relief efforts, to sessions on STEAM and cloud careers in schools, and other service activities.
Girls' Tech Day
Our Girls' Tech Days emphasize STEAM for school-age girls and young women. Designed to inspire future builders, these workshops showcase tech careers and women in the technology workforce, and introduce girls to STEAM.
Family Tech Day
Family Tech Days are activities for communities that emphasize bringing families together to experience science and technology in a fun environment. The events are complimentary and open to the entire community.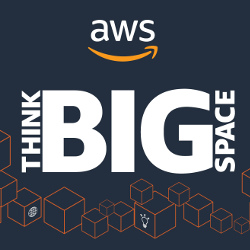 Think Big Space
AWS Think Big Spaces provide a place beyond the standard classroom for students to explore and cultivate an interest in STEAM and STEAM related careers. These labs encourage a hands-on approach where students think big to solve real-world problems.
Recent events
Below are some examples of how we are making a positive impact around the world.

---
Helping our communities through COVID-19
AWS InCommunities is supporting communities impacted by COVID-19 by providing grants to organizations assisting in response efforts and supplying personal protection equipment (PPE) to frontline workers. We're launching virtual volunteer campaigns, supporting students and educators through distance learning programs, and responding to immediate needs.

---
Combining Magic and Computer Programming in Columbus, Ohio
AWS volunteers at the Ohio AWS Think Big Space held virtual workshops that gave young learners the chance to be cloud wizards and create magic wands. The cloud wizards used an Internet of Things device to curate a magic spell and connect to the AWS Cloud to defend against a virtual dragon.

---
Recent volunteer efforts in Europe and Africa
Capetown volunteers worked with Trees For Africa to plant trees around local Hlengisa Primary and Simunye Primary schools.
A group of volunteers in Ireland collected pumpkins, arranged transportation, and distributed them to the door steps of children who could no longer travel due to COVID restrictions.

---
Volunteers in Sydney assist with at-risk students
AWS volunteers support EaglesRaps, an organisation working with students from Western Sydney who have dropped out of the regular education system to achieve Government approved certifications. The AWS team in Sydney also mentors students on a 1-1 basis to enable them to complete their certifications successfully. Recently, AWS volunteers spent their weekend installing new computers to enable students continue their education successfully.
More ways AWS is giving back
Learn more about AWS InCommunities programs around the world