AWS and Community Outreach
Making a positive impact around the world with AWS InCommunities
Amazon Web Services (AWS) is committed to making a positive difference around the world. Whether it's using technology to solve the world's most pressing issues, or through our employees donating their time to support causes they care about, AWS is dedicated to building a world where every person has the opportunity to live a life of dignity on a healthy planet.
To make a positive impact, specifically in the regions where we build and operate our global infrastructure, we established a program called AWS InCommunities. AWS InCommunities launches long-term, innovative programs that will have a lasting impact in our regions around the world where we work, live, and raise our families. AWS InCommunities is obsessed with being good neighbors, and we start with the community and work backwards to represent infrastructure communities inside AWS.

AWS Tech Week School Registration is open here! A global program in 15 languages aimed at school-going children and young people that enhances their knowledge and skill on core STEAM topics including Cloud Computing, Data Centres, AI and Big Data through October and November.

How AWS InCommunities is committed to making a difference
There are four pillars that anchor the work of AWS InCommunities. All programs align to these four pillars: STEAM Education, Access, and Equity; Local Tech Upskilling, Environmental Stewardship; Employee Engagement.
To make a long-term impact in the communities where AWS builds infrastructure, the four pillars direct how we make a difference.
Global Signature Programs
AWS is dedicated to inspiring future builders, especially those from underrepresented and underserved communities who reside in areas where we have a physical presence. Through our Signature Programs, we help increase thousands of students' access to STEAM education opportunities in fun and imaginative ways. We are intentional about adding the "A" to "STEM" because we know that the arts help build future-ready students who develop into well-rounded and creative problem solvers.
AWS Tech Week
Tech Week is a global initiative that inspires employees to participate in and lead tech-related community events. Options range from mapathons to identify locations for disaster relief efforts, to sessions on STEAM and cloud careers in schools, and other service activities.
Girls' Tech Day
Our Girls' Tech Days emphasize STEAM for school-age girls and young women. Designed to inspire future builders, these workshops showcase tech careers and women in the technology workforce, and introduce girls to STEAM.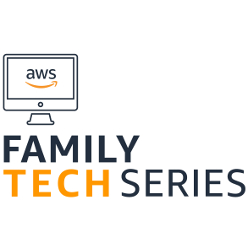 Family Tech Day
AWS Family Tech Series is a program that seeks to inspire future builders and engage with their families in a fun and educational way throughout the year. Families and communities around the world are invited to discover and play with the latest tech concepts, learn from technology subject matter experts, and learn more about cloud computing, and career paths in technology.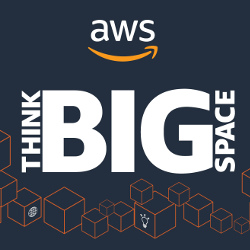 Think Big Space
AWS Think Big Spaces provide a place beyond the standard classroom for students to explore and cultivate an interest in STEAM and STEAM related careers. These labs encourage a hands-on approach where students think big to solve real-world problems.
Recent events
Below are some examples of how we are making a positive impact around the world.

---
Virtual Volunteering Around the World
Volunteers are contributing their time and knowledge to helping those in need through our Virtual Volunteering initiative.

Activities include keeping people with visual challenges engaged, learning sign language to become more inclusive, creating recordings of storybooks for educational purposes, and creating artwork to inspire older adults.
---
Licking River Roundup in Ohio
AWS Volunteers and their families in Columbus, Ohio, spent a day cleaning up the Columbus River for the Licking County River Round Up. This annual river cleanup brings out hundreds of volunteers who pull tires, shopping carts, and mountains of trash from 30 miles of rivers and streams. Through this amazing community-based conservation effort, a river system that had all but been abandoned, has seen a beautiful rebirth of aquatic and avian life.

---
Beach cleanup in Cape Town
AWS volunteers in Cape Town participated in the Milnerton Beach Cleanup event. The weather cooperated with their efforts to clean up the beautiful stretch of sand and they were able to remove many bags of refuse from the area.

---
Supporting Indonesia's vaccination efforts
AWS InCommunities worked to bring a vaccination program to the residents of West Java, Indonesia. After successfully conducting the vaccination drive for the first dose in August, the vaccination efforts were continued to administer the second dose. The event has benefited thousands of local residents, along with small and medium enterprises in the area.

---
Ambassador Spotlight: Singapore
Santhosh is an Infrastructure Delivery Manager for Singapore. Originally from Bengaluru, India, he has been volunteering with AWS InCommunities for over two years. Santhosh has dedicated his weekends to giving back to society wherever and however possible - cooking for the needy at a local soup kitchen, participating in beach cleanups, and refurbishing computers for underserved students during the lockdown.
Service to the community is its own reward for Santhosh, and he takes his kids along to volunteer whenever he can, hoping that they too will choose to walk this path. It's especially rewarding when he hears from other parents about how proudly his children speak of his volunteering. Going forward, Santhosh hopes to bring in more volunteers and is actively working toward that.

More ways AWS is giving back
Learn more about AWS InCommunities programs around the world