---
NEWLOG Consulting is an Italian technology firm that specializes in developing custom applications, document management solutions, and services for the logistics and industrial markets. NEWLOG was founded in 1994 and is located in Monza, Italy. The company develops cloud-based applications for the logistics market, including a product called Publisherlite, which enables search and publication of ERP invoices.
NEWLOG provides logistics applications on a Software as a Service (SaaS) platform that runs on the firm's on-premise infrastructure. Managing the on-premise environment was becoming difficult and costly for NEWLOG. The company was using tape drives for archiving and backup, but saving data to tape was a slow manual process, and tape backups were not always reliable. NEWLOG began to evaluate cloud service providers for a cost-effective and secure alternative.
"We evaluated service providers in Italy and internationally," says NEWLOG CEO Romualdo Gobbo. "We chose Amazon Web Services (AWS) because the products and services relieved our primary concerns about security and availability."
NEWLOG uses an in-house SQL database with IBM Tivoli software to manage backup and archiving. Now, instead of writing the IBM Tivoli data to tape drives, NEWLOG uses the AWS Storage Gateway to connect its on-premise backup software environment to durable, scalable storage in the AWS Cloud. The firm attached an AWS Storage Gateway volume as an iSCSI device to its server and made the volume a target for its IBM Tivoli backup application. The volume automatically uploads data for backup to Amazon Simple Storage Service (Amazon S3), where the data is encrypted by NEWLOG and stored securely in multiple facilities and on multiple devices within each facility. NEWLOG can easily restore this data from Amazon S3 to their on-premise environment over the Internet, without having to deal with the operational burden of retrieving tapes. Figure 1 demonstrates how NEWLOG uses the AWS Storage Gateway for backup and archiving.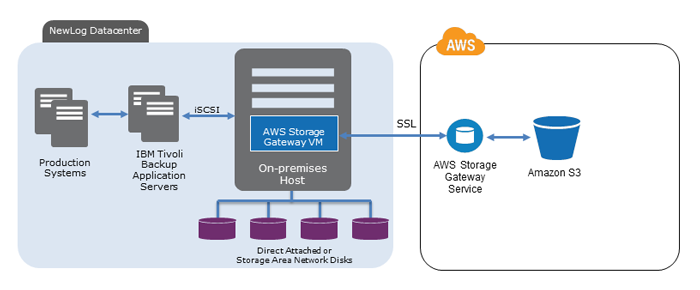 In addition, NEWLOG created a second iSCSI volume on the AWS Storage Gateway for disaster recovery. The NEWLOG team wanted to be able to back up their Publisherlite application data to AWS with the option to fail over to Amazon Elastic Compute Cloud (Amazon EC2) in the event of an on-premise outage. To accomplish this, the NEWLOG team mounted a second iSCSI volume to an on-premise server that runs the firm's Publisherlite application. The team uses this volume to mirror their data as backup snapshots to Amazon S3.
In the event that the on-premise environment is no longer available, NEWLOG can retrieve a snapshot stored in Amazon S3, create a cloud-based Amazon Elastic Block Store (Amazon EBS) volume from the snapshot, and attach the Amazon EBS volume to an Amazon EC2 instance running the Publisherlite application. Now, if NEWLOG's on-premises infrastructure goes down, the firm can re-start operations simply by spinning up the Amazon EC2 instance. With Amazon EC2, you only pay for the capacity that you use, so NEWLOG only has to pay for the Amazon EC2 instances it uses if fail over occurs. Figure 2 illustrates NEWLOG's disaster recovery solution.
"As a result of using the AWS Storage Gateway and other AWS products, we expect to save approximately 30 percent in infrastructure costs over the next 3 years and close to 50 percent in administrative overhead, including server management and backup operations," says Gobbo. "We reduced the costs and complexities related to legacy on-premise data center management while implementing backup and disaster recovery solutions that protect and store critical data."
To learn more about how AWS can help you integrate your on-premise infrastructure with cloud-based storage, visit our AWS Storage Gateway details page: http://aws.amazon.com/storagegateway/.