---
Ticketmaster is North America's top online venue for ticket sales and distribution and one of the continent's highest ranked e-commerce websites. In 2010, Ticketmaster merged with Live Nation Entertainment, and together with Live Nation's website, Ticketmaster hosts more than 26 million unique visitors every month.
Recently, Ticketmaster partnered with MarketShare to develop a dynamic ticket pricing application called Pricemaster. MarketShare is an analytics company that empowers businesses to credibly measure and dramatically improve the return on their marketing investments. MarketShare has a track record of ground-breaking innovations in marketing analytics working with over half of the Fortune 50.

The Pricemaster application is a web-based tool designed to optimize live event ticket pricing, improve yield management and generate incremental revenue. The tool takes a holistic approach to maximizing ticket revenue: it optimizes pre-sale and initial pricing all the way through dynamic pricing post on-sale.
However, before development could begin, MarketShare had to find an infrastructure that could support the application's dual challenges: limited upfront capital and managing the fluctuating nature of analytic workloads.
After examining their options, MarketShare decided to power Pricemaster using Amazon Web Services (AWS). The AWS feature stack provides the scalability, usability, and on-demand pricing required to support the application's intricate cluster architecture and complex MATLAB simulations. Pricemaster's AWS environment includes four large and extra large Amazon Elastic Compute Cloud (Amazon EC2) instances supporting a variety of nodes. The diagram below reveals the Amazon EC2 configuration: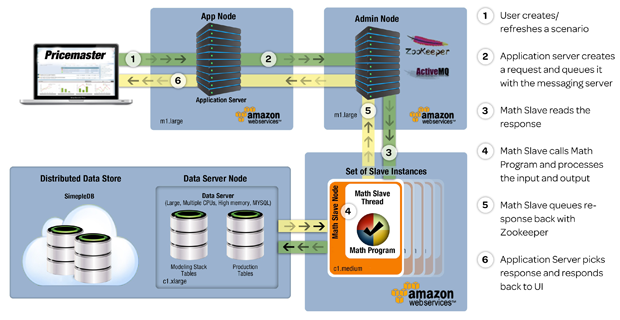 The Pricemaster team credits the AWS Cloud's ease of use, specifically that of Amazon Elastic MapReduce and Amazon RDS, with reducing its developers' infrastructure management time by three hours per day—valuable hours the developers can now spend expanding the capabilities of the Pricemaster solution.
With AWS's on-demand pricing, MarketShare also estimates that it reduces costs by over 80% annually, compared to fixed service costs. As the Pricemaster tool continues to grow, the company anticipates even further savings with Amazon Web Services.
MarketShare continues to expand its use of AWS for partners such as Ticketmaster saving time, money and providing a superior solution that is flexible, secure and scalable.