For information about all the new features in Amazon CloudFront, see the what's new page »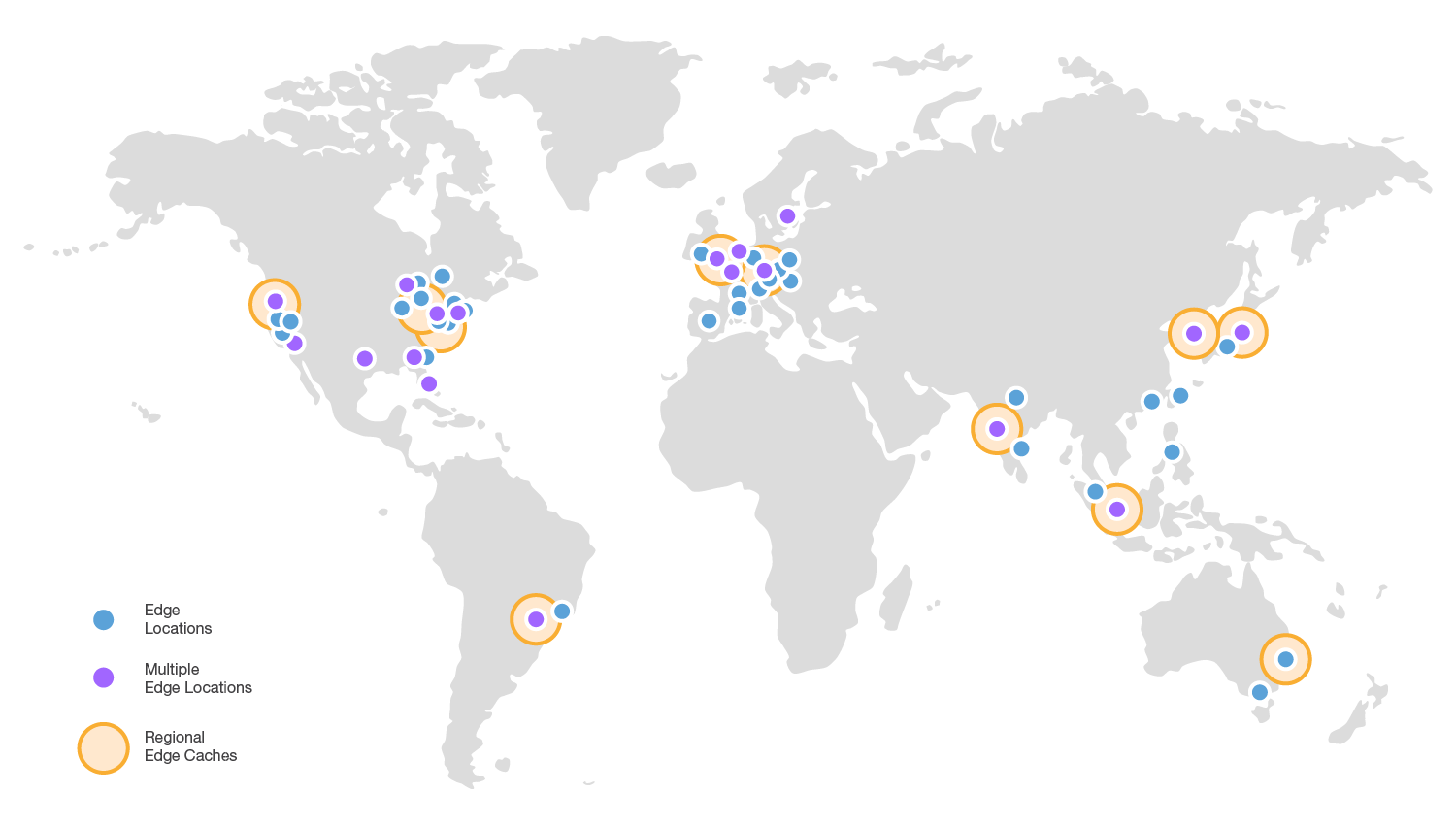 Edge Locations: Ashburn, VA (3); Atlanta, GA (3); Boston, MA; Chicago, IL (2); Dallas/Fort Worth, TX (4); Denver, CO; Hayward, CA; Jacksonville, FL; Los Angeles, CA (2); Miami, FL (2); Minneapolis, MN; Montreal, QC; New York, NY (3); Newark, NJ (2); Palo Alto, CA; Philadelphia, PA; Phoenix, AZ; San Jose, CA; Seattle, WA (3); South Bend, IN; St. Louis, MO; Toronto, ON
Regional Edge Caches: Virginia; Ohio; Oregon
Edge Locations: Amsterdam, The Netherlands (2); Berlin, Germany; Dublin, Ireland; Frankfurt, Germany (6); Helsinki, Finland; London, England (5); Madrid, Spain (2); Manchester, England; Marseille, France; Milan, Italy; Munich, Germany; Palermo, Italy; Paris, France (3); Prague, Czech Republic; Stockholm, Sweden (3); Vienna, Austria; Warsaw, Poland; Zurich, Switzerland
Regional Edge Caches: Frankfurt, Germany; London, England
Edge Locations: Chennai, India; Hong Kong, China (3); Kuala Lumpur, Malaysia; Mumbai, India (2); Manila, Philippines; New Delhi, India; Osaka, Japan; Seoul, Korea (3); Singapore (2); Taipei, Taiwan; Tokyo, Japan (5)
Regional Edge Caches: Mumbai, India; Singapore; Seoul, South Korea; Tokyo, Japan
Edge Locations: Melbourne, Australia; Sydney, Australia
Regional Edge Caches: Sydney, Australia
Edge Locations: São Paulo, Brazil (2); Rio de Janeiro, Brazil
Regional Edge Caches: São Paulo, Brazil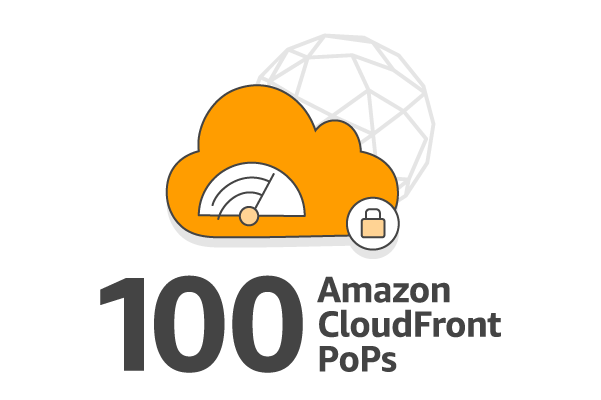 Here is what some of our largest Japanese customers are saying regarding the launch of CloudFront's 100th Point of Presence in Tokyo:
"Congratulations on the release of the 100th CloudFront location. CloudFront has become one of the important services that supports the stable delivery and high performance of PlayStation™Network. With the increase in high definition, feature rich, and large size game content, CloudFront is one of the few CDN services that is capable of delivering our global bandwidth need. We wish CloudFront future success as they continue to create a unique, and valuable CDN offering." Hiroki Tanaka, Director of NPS Operations at Sony Interactive Entertainment (SIE).
"The 100th CloudFront location in Tokyo is very memorable for us and we are happy for the continual addition of new locations. Amazon CloudFront, and its integration with other AWS products, is critical for the fast delivery of both the dynamic and static content of Canon's cloud services. CloudFront's ability to easily manage our distributions worldwide through APIs enables us to continuously integrate, deploy, and automate our services." Takashi Yagita, Principal Engineer for Office Imaging Products Operations at Canon.
"Congratulations on the 100th Edge Location! Three years ago, we selected Amazon CloudFront as our CDN because of their large-scale video delivery services. When looking back at CloudFront's implementation, we not only received generous support throughout the system architecting phase, but even on short notice to perform load testing during production cutovers. We were also impressed with the cooperation between the local AWS team in Japan and the US team. Ever since the initial setup and fine-tuning, we've seen no technical issues with CloudFront. Amazon CloudFront's continual release of new features and Edge Locations makes us feel that they're evolving at a very fast pace. We have high expectations for CloudFront and look forward to watching their continued evolution." Shinichi Iwaki, Manager in Mitsubishi Electric's Information Systems & Network Service Division.
"DELiGHTWORKS Inc. develops games such as Fate/Grand Order which has surpassed 10 million downloads around the world. Out of the many CDN services in the market, we chose Amazon CloudFront because of its high performance, low cost, stability, and fast invalidation times. We've also seen great benefits from CloudFront's integration with other AWS services such as Amazon Route 53, AWS WAF, and AWS Certificate Manager (ACM) which auto-renews our SSL certificates. We look forward to seeing more innovative services from CloudFront and AWS." Yuki Tamura, Technical Director at DELiGHTWORKS Inc.
"We are happy to hear that Tokyo was chosen as CloudFront's milestone 100th Edge Location. There is no doubt about the importance of CloudFront's role in helping us deliver high performing and stable services. We look forward to CloudFront's and AWS' continued growth and future developments." Ichiro Fukuda, CTO of Media Services at CyberAgent.
Dynamic and Customized Content

You can use Amazon CloudFront to deliver all of your content, including the dynamic portions of your site that change for each end-user. With CloudFront, you can configure multiple origin servers and multiple cache behaviors based on URL path patterns on your website. You can also configure a minimum expiration period (also known as "time-to-live" or TTL) to as short as 0 seconds, detect user requests based on the device used and the country where the end user is accessing your content from (geo targeting), and specify which query string parameters, cookies, or standard HTTP request headers you want to forward to your custom (non-S3) origin server. In addition, the integration with Lambda@Edge allows you to customize or personalize content for your end users close to where they're located by writing AWS Lambda functions deployed to the global CloudFront network and execute these functions in response to CloudFront events.

You can configure Amazon CloudFront to enforce end-to-end HTTPS connections from your viewer to your origin. The integration between CloudFront and AWS Certificate Manager allows you to create free custom SSL certificates or bring your own and deploy them in minutes. CloudFront supports advanced protocols and ciphers, and advanced SSL features, such as Session Tickets, OCSP Stapling, and Perfect Forward Secrecy. With CloudFront, you can also securely serve private content by using signed URLs, signed cookies (trusted signers), and use Origin Access Identity (OAIs) to restrict access to your Amazon S3 bucket. CloudFront also integrates with AWS WAF, a web application firewall that helps protect web applications from common web exploits, and AWS Shield, a managed DDoS protection service that safeguards web applications running on AWS. All CloudFront customers benefit from the automatic protections of AWS Shield Standard, at no additional charge. CloudFront is a PCI DSS compliant and HIPAA eligible service and allows you to log configuration changes to your distributions through AWS CloudTrail for auditing purposes.

Amazon CloudFront supports multiple protocols for media (audio and video – both on-demand and live) streaming. You can use CloudFront to deliver on-demand video using the Microsoft Smooth Streaming or the HLS formats without the need to setup or operate any media servers. You can also use CloudFront to deliver live media using Adobe Media Server, Window Media Services, or Wowza Media Server. CloudFront integrates with AWS Elemental Cloud's video processing and delivery services, including Amazon Elastic Transcoder, a service that allows you to convert your mezzanine (or master) media files stored in Amazon S3 to various formats depending on the devices your viewers will be using to play it.

Amazon CloudFront offers a variety of solutions for your reporting needs, whether it's receiving detailed cache statistics reports, monitoring your CloudFront usage in near real-time with Amazon CloudWatch, tracking your most popular objects, setting alarms on operational metrics, or learning more about your end users and which domains referred them to your website. You can also choose to receive information about traffic delivered by your CloudFront distribution by enabling CloudFront access logs for no additional cost. Learn more about CloudFront Reporting and Analytics.