Tip #1 – Receiving Invitation to View Documents: AWS FedRAMP Documents are delivered to customers via our DRM platform, CapLinked. If you did not receive an email to set up your account, yet have received confirmation that access has been granted from your AWS Account Team, we suggest that you add the following domain and IP address to their email sender whitelist to ensure email deliverability: email.caplinked.com and IP: 198.37.158.49
If you employ an email hyperlink scanning system (e.g. McAfee ClickProtect), add the following domains to the Allow List: email.caplinked.com, secure.caplinked.com and caplinked.com

Tip #2 – You received the invite email but when you click on the link the webpage is blocked: Please email support@caplinked.com and cc awscompliance@amazon.com requesting that the invite email to join the AWS Workspace on CapLinked be manually sent to you. Then bookmark the following URL to sign in and re-access the documentation in the future: https://secure.caplinked.com/workspaces/aws-workspace/sign-in. We find this usually solves the problem as often times a company will block caplinked.com but the secure site is not blocked.

Tip #3 – Viewing Excel Files: Are you trying to filter and navigate through the AWS FedRAMP excel data? Click the "Editor" button to sort, filter and access excel data in CapLinked. Refer to the screenshot example below:
After clicking the editor button, please wait while it may take time for the data to load. Once it has loaded, you will be able to sort, filter and click through the excel document.
---
1. When you are granted access to the review the AWS FedRAMP Documentation, you will receive an email from support@caplinked.com

---
2. Click "Accept Invitation" to create an account.
3. Once your CapLinked account is created you will be able to view the AWS FedRAMP documentation any time by logging in at CapLinked.com. Please review the screenshots below for directions on how to login and navigate through the documents: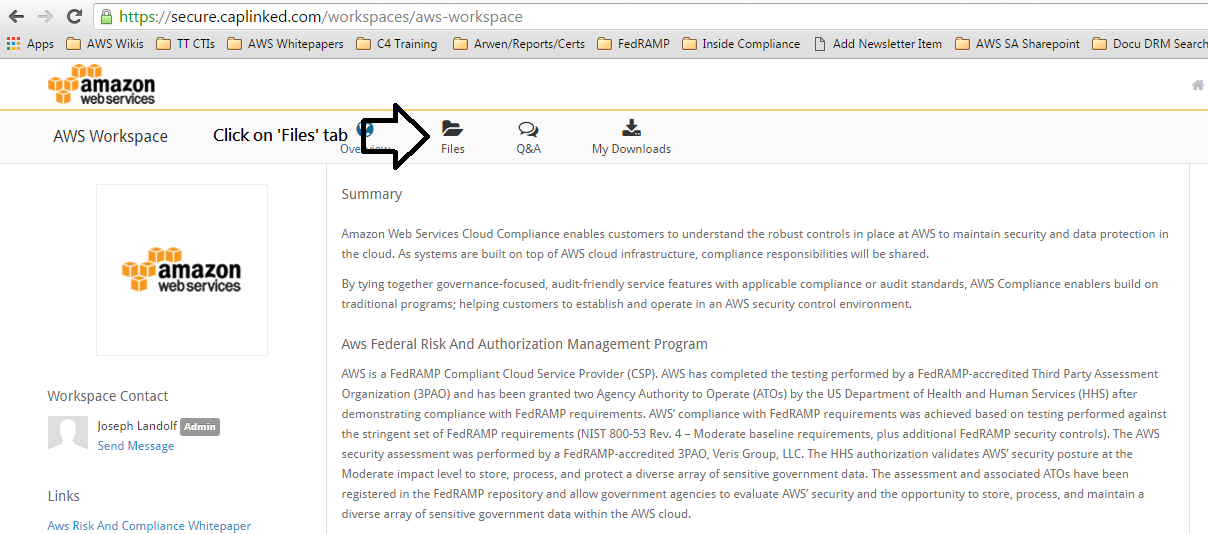 ---