EC2 instances featuring AMD EPYC processors provide powerful processing for up to 10% lower cost than comparable instances

Amazon Elastic Compute Cloud (Amazon EC2) is a web service that provides secure, resizable compute capacity in the cloud. It is designed to make web-scale cloud computing easier for developers. Through our partnership with AMD, AWS offers additional EC2 instances that add to the broadest and deepest portfolio of instances and enables you to optimize both cost and performance for your workload needs.

EC2 Instances Powered by AMD EPYC
Benefits
Flexibility and Choice
EC2 instances featuring AMD EPYC processors provide additional choices to help you optimize both cost and performance for your workloads. Available now in the EC2 compute optimized (C5a), general purpose (M5a), general purpose burstable (T3a), and memory optimized (R5a) instance families.

Better Economics
EC2 instances featuring AMD EPYC processors deliver up to 10% lower cost versus comparable instances. Since many workloads utilize only a fraction of the processor's maximum performance, these instances offer a better fit for many workloads. Additionally, C5a instances offer the lowest price per x86 vCPU in the EC2 family.
Seamless Workload Migration
Easily migrate applications currently running on existing EC2 instances to the new AMD-based variants with little to no modification. These instances are available in similar sizes and offer application compatibility with the C5, T3, M5, and R5 instances, so you can start using them just like your other EC2 instances.

Features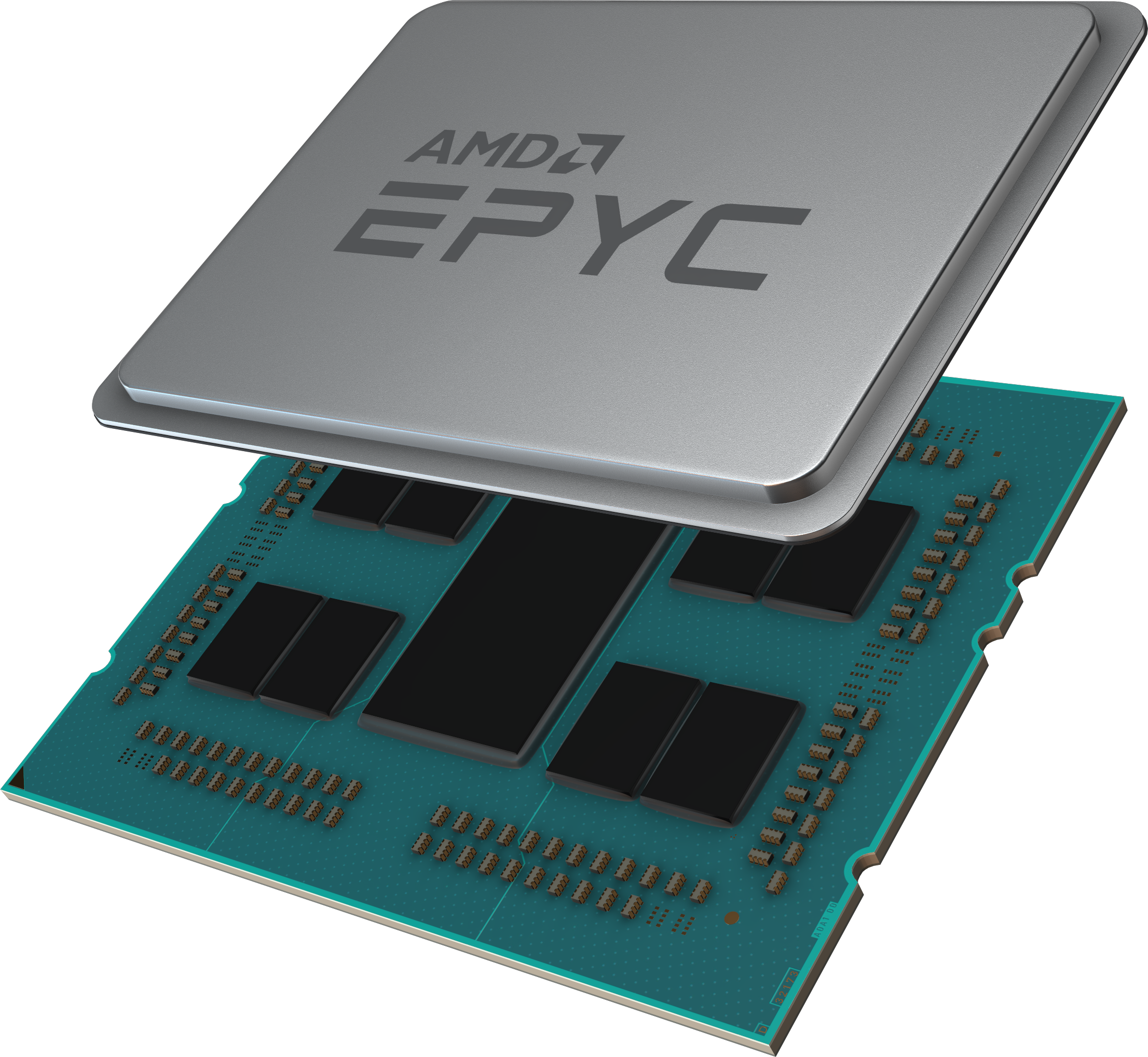 AMD EPYC Processors
Amazon EC2 instances featuring AMD EPYC processors provide additional choices to help you optimize both cost and performance for your workloads.
EC2 C5a instances feature 2nd generation AMD EPYC processors with all core clock speed of 3.3 GHz with an efficient 7nm process node and expanded memory bandwidth. EC2 M5a, R5a, and T3a instances feature 1st generation AMD EPYC processors with an all core turbo clock speed of 2.5 GHz.
AMD-based instances provide additional options for customers and may offer a better fit for many workloads that do not fully utilize the compute resources. By optimizing the balance between compute resources and utilization, these instances provide up to 10% lower cost than comparable instances.
Built on AWS Nitro System
The AWS Nitro System, delivers a rich collection of building blocks that offloads many of the traditional virtualization functions to dedicated hardware. By doing so, the AWS Nitro System enables high performance, high availability, and high security while also reducing virtualization overhead.

High Performance Network and Storage
Next-generation Elastic Network Adapter (ENA) provides high throughput, low latency interfaces for networking and Amazon Elastic Block Store (Amazon EBS). EC2 instances featuring AMD EPYC processors offer up to 20 Gbps of network bandwidth and up to 13.5 Gbps of dedicated bandwidth to Amazon EBS. C5ad, M5ad, and R5ad instances have local NVMe storage for workloads that require very low latency and storage access with high random read and write IOPS ability.
Reliable Infrastructure
Amazon EC2 offers a highly reliable environment where replacement instances can be rapidly and predictably commissioned. The service runs within Amazon's proven network infrastructure and data centers. The Amazon EC2 Service Level Agreement commitment is 99.99% availability for each Amazon EC2 Region.

Customer Success Stories
Capital One Financial Corporation, a leading information-based technology company and digital banking innovator, has taken a cloud-first approach to software development that provides highly-personalized customer experiences in the areas of credit cards, auto loans, banking, and savings products. Capital One has been able to leverage the utilization and cost benefits of AWS using EC2 instances powered by AMD EPYC processors. Capital One is always looking for ways to optimize our cloud utilization, taking advantage of Amazon EC2 R5a, M5a, T3a and C5a instances, which are all based on AMD's EPYC processors.

Sprinklr is a provider of enterprise software for customer experience management. More than 1,200 brands in 150 countries create happier customers with Sprinklr, including L'Oreal and McDonald's. We are always looking for ways to improve our cloud utilization and after using AWS's EC2 M5a, R5a and C5a, which are all based on AMD's EPYC processors, we've secured substantial savings on our cloud costs.

Wego is the leading online travel marketplace in Asia Pacific and the Middle East and North Africa (MENA) and it harnesses powerful yet simple technology that automates the process of searching and comparing results from hundreds of airline, hotel and online travel agency websites. We operate 60 country sites in over 22 languages and 58 currencies supporting millions of travelers every month. We had been using Amazon EC2 M5a instances since last year for our microservices, and soon after the EC2 C5a instances were launched, we migrated our Java-based metasearch services to these instances. With no code changes necessary, the transition was seamlessly completed in just a few days and it allowed us to achieve more than 30% cost savings.
Thatgamecompany studio (best known for beautifully designed games such as Flow, Flower and Journey), has recently seen the major benefits of using C5a to support our games. Sky: Children of the Light, which Apple named 2019's iPhone Game of the Year, leans into C5a to support Sky's backend services including Account Services, Load Balancing, Matchmaking, and more. Making the migration to C5a was straight-forward and easy, and we immediately saw the cost and performance benefits of doing so. As a longtime fan of AMD, I was excited to see their new 2nd Gen EPYC processors offered in the C5 family on AWS.

Elementum is the company behind the first cloud-native supply chain orchestration platform. In an age where instant gratification is the new norm and customer expectations are continuing to grow exponentially, successful operations need to adapt faster than ever to unplanned exceptions. Amazon Web Services provide our SRE team with the breadth and depth of services needed to scale our business while managing costs. For example, we recently moved our DC/OS and CoreOS based micro-services platform from 3rd generation EC2 instances to current generation AMD EPYC based instances. The transition was seamless, we're able to give our Java developers lots of memory with the same number of vCPU's which delivers snappy performance, and we achieved the 20-25% cost savings we estimated at the start of this project.

Asurion helps people protect, connect and enjoy the latest tech – to make life a little easier. We've built a global scale presence and are still growing. Every day our 19,000 experts help more than 300 million people around the world solve the most common and uncommon tech issues. Amazon Web Services provides a broad and deep portfolio of cloud services giving us the agility to scale our business without compromising our dedication to service, and commitment to exceptional customer experience. We recently migrated our memory intensive customer claim and fraud analysis services from a mixture of Amazon EC2 M4 and M5 instances and consolidated them on Amazon EC2 M5a instances featuring AMD EPYC processors. The M5a instances provide a seamless migration path, offering the same instance sizes as M5 and application compatibility while delivering cost savings and exceeding our performance expectations.

CipSoft GmbH is an independent game developer based in Germany. We have been running online games since 1997, and our portfolio includes Tibia, one of the first massively multiplayer online role-playing games (MMORPG) ever created. With a quarter million active players from over 200 countries in an ever-evolving market, successful operations of our datacenter infrastructure is critical. With the global expansion of AMD EPYC based instances, especially in South America, we were able to seamlessly migrate game servers, while achieving 17% EC2 cost savings.