AWS IoT Core
Easily and securely connect devices to the cloud with an IoT platform. Reliably scale to billions of devices and trillions of messages.
What is AWS IoT Core?
AWS IoT Core is a managed cloud platform that lets connected devices easily and securely interact with cloud applications and other devices. IoT platforms provide secure communication, data processing and routing, and device management across different kinds of connected devices and locations so you can easily build IoT applications such as industrial solutions and connected home solutions. IoT platforms, like AWS IoT Core, also connect to services such as AWS IoT Analytics so you can build analytics and machine learning models.
AWS IoT Core can support billions of devices and trillions of messages, and can process and route those messages to AWS endpoints and to other devices reliably and securely. With AWS IoT Core, your applications can keep track of and communicate with all your devices, all the time, even when they aren't connected.
AWS IoT Core integrates with AWS IoT edge-based software and cloud-based services. Edge-based software like Amazon FreeRTOS and AWS Greengrass enable you to securely connect devices and act on data at the edge. Cloud-based services such as AWS IoT Device Management and AWS IoT Device Defender allow you to onboard devices and manage security of device fleets. With AWS IoT Analytics, you can run analytics on IoT data and get insights to make better decisions for IoT applications and machine learning use cases.

AWS IoT Core also makes it easy to use AWS services like AWS Lambda, Amazon Kinesis, Amazon S3, Amazon SageMaker, Amazon DynamoDB, Amazon CloudWatch, AWS CloudTrail, and Amazon QuickSight, to build IoT applications that gather, process, analyze and act on data generated by connected devices, without having to manage any infrastructure.
How Does AWS IoT Core Work?
Connect and manage your devices
AWS IoT Core allows you to easily connect devices to the cloud and to other devices. AWS IoT Core supports HTTP, WebSockets, and MQTT, a lightweight communication protocol specifically designed to tolerate intermittent connections, minimize the code footprint on devices, and reduce network bandwidth requirements. AWS IoT Core also supports other industry-standard and custom protocols, and devices can communicate with each other even if they are using different protocols.
Secure device connections and data
AWS IoT Core provides authentication and end-to-end encryption throughout all points of connection, so that data is never exchanged between devices and AWS IoT Core without proven identity. In addition, you can secure access to your devices and applications by applying policies with granular permissions.
Process and act upon device data
With AWS IoT Core, you can filter, transform, and act upon device data on the fly, based on business rules you define. You can update your rules to implement new device and application features at any time. AWS IoT Core makes it easy to use AWS services like AWS Lambda, Amazon Kinesis, Amazon S3, Amazon Machine Learning, Amazon DynamoDB, Amazon CloudWatch, and Amazon Elasticsearch Service for even more powerful IoT applications.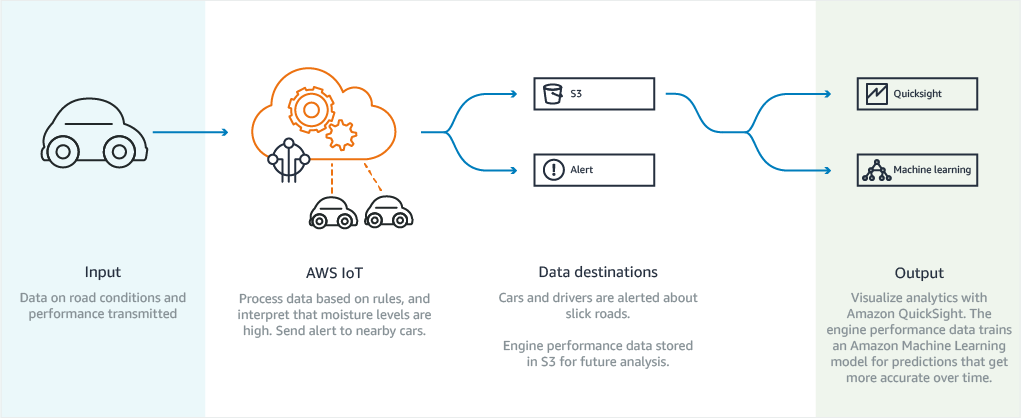 Read and set device state at any time
AWS IoT Core stores the latest state of a connected device so that it can be read or set at anytime, making the device appear to your applications as if it were online all the time. This means that your application can read a device's state even when it is disconnected, and also allows you to set a device state and have it implemented when the device reconnects.
Using AWS for Your IoT Platform
AWS IoT Core is the backbone of IoT applications such as connected home, industrial equipment monitoring, and connected vehicles. Customers bring IoT workloads to the AWS IoT platform so they can take advantage of a scalable, reliable, and secure global computing and storage infrastructure. They also bring IoT workloads to AWS because they want to analyze massive volumes of IoT data and add machine learning to IoT applications using AWS IoT Analytics.
Industrial applications
AWS IoT provides an IoT platform that helps industrial companies of any size and industry such as mining, energy and utilities, manufacturing, commercial agriculture, and oil and gas increase operational efficiency, create net-new revenue streams, and make industrial equipment, processes, and customers smarter. AWS IoT Core supports billions of devices and trillions of messages from industrial sources including operational technology systems, vision inspection systems, assets, machines, sensors, vehicles, and safety equipment.
Connected home applications
From global device manufacturers to network operations, AWS IoT is helping companies to innovate and build connected home products and services for every touchpoint of the customer journey. AWS IoT Core provides an IoT platform to ensure a reliable way to communicate with devices and also integrate easily with Alexa Voice services. Many device manufacturers are looking to develop Alexa Skills apps to integrate voice control into their Connected Home products, and they can use Alexa's Lambda skill development model seamlessly with AWS IoT Core.

Case Studies
---
Watch an AWS IoT Principal Solutions Architect and General Electric present at the AWS Summit in New York City. The presentation first explores features and functions of AWS IoT services, and then dives into how GE uses AWS IoT for several industrial use cases including 3D printing and aviation. Come away understanding how AWS IoT is used to transform industrial processes at GE.
Get Started with AWS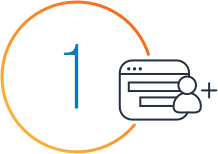 Sign up for an AWS account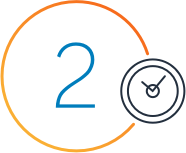 Learn with 10-minute Tutorials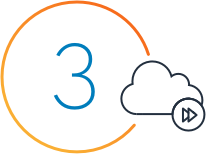 Begin building with step-by-step guides to help you launch your
AWS project
.