AWS Cloud in Hong Kong
Transform your businesses using AWS Cloud solutions in the AWS Asia Pacific (Hong Kong) Region.
Generative AI (生成式AI)
Learn the latest developments of generative AI, AWS customer use cases, and more.
Data & Analytics (資料分析)
Browse through our latest resources, download eBooks, AWS customer use cases, and more.
AWS Events in Hong Kong
Join an upcoming event to connect, collaborate, and learn from the cloud computing community and AWS experts
Latest News
Keep up with the news, updates, and announcements from AWS Hong Kong. Discover new ways to experiment, innovate and accelerate business.

Press Release | 5 min read | 繁體中文 »
7 generative AI innovations from AWS Summit New York 2023
Amazon has been developing AI and ML technology for more than 25 years, and recent ML innovations have made the capabilities of generative AI possible. Here are 7 generative AI updates announced at the AWS Summit in New York.
Press Release | 5 min read | 繁體中文 »
AWS Supports HSUHK to Establish Hong Kong's First Cloud Innovation School
AWS announced its support for The Hang Seng University of Hong Kong (HSUHK) to establish Cloud Innovation School (CIS), the first such school in Hong Kong aiming to prepare technology talents for the job market.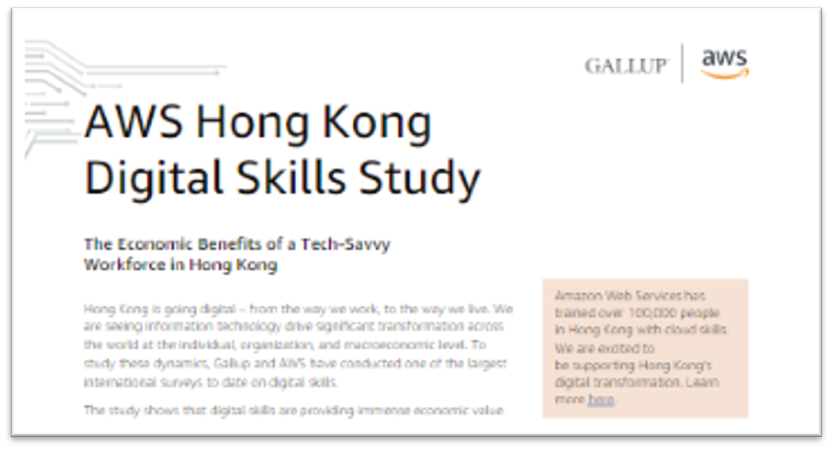 Exclusive Report | 3 min read | 繁體中文 »
AWS Hong Kong Digital Skills Study: The Economic Benefits of a Tech-Savvy Workforce
New Research Reveals That Employees with All Levels of Digital Skills Boost Hong Kong's Annual GDP by US $47.5 billion
Read our exclusive report
Access AWS training resources
Upcoming Events
AWS Hong Kong hosts events, both online and in-person, bringing the cloud computing community together to connect, collaborate, and learn.

Upcoming

Event Name (A-Z)

Event Name (Z-A)
Customer Stories in Hong Kong
Gain insights on how organisations has led their enterprise transformation and how AWS can help businesses like yours to change, innovate and transform.

Recently Added

Name (Ascending)

Name (Descending))
Conversation with Leaders

We sit down with innovative leaders to explore how they are using technology and the cloud to deliver business growth and outcomes faster.
Part of the AWS Executive Insights: Hong Kong Conversations with Leaders series, where we explore topics such as cultivating next level leaders, dealing with failure, keeping up with the ever increasing pace of technology, and staying inspired.

Driving Transformation and Customer Trust
Dah Chong Hong Holdings
CONSUMER BUSINESS
A conversation with Alan Chung, Chief Information Officer at Dah Chong Hong Holdings Limited
Agility to Adapt in the Time of Change
Cathay Pacific Airways
TRAVEL & HOSPITALITY
A conversation with Lawrence Fong, Group General Manager, Digital & IT at Cathay Pacific Airways

Nurturing Innovation and New Service Development
China Light & Power (CLP)
Power & Utilities
A conversation with Pubudu Abayasiri, Director at China Light & Power (CLP) Innovation Lab

Moving Rapidly in a Highly-regulated Industry
Bowtie Insurance
FINTECH
A conversation with Michael Chan, Co-Founder and Co-CEO at Bowtie Insurance
AWS Partner Solutions in Hong Kong
Whether you are looking for solutions specific related to Data Analytics or solutions in Proptech, Retail, eCommernce, Fintech and FSI solution, here is the right place for you and feel free to contact us and let us know your business pain point and AWS and our partners will be ready to support you.

AWS Services Partner

APN Partners that help customers design, architect, build, migrate, and manage their workloads and applications on AWS.

AWS Software Partner

APN Partners that provide software solutions that are either hosted on, or integrated with, the AWS platform.

Training Partners

APN Training Partners have access to authorized AWS Training courseware, resources, and lab environments.

Start using the AWS Asia Pacific (Hong Kong) Region
For a complete list of AWS services available in the AWS Hong Kong Region, see the AWS Region Table. Visit Jeff Barr's blog to understand how to access the Hong Kong Region. Subscribe and be the first to hear about new services launches and exclusive offers in AWS Hong Kong.

Contact us
Leave your inquiry and we will get back to you soon!